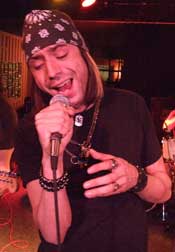 Tantric is back with a vengeance with a brand new line-up and a new vision on what Tantric will be from here on out.
I had the honor to catch up with lead singer Hugo Ferreira when they played in Rock Island and he filled me in on what's new with a band reformed. Hugo is the only original member of Tantric. Originally Tantric was started by Ferreira and Days of the New members Todd Whitener, Matt Taul and Jesse Vest. The band has seen several members since then come and go and Hugo said he feels more solid with the latest Tantric lineup then he ever has.
"If I had to do it all over again and go through all the bullshit I went through with previous members and everything, to come back and have this line-up I would," said Ferreira. "I couldn't have a better band now."
Tantric is now signed with Silent Majority Group and the band feels they are headed in a direction that will lead them to the success they have been striving for in the last decade.
"I feel that Silent Majority Group, along with the bands dedication to succeeding has definitely opened the doors that were at one point temporarily shut for us," said Ferreira. "And considering this is a label that's not a top three label and not financially capable of investing the amount of money needed to really launch records, I think they are doing a great job."
As for the release of Tantric III, Ferreira has mixed opinions on that. He said that he wouldn't be opposed to it, but the financial undertaking of buying it back from their previous record label would just be phenomenal. Hugo also said that there wouldn't be any kind of rework with the previous lineup because it wouldn't be fair to the old members of Tantric or fair to the current lineup.
"If it's in the cards, it will happen someday, but more like "the lost tapes,'" said Ferreira.
Ferreira also added that the April 2008 release of 'The End Begins' has let fans see Tantric in a new light. Ferreira said that every Tantric album is very different than the others and was a very ballsy move for Tantric which put the band in a heavier frame of mind. He also added that the fans have really reacted well to the CD, which is well over 70,000 in sales now.
Tantric is also a fan band, meaning that they are very appreciative to their fans and know that without the fans they wouldn't be where they are today. Ferreira said they put 100% effort in each and every show and are consistently a band that actually sounds like they do on their albums. Fans can rock the hell out and have a great time at a Tantric show.
"We are one of the only bands of this caliber that goes out and interacts with fans after the show," said Ferreira. "We will sign every autograph till there is nobody else there."
Tantrics newest collaboration 'Mind Control' will be released on August 4th 2009 which will give listeners a whole new Tantric.
"This CD is more collaborated on by other members of the band," said Ferreira. "We are gelling more as a band and in general this CD is really, really heavy for Tantric, twice as heavy as the last record at least."
---
RELATED LINKS