Tales From The Deadside
[
Mad Neptune Records
]
Purchase Music at Amazon.com
By
Edwin van Hoof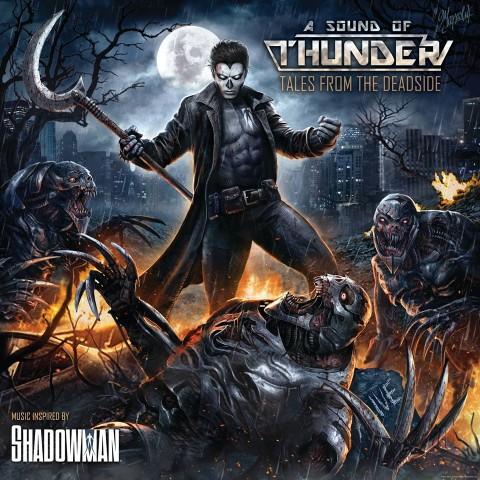 A Sound of Thunder (ASOT)) was formed in 2008 by guitarist Josh Schwartz and drummer Chris Haren. After over a year of numerous line-up changes and false starts, in late 2009 they were joined by powerhouse vocalist Nina Osegueda. The chemistry between Schwartz, Haren and Osegueda was instant, thus recording and writing took a start. Finally in 2011 they were joined by bassist and multi-instrumentalist Jesse Keen, and the definitive band line-up was cemented. Creativity poured leading to this hard hitting Gem.
The new album "Tales from the Deadside," is a full-length concept album based on Valiant Entertainment's SHADOWMAN comic book series. The album was recorded at Assembly Line Studios with RIAA-platinum awarded producer Kevin '131' Gutierrez (Shinedown, While Heaven Wept, Raven) providing the band with an impressive and thunderous sound suited for the album to uprise to the higher ranks in metal today.
The story of Shadowman, his alter-ego Jack Boniface, and the many characters in his world inspired the band to create an excellent album which lines up the jaw dropping vocalic range of Osegueda with ponderous bass and-drum interaction underneath raw riffing guitars that pull forward the well-crafted concept. "We let the story lead us to places our music has never been before, combining all the elements of supernatural horror, drama, action and adventure found in the comics. Of course everything has gone through our own unique Thunderous filter, and all the familiar ASOT elements will be there. The Shadowman's harrowing journey demanded no less!" Schwartz stated recently. He is right on all accounts. The music is melodic as well as it is thriving with progressive elements and keen productional sound files and twists. A Sound of Thunder delivers a unique and exciting blend of classic heavy metal, progressive, and rock. The young upstarts from Washington, DC pay no heed to trends, focusing on quality song-writing with memorable melodies and riffs that stand the test of time. With first class musicianship all around, the band's not-so-secret weapon is vocalist Nina Osegueda. Standing only 5' 2", the diminutive singer packs the vocal wallop of someone twice her size and easily battles the likes of alumni's like Veronica Freeman or Leather (Chastain). Osegueda moves effortlessly from delicate whisper to overwhelming power, with the occasional banshee wail thrown in for good measure!
The conceptional storyline is vividly brought to life on the album which is held together by narrated interludes to empower the story even more. Check out the jawdropping prog "Can't go Back" and the following gloomy "Deadside" which displays the musical diversity just perfectly, with the spotlight on Oseguada's wide and varied vocals. "Tower of Souls" is narrated while propelled forward by a double bass outburst and overwhelming musical spunk. Fierce riffs and loud chants over sudden (short) lush solo outburst. It is simply astonishing what A Sound Of Thunder puts on display. Midway the storyteller returns while a solo breathes fire and keys swirls to towering proportion. The timing changes back and forth in this epic track, making fitting the story perfectly. When the pace goes down ("Sandria" and the wonderful "Alyssa") ASOT reveals a far more melodic approach that is sublime and spot on. "Losing Control" combines the metallic outline with melodic themes and almost gothic chants while Osegueda once again spit fire. Roaring loudly and frequently shifting to her crystal clear vocal chords as if she packs different sets for all occasions.
On the thrashy speed demon her high pitches are as impressive as het power howls. The speed changes she shifts with are thrown around by Schwartz whose furious riffing unloads in high-octane turmoil. In the midst of all the progressive mental illness the band packs a saxophone, which manages to stand tall even in the most outrageous thrash section in the end of the song. A sax, indeed!
An outrageous bassline and a powerful hook pull "Tremble" forward, while drums sound reminiscent to Rockenfields (QR) best "Warning" shuffles. The album goes out with a big bang with the epical "End Times," a melodic monster with gloomy underscore in a dark and melancholic setting.
A Sound Of Thunder clearly shakes off the archetypes of classic metal and manages to bring forward one hell of a monster with "Tales From The Deadside." The album is an action packed melodic metal outburst that shifts emotions and breathes fire. The concept is as turbulent as the progressive elements musically match by the fine craftsmanship of the members. This album is the embodiment of modern day metal and gives hindsight of a great future. Welcome to 2015... welcome to the deadside!
93 out of 100
RELATED LINKS: