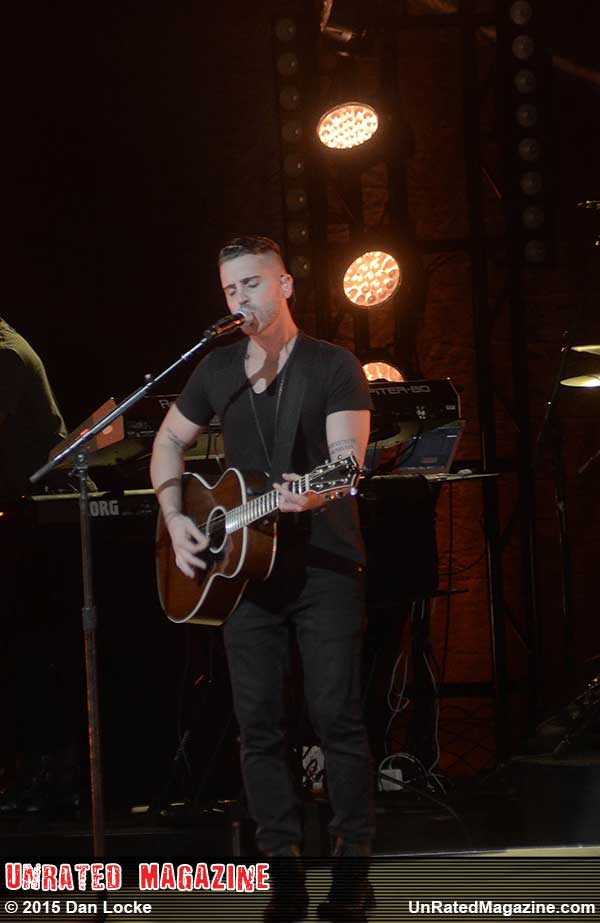 American Idol Live 2015 Tour Chicago
Chicago Theatre – Chicago, IL, USA - August 8, 2015
I have seen the American Idol Live Tour a few times before. From Season 4: Jessica Sierra, Nikko Smith, Nadia Turner, Anwar Robinson, Constantine Maroulis, Scott Savol, Anthony Fedorov, Vonzell Solomon, Bo Bice, and Carrie Underwood.
From Season 11: Erika Van Pelt, Heejun Han, DeAndre Brackensick, Colton Dixon, Elise Testone, Skylar Laine, Hollie Cavanagh, Joshua Ledet, Jessica Sanchez, and Phillip Phillips.
And have seen American Idol performers on their personal tours (Tamyra Gray, Kelly Clarkson, Vanessa Olivarez, Jennifer Hudson, Fantasia Barrino, Bo Bice, Carrie Underwood, Kellie Pickler, Taylor Hicks, Adam Lambert, Jordin Sparks, Gina Glocksen, Kris Allen, Crystal Bowersox, Lee DeWze, and Phillip Phillps). So when I saw that American Idol was touring again. I knew I have to see it. But this time it was different. The American Idol in the past was a show bigger than life. You would have the top 10 performers, performing at larger concert halls. People would see them perform, but the people would not learn anything about who they were. Or the performer's feelings about doing this tour now. How they felt. That what makes American Idol what it is. You watch the show and learn to love the people who you see week after week performing their hearts out to the judges. How they could make it past another week. During the two tours I have covered in the past. I always headed out to the tour bus after the show and saw how the people still wanted to see their favorite idol up closed and personal. They still wanted to know more about the Idol.
So this year American Idol chanced things. They cut the number of Idols down from the Top 10 to the Top 5. Which give each person more stage time. Also it give the crowd a chance to hear what each one was up to. Their feelings about American Idol and more about their lives. And by cutting down from the bigger stages to a smaller stage (i.e. from United Center- 27,000 to Chicago Theater- 3,600) it give the people a more personal American Idol.
This year the Top Five were Tyanna Jones (16) from Jacksonville, Florida; Rayvon Owen (23)from Richmond, Virginia; Jax (19) from East Brunswick, New Jersey; Clark Beckham (22) from White House, Tennessee; and Nick Fradiani (29) from Guilford, Connecticut. One of the biggest reason why American Idol is so big these performers are like family. You grow to know them as the show goes week to week. In some cases you may know the performer or know someone who knows the performer. Because they all have hometowns. And most go back to their hometown after the show.
This year American Idol Live came to Chicago on August 8, 2015 to the Chicago Theater. The show ran about 2 hours long and it was a great thing for the audience to see. This is how it went.
The show open with all five performing Lenny Kravitz "Are you Going Go My Way" This sounded great.
Nick – Tom Petty "American Girl" With Nick on guitar you can see how this was a true classic.
Clark- Welcome the audience to the show and talked about his parents, growing up, his beginning in music and having to play wedding as background music. Some of the things he used to do was as he was playing the background music playing he would throw in commercial jingles such as State Farm ads in the middle of his playing. He finished up with Ray Charles "Georgia on My Mind".
Jax- Jet "Are You Gonna Be my Girl" and The Who "My Generation" I feel these songs were not the greatest choice for her to do. They may have been better with a new arrangement to fit her style of performance.
Rayvon- Told the story of his music journey and his family growing up in churches and hearing the great music coming out of them. Thank his mother. And he ended his story with Ellie Goulding "Love Me Like You Do". He did a great job with this tune. He made it his own and song it to the audience.
The group- Nick Jonas "Jealous"
Clark (on piano) duo with Rayvon and backup with Tyanna – Sia "Chandelier" it was very nice.
Jax – She talked about how her dad was rescuer during 911 and got sick. Then had to stay home. This helped her being who she is with her dad by her side. He was her hero. She performed (piano) - Bon Jovi "You Give Love A Bad Name" She made it her own. Very Jazzy, I feel that she did a better job of it then even Mr. Jovi. Johnny Lang "Lie to Me". She also talked the journey into Idol and how he was with her the whole journey.
Group- Rascal Flatt "Broken Road"
Group- Imagine Dragons "I Bet My Life"
Clark (on guitar) an original by him. "I Won't Give Away"
Nick- Home Free "Honey I'm Good"
Tyanna- She talked about how Idol has become her family and being part of idol during her birthday. She warped it up with Meagan Trainor "Lips are Moving" This is a note if you have to had tickets to see Meagan Trainor this summer and couldn't because she cancelled her tour. Come see Idol and watch Tyanna do a Jazzy version of her hit.
Jax- Talked about working working on Idol with Steven Tyler and during his new bluegrass song "Love is Your Name".
Rayvon- Katy Perry "Wide Awake" and Frank Ocean "Thinking Bout"
Clark- (On guitar) Maroon Five "Sunday Morning.
Tyanna-Beyonce "Sweet Dreams"
Clark- Tracy Chapman "Give Me One Reason to Stay Here"
Group- Kelly Clarkson "People Like Us"
Nick- Talked about his dad and his band vs. American Idol and how he worked it out between the two. And why you should listen to your mom at any age. Because she is always right. He performed his own original "Coming Your Way". Jason Mraz "I Won't Give Up", Chet Faker "No Diggety" And song he had as a backup on Idol but was never clear to play it on the show. Now this is his show and no Idol producer to tell him what he can and can't play. And also talked about during the last weeks on Idol they would create a song for you which you had to play. It could kill your career, but you have to play it. The last song on his set was his song "Beautiful Life"
They ended the night with Charlie Puth "See You Again" and Fun "Some Nights".
After the show was over, many fans were waiting for them to come out of the stage door. They had a crowd of about 75 people. After about 45 minutes waiting. They finally started to come out. Only three of the Idol came out. Jax, Clark and Tyanna. They made sure they met with each person. Each at the end would ask did they miss anyone, before heading back to the bus. They meet and greet the crowd. Took photos with the crowd and Jax even did a duo with one of the member of the crowd. One of the people I talked to in the crowd was this girl I always saw a heavy metal shows. She was a true Metal Head. I asked her what she was doing here. And she told me that she never miss an American Idol. She had DVR all the shows. And actually she brought one of everything at the merch booth. Almost $300 in merchandise. Overall it was a fun night. Something any real music fan should see.

RELATED LINKS