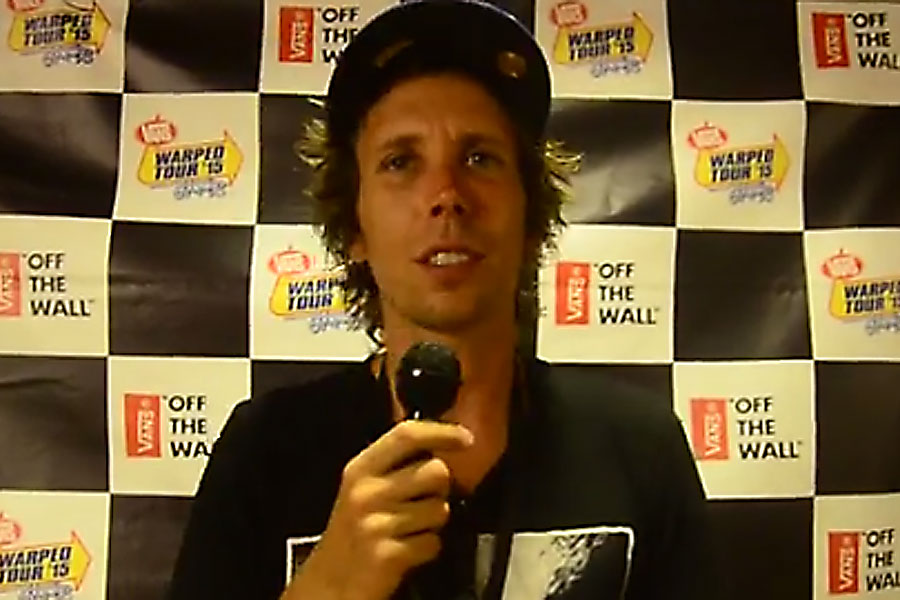 The Beautiful Bodies: Tom Becker on Van's Warped Tour 2015
Hollywood Casino Amphitheatre - July 27, 2015
Van's Warped Tour brings many bands and artist from various backgrounds to be part of one of the largest traveling Music Festivals in the United States (and abroad) sponsored by Van's Shoes. The tour has been on the road, like a traveling circus, since 1995. Van's Warped Festival features music artists from alternative, punk, hip hop, metal and you name it backgrounds. The tour has many stages and even up to 100 bands performing all through area grounds for one day in each of the tour cities. Visiting dozens of cities and bringing hundreds of thousands of fans to enjoy the music festival. Over the years Van's Warped Tour secured artist stardom and a financial future in the music industry.
Dan Locke from UnRated Magazine had an opportunity to cover the tour for more than a decade as a music journalist. The year 2015 was no different. Dan met up with Thomas Becker guitarist from the band Beautiful Bodies. Beautiful Bodies is one of the favorites this year for many festival goers. Dan hopes to introduce you to Becker and Beautiful Bodies in the hopes of turning you into a fan. This interview was conducted at Chicago's stop on the Van's Warped Tour on July 27, 2015.
The upbeat Thomas Becker introduces himself and lets us know "I am doing alright." He continues to tell us about the current tour, "The tour is RAD. It's like every day you play a rad new CD, with tons of kids, and other bands. It's a blast. My job is to play music, it's awesome. Life doesn't get much better."
That's right in rock and roll life could not be better than tour and play guitar. New fans are always a welcome to the show. Becker adds, " Yeah, we've been getting fans. It's shocking how people will adapt to what you are doing and the next day they are like super-fans. It's pretty cool."
The current Van's Warped Tour is bringing in so many young new fans for the next generation of music goers. Live music will never go away. You can tune in online but there is nothing like experiencing a live performance such as Beautiful Bodies in this great outdoor festival. With a tour come rewards such as record sales, some money in the band, maybe a headlining tour and awards. In alternative music all artists hope to be nominated for an AP Award presented by Alternative Press Music Magazine. Becker was excited as well when he and his band Beautiful Bodies attended the AP Awards at the Rock and Roll Hall of Fame in Cleveland, OH. "The AP Awards were good. I could not get my Verlan dress so I had to wear short shorts and like business 70s. I wanted to look the pretties on the red carpet (laughing). The red carpet was real good. Our singer (Alicia Solombrino) likes to moon walk so she moon walked down there so I kind of followed her with my short shorts, I think I grossed everyone out." Dan asked where is she, "I'm don't know where she is, I thought she was coming. Last I heard she was not feeling well so she m ight be on the bus sleeping. She's kind of a trooper, she's been sick, but she still comes out there and like 'aaaaaa!' and just kills it on stage."
Tom Becker loves the road and 'seeing the world' is never understated. The further you go the more you experience life. Becker is excited to talk about a fall tour. "Fall, we are going out in the fall. We just released a record so for the next year and a half we'll be on the road. We will be anywhere and everywhere." When is asked who might be a supporting band, he says "none that have been announced yet, how is that for cryptic." Becker continues to imply that he is a fan of Michael Jackson and what he brought in form of music to all the generations. If MJ was still with us Becker would love to share the stage with the super star. " I would love to tour with Michael Jackson, we know his dead so it won't happen. If Michael Jackson asked me to go on tour I would do it. Michael Jackson and Black Flag, that would be a great tour." Becker continues, "Actually I just seen the recent Black Flag, ironically someone I grew up with playing music with now plays bass in the band. I told him I did not believe him, blew him off and hung up the phone and said whatever. Then he sends me a link to this picture of him playing with Black Flag. So it was original older dudes and this guy is like 27 playing in the band. He knew he stood out but I'm not going to say no to playing in Black Flag...I wouldn't either, it's Black Flag." As youth takes on music, it learns and honors the great artists and bands of the past.
Rock music today has so many classifications or genres, at times you just have to say is just rock. Becker was asked the questions of how he classifies Beautiful Bodies? "I would say, I feel like we are punk band, but we are not a typical try to piss people off, we are kind of dancy. You know what we are if Michael Jackson made a baby with Black Flag. I think that would be our band. We do scream a lot but we have alot of sass, you can call it Screamy Sass. We can copyright that today."
When artist tour one of the staples of life is to eat. So what might the food be like on the Van's Warped Tour. Becker gives us the menu, "We did some biggerish tours where there is catering, but it's whatever garbage we can get at a truck stop. Plus I'm vegan so I'm basically just eating chips for like 2 months straight. So now that we are on Warped Tour; I gained like 300 pounds, despite it might not look like it. Because I'm perpetually eating like, the raddest vegan food ever, catering is just ridiculous, I don't get it. I feel like Celine Dion couldn't get catering this good and somehow on a punk tour we have four course vegan means. It's rad. I'm in shape, I'm healthy, and I can eat this food all day, I do eat this food all day. We are pampered, this is different punk tour that I am used to, we are pampered here; we are all a bunch of princesses.
We all hope to Becker and Beautiful Bodies the greatest success, but how does he feel about the future? "Hopefully putting out tons of records and touring. I am kind of sociopathic I like being on the road, non-stop. If I had my way we would just perpetually tour. But not just like the U.S. I want to go to Kazakhstan, Cambodia, and Afghanistan. I want to go to places like no one has been. We all have passports and we are ready to go, it would definitely be rad. If there are any like Kazakhstany bookers there, we are ready, just email us."
RELATED LINKS