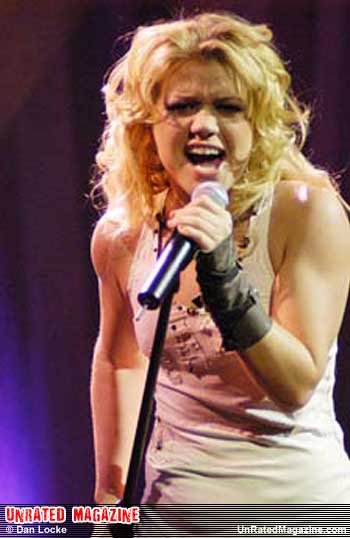 Kelly Clarkson Knows How To Take Darien Lake To a Whole New Level!?
Darien Lake Performing Arts Center - Darien Center, NY, USA - July 21, 2015
Review by Shelbie Gallagher, July 2015.
Kelly Clarkson returns to Darien Lake in New York State, on July 21 at 7pm. Her special guest performers were Pentatonix (an American a cappella group consisting of five vocalists originating from Arlington, Texas. Pentatonix formed in 2011 and in the same year they won the third season of NBC's "The Sing-Off" which earned them $200,000 and a recording contract with Sony Music). After watching them performed, I could see why they won the show.
Kelly was also, so impressed by them, that she even did a performance to "Heartbeat song" together with them that was unbelievably breath taking. If you were in Darien Lake on Tuesday night you would see just how much she still remains striving for more. The graphic effects were amazing and matched up perfectly to the songs. She did a break-up mash to "Since You Be Gone" that made you just want to hop out your seat and start dancing. She also introduced us to a new heartfelt song "Invincible" that is going to take over the pop industry like a storm.
For a recently married and early into motherhood I can sure say this mama never stopped! Another surprise was, during the "open mic" slot, Kelly Clarkson gave one lucky YouTube winner a chance to perform a song of their choice, the ferocious Jamie Grace. She did a cover to Taylor Swift's "Trouble" on an acoustic guitar. She did such an amazing job that if someone doesn't sign that girl soon their crazy! And missing out! Kelly did amazing job on switching up and transitioning the songs.
Her greatest hits in my opinion were, "Catching My Breath," "Behind These Hazel Eyes," "Breakaway," "Because of You," and "My life Would Suck without You." Even though this she may have took some time clearly, she never slowed down! Keep it coming Kelly!
RELATED LINKS