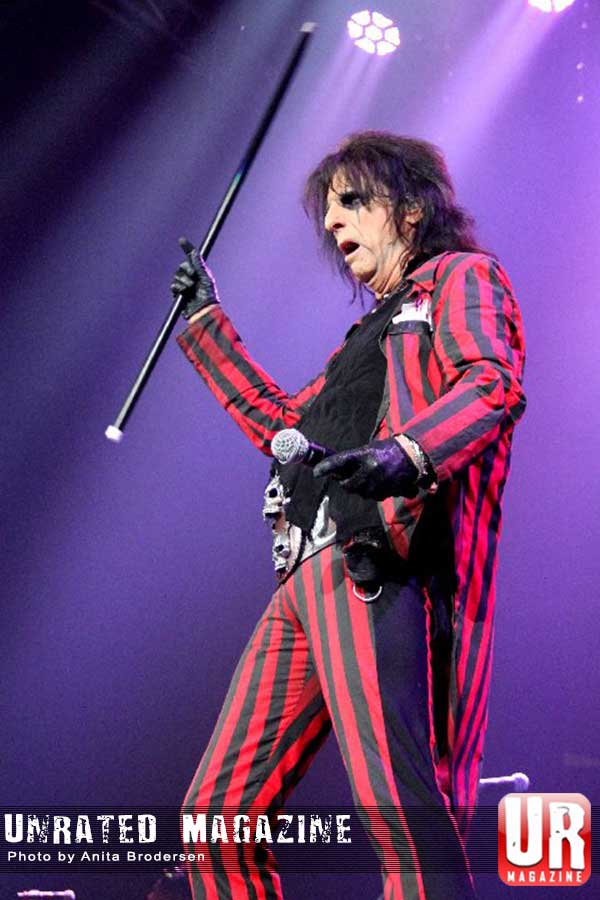 Motley Crue and Alice Cooper One Night in Chicago
Allstate Arena - Rosemont, IL, USA - August 8, 2015
Hard rock invades Chicago with bad boys Motley Crue and the man called Alice Cooper!
As the lights dimmed the master showman Alice Cooper took stage to a pumped up crowd and he did not disappoint. He emerged on stage with a long black cape and his remarkable theatrical rock concert launched. The show was strong as he sang crowd favorites like "The Black Widow," "No More Mr. Nice Guy," "Poison," "Feed My Frankenstein," and "School's Out." Alice Cooper was on fire but the real explosive set was just around the corner.
As fans were waiting patiently for the band of the night, the Rodgers & Hammerstein song from the movie Sound of Music – "So Long, Farewell" started. Following that sounds of motorcycles revving their engines were heard.
The large crowd was ready to witness the final show in Chicago of the hard rock band that formed back in 1981 – Motley Crue. With everyone standing for the entire show the band – Vince Neil (singer), Nikki Sixx (bass), Mick Mars (guitar), and Tommy Lee (drums) took stage to perform many of their best songs ever. They opened with "Girls Girls Girls," followed by "Wild Side," and "Primal Scream." Vince grabbed a guitar and the band then performed hits "Same Ol' Situation (S.O.S)" and "Don't Go Away Mad (Just Go Away)." With bombs, fire, and smoke being used during the entire show this was simply a true to form rock event of the year. Mick Mars ignited during his guitar solo. But the insaneness of the night was the "Cruecifly" which is a drum coaster. Tommy and his drums rise up and upside down and it rides a track above the crowd while he is performing his drum solo. It really is a site to see.
The band soared into classic hits like "Live Wire" and "Looks That Kill," and ended the night with their ballad "Home Sweet Home."
This show was so good – all four musicians performed over the top - that it's really ashame this is being billed as the final tour. One can only hope they take a year off or so and reconsider…right?
For more information visit AliceCooper.com and Motley.com.
RELATED LINKS