Revolution Saints
[
Frontiers Records (Sony Music Group)
]
Purchase Music at Amazon.com
By
Edwin van Hoof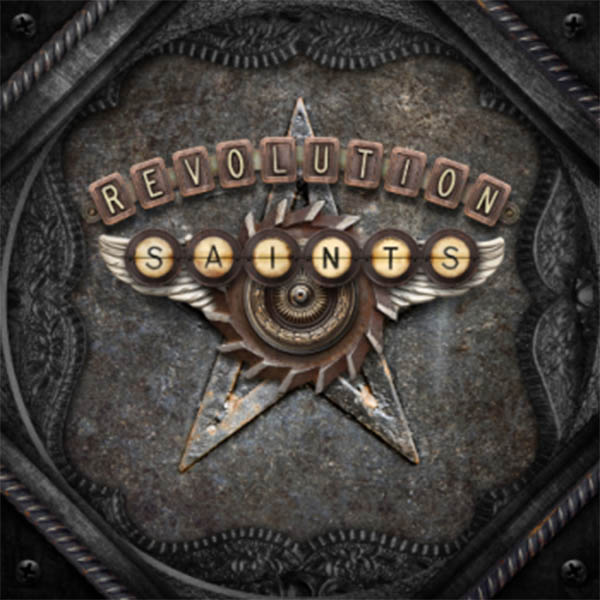 Revolution Saints is the new melodic rock 'supergroup' consisting of powerhouse drummer Deen Castronovo, melodic master Jack Blades and rock gitarist Doug Aldrich. Seasoned and established names unwilling to reproduce the sounds of their past, embark onto new ground. Do they manage to cast away the burden of their past, and if so; are they able to revive the pretentious name 'supergroup'?
Originally starting off as one of the brainchild's of Frontiers' label manager Serafino Perugino in his search to bring together the ultimate AOR and melodic rock experience, it also was set to be the album showcasing Deen's vocal abilities and strong song writing. Bringing in Doug Aldrich and Jack Blades fired up the engines towards this classic, because that's what this is.
Much in the vein of Castronovo's band Journey, the band thrives on larger than life choruses and impressive hooks, even though the album needs an extra spin or two to win you over. That being said; it also displays the character and quality of the material at hand. All songs sound inspired and vivid with a band hitting it off at full swing. Driving rhythms and ponderous double bass exercises, throbbing and ploughing bass licks, and the blistering guitar attack with a slightly bluesy edge, all adding up to this remarkable debut. It indeed displays the excellent vocal abilities of Deen, who sounds slightly reminiscent to any of the Journey vocalists from the past, even Perry. He has the hoarse edge and nasal resonance, but also has the power to break free from that comparison. Deen's voice in combination with Blades' typical rock sound present a launching board for Revolution Saints to get orbited on the spot. The interaction is jaw dropping and with Aldrich laying down his crunchy riffs, the band fires on all engines.
The band's debuting single "Back on my Trail" would have fitted any album by Doug's career launching band Lion with its impressive steep riff and driving rhythm, topped off by a recognizable and sticky melody. It also highlights Deen's wide ranged powerful voice and the excellent close harmony choirs, being casted onto this band by their elusive past.
"Turn back Time" features an interesting co-lead by Castronovo and Blades and has Doug spitting a stiff riff all over the song. Aldrich casts aside his bluesy toning, without discarding this typical bite and style that make him one of rock's most exciting players in the field.
"Way to the Sun" features Neal Schon and instantly launches the grandeur of any Journey classic directly into your heart and soul. The song features a monster chorus and the dense melodic setting fits Schon's razor-sharp riffing perfectly. Up-tempo firecrackers like "Dream On" and the Night Ranger influenced "Locked out of Paradise" are fist pumping immaculate. When Revolution Saints takes the foot of the gas the band delivers some of the finest moments of 2015. "You're Not Alone" (featuring Pineda on vocals) or the towering ballad "In the Name of the Father" are just sheer brilliant and perhaps even better than any of the latest Journey tracks penned by Schon and Cain. Another mandatory, yet sublime ballad is the jaw dropping "Don't Walk Away". Soaring coals and towering keys pump it up severely.
"Here Forever" is a mega melodic rock hammer that could have been written by Jim Peterik (Survivor), with its sticky bridge and chorus. Midway the song's tension bow is curved to maximum pressure by a sizzling Doug-solo. Arpeggios fly all over the place and feed the fire of withheld power. Perhaps this is my favorite of the album, although it is hard to single out hits on this album. "Strangers to this Life" adds up perfectly to that mood swing, and "Better World" rocks out solid towards upbeat lashing "How to mend a Broken Heart."
Interesting is the limited edition release of the album featuring studio versions of "You're not Alone" featuring Deen's vocals, making this one favored above the Pineda version on the album. "Way to the Sun" lacks the input of Schon but has in Aldrich a whole different type of guitar layer laying down the riff and solo. Very enjoyable!
The trifecta of these melodic famed musicians recording this raved debut album, which revives the sounds of the idolized bands included in their resume, without lacking a vivid kick in the butt of predictability. Revolution Saints's debut is an action packed thrill ride that needs additional spins in your deck in order to grow on you, but will win you over as one of the better albums in the genre this year. With this month's market being flooded by many contenders, I'm very interested in finding out how the album holds up between Thunder, TOTO, Black Star Riders and Scorpions. In my humble opinion; I think this one only has to leave Toto in front of them.
95 out of 100
RELATED LINKS