Taste'O'mania
[
Independent Label
]
Purchase Music at Amazon.com
By
Edwin van Hoof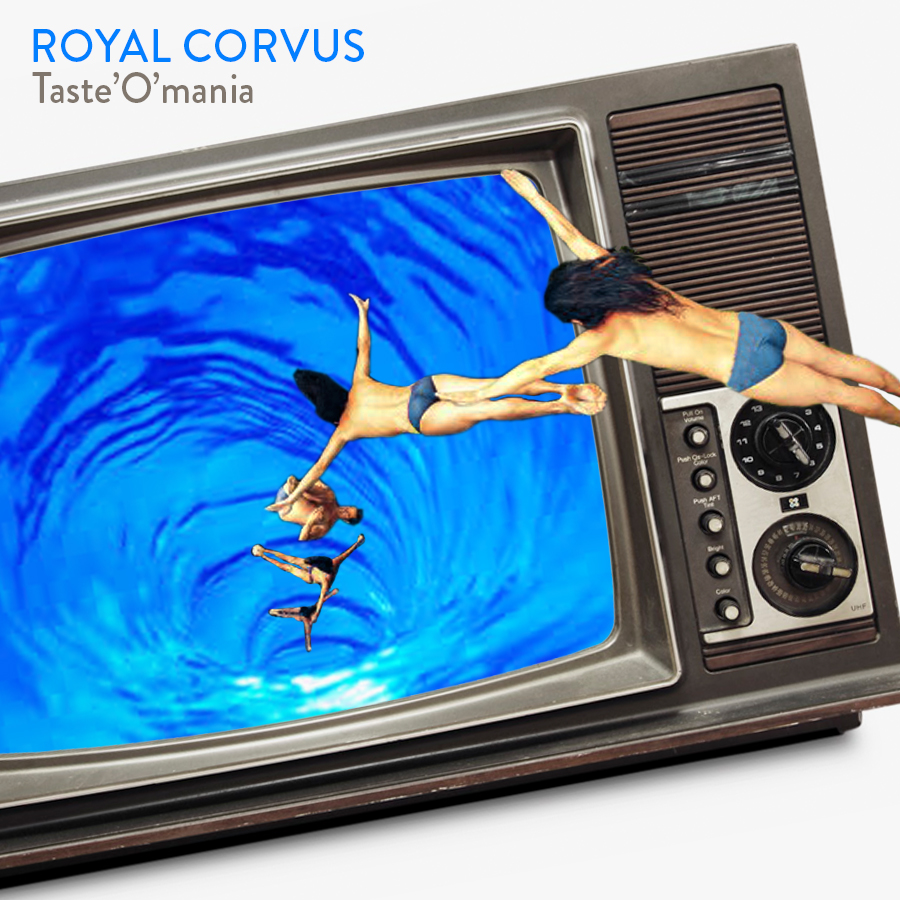 Through a YouTube link I stumbled upon Royal Corvus, a melodic rock band from Charkov in the Ukraine that instantly smashed all of my skepticism towards melodic rock from that region. Where most Eastern European bands seem stuck in the heydays of arena rock, "Taste'O'Mania" sounds fresh and widely inspired. No horrid pronunciation of English, and a vocalist that severely kicks ass.
Investigation for this review learned that the band is famed in their homeland and has, since they formed in 2005, opened for internationally alumni like Deep Purple, Joe Lynn Turner and Scorpions; a resume which is as interesting as this second (?) album.
Focal point of the band is the excellent vocal range of Alina Gornostaeva and her vocals are spot on. She has a crystal clear voice with power and panache. The songs are breathing a sophisticated grandeur of the good old days without ever coming across dated. Structures are diverse and keenfully crafted around impressive riffs and melodies. Buzzing guitars pull the songs forward and the hooks nest in your head on the spot. Every single tune on "Taste'O'mania" is a hit with overwhelming extravagance. Swirling keys are present all over this record and they are vividly pushed to the front of the mix without disrupting the overall balance. "All because of You" and "No One Knows" are spot on and hinting a modern approach. Keyboard swirls with a slightly industrial feel leaning towards epic metal, but without losing sight of the highly melodic trademark.
Occasionally supporting the spitting riffs like on the hard hitting "I'm a Flower" with its progressive impact, then suddenly bloom in a Kevin Moore-ish DT way. Check out the opening of "Victoria" with its pompous keyboard/vocal interaction. The song is epic/goth rooted and blooms with a passionate and powerfully orchestrated chorus. The guitar solo is wonderful and fits the dramatic backbone of the song. It's an excellent crossover between two genres.
The title track spits gravel again with an impressive guitar opening and pompous keys leading us into a progressive outburst which Alina belts with an impressive vocalic outburst. "Taste'O'mania" is as diverse as the album itself and is therefore perfectly covering the load. Absolute highlight of this album is the gorgeous and driven "Right on My Way." Again Dmitri Imshenetski throws his piano licks and swirls around with loads of intellect. His creativity in combination with the awesome guitar licks makes the difference in Royal Corvus. Imshenetski's jaw dropping interaction as shown on "Man of Holy Ghost" and the spitting "Labyrinth" which is simply superb. The rhythm section lays down a rock solid foundation which is more metallic than melodic, grooving and powerful as in the wonderful melodic "Shining up" and the already mentioned title track. The piano ballad on "Can't get Enough," is excellent, and once again displays the great interaction of Alina's wonderful vocals, Topchy's wonderful guitar work and Imshenesky's awesome wizardry. The guitar solo is just wonderful, after which the song is pumped up with powerful orchestration and choirs. The impact and drama are sublime and when the song fades out it is Alina taking the spotlight once again. The album is ended by the melodic hammer "Always be Together" and has you instantly reaching for the play button for the next round.
Cast aside your prejudice and check out Royal Corvus' "Taste'O'mania." This album gains more and more power with every spin, revealing more of its precious and sublime musicianship. This one truly grows on you and the creativity is outstanding. Deeply rooted in the era of classic melodic -and arena rock, Royal Corvus managed to inflict the classic structures with modern sounds and song patterns warping this album straight into the modern age where it lands with a sonic boom.
86 / 100
RELATED RESOURCES