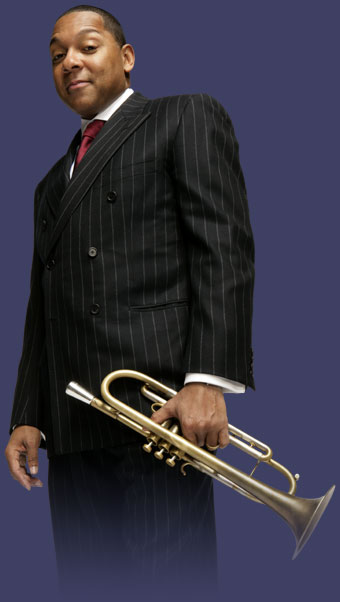 Wynton Marsalis Orchestra at the North Shore Center for the Performing Arts in Chicago
North Shore Center for the Performing Arts - Chicago, IL, USA - July 10, 2015
This concert was my first time hearing the Wynton Marsalis Lincoln Center Jazz orchestra live. The North Score Center for the performing Arts was a perfect size room for the orchestra; not too big or too small, yet intimate.
They opened with a New Orleans "Dixieland-style" blues. Next they played a James Weldon Johnson piece "God's Trombones." It featured trumpet and trombone solos and reflected a bygone era of pre-swing jazz. Next the orchestra did a Benny Carter tune (1933) "Symphony in Riffs" that went from 2/4 time to 4/4 and reflected music that was popular, from that era.
Next my favorite tune of the set was the "Be-Bop" composition "Moody's Mood for Love" written by saxophonist James Mood and first recorded back in the 1940s. Two trombonists sang Eddie Jefferson's lyric and did a great job.
Next modern jazz was represented by the Ted Nash piece called "Presidential Suite" and "Theme of Freedom" written for Nelson Mandela. These pieces were influenced by East Indian philosophy (Nehru) and included a Middle Eastern mode. Avant Garde style jazz was reflected in this piece as well. Next Wynton took a solo on "Tiger Rag" based on a Duke Ellington piece.
Latin flavored bassists Carlos Enriquez was featured on his original piece, "Afro-Bolsa," a rhumba, which had a great Afro-Latin groove and evoked a New York City nightclub scene, where he grew up. As the horns harmonized you could picture skyscrapers, dance halls and night life in New York City.
Next Victor Goines, professor of music at Northwestern University, Evanston, who was originally from New Orleans, played his composition "Crescent City", which was dedicated to Mari Gras Indians of New Orleans. It was a Crecio rhythm of Carnival, with a rousing soprano sax solo which brought us full circle to early New Orleans music.
All in all Wynton gave a "history lesson" of eras and styles of the great American jazz pie.
RELATED LINKS