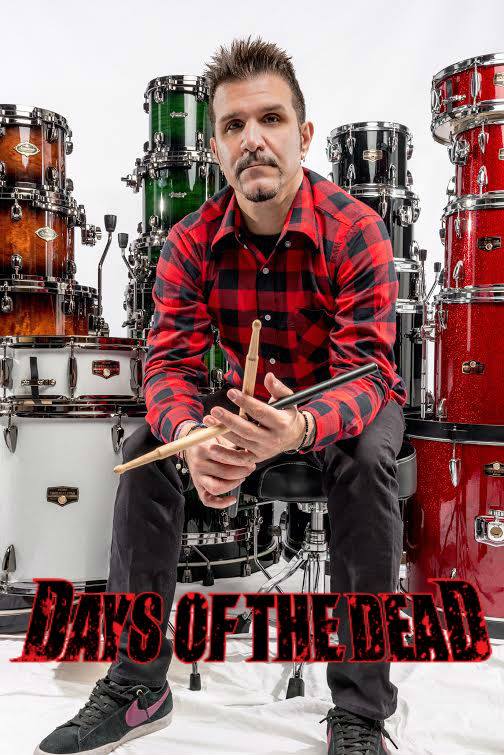 Anthrax: Interview with Charlie Benante
Not just about comics anymore — an interview with Charlie Benante of Anthrax
Anthrax's Charlie Benante to appear at the Days of the Dead Chicago
November 18-20, 2016 at the Chicago Schaumburg Marriott
Despite the fact that the thrash metal group Anthrax has been putting out great music and kicking ass for thirty-five years now, there's another pretty cool fun-fact about some of the band's members - - - and that's their passion for things like comics and horror, things that a great many fans of their music are also interested in. With Anthrax guitarist Scott Ian having made appearances on AMC's The Walking Dead made up as a zombie, drummer Charlie Benante is also a huge fan of horror films and the like as well, and has even been a regular attendee and supporter of conventions like ComicCon and Days of the Dead for years now.
But 2016 is a pretty cool time to be an Anthrax fan — not only has the band already done massive touring around the globe and continue to do so this autumn, but they've got a sizzling new album available too titled For All Kings which was released this past February. But this year will also mark Charlie Benante's first appearance as an official guest at the Days of the Dead convention in Chicago this coming November as well.
Just days before heading back out on the road for a tour that will deviate between dominating the Special Guest slot on tour with Slayer as well as destroying in the headlining role on nights 'off,' we got to talk to Benante about his plans for the Days of the Dead and why he enjoys the convention environment so much.
Scheduled for November 18, 19, and 20, we asked Benante if he would be appearing at the Days of the Dead for all three days?
"I think I'll be there all three days for at least a portion of those days," replied Benante, "I go anyway, I've been going to it for all these years as a spectator. And I've been good friends with one of the guys who puts it on forever so we'd always joke about it, 'You should do it one year...' he'd say. And then this year my friend David Ellefson from Megadeth is going to do it so I said it'll be a good time, I'll do it."
For those who aren't familiar with the conventions, how do they work exactly? Will Benante be signing autographs or actually selling some of his own products as well which include t-shirts, artwork, coffee, and more?
"I'm probably going to do a bit of both. I know people are going to be asking me why I don't have any of my t-shirts there so in order to avoid that I'll bring the t-shirts but I don't know if I'm going to bring the coffee — although I may get asked for that too. We'll see."
As with all of the celebrities appearing at the convention, there will be photographs available for purchase, but we asked Benante if he'd be willing to sign other items as well...
"There will be pictures there to sign, and I'd prefer they do that but I wouldn't mind signing one or two things, but please don't bring your collection," laughed Benante, "I'd be there forever."
So what is it about this convention that he enjoys so much — why keep coming back year after year?
"Well, I should probably clarify, a lot of the people that go to these things now, or a lot of the people that do these things now, probably didn't go the same path that I did. We're talking many, many years ago — I would search to find any sort of convention to go to, be it very small ones. But I remember the early days of the Chiller [convention] in New Jersey and going to those. Now it's become very big, now it's turned into more of a celebrity meet and greet type of thing rather than getting comics or anime or horror, it's all pretty much combined. And I think it's another way for people to meet their favorite actor or musician so I think it's come a long, long way. And I've always believed that music and horror have always had this kind of marriage anyway, so I think it's kind of cool now that it's all come to fruition and everybody's into it now a days. Even girls, even women, you see so many females at these things now that you would have never seen before. And we were joking about it, like once you were a nerd but now you're not a nerd anymore, now you're cool. Not that I was ever a nerd, but..." Benante chuckled.
Which kind of runs a parallel to the fact that there are more women attending thrash concerts today than ever before.
"Yeah, our shows used to be 95.9% — maybe even more — male dominated. The only reason why a girl would come to the show was because her boyfriend went. But I think now it's become a little more mainstream and that's great."
So what is Benante most looking forward to in regards to actually making an appearance this year at the convention?
"I really get off on meeting people, talking to them, trying to hear what they really like about this whole thing. What inspires them? Just stuff like that. What makes you get out of their houses to come to these kinds of things?" replied Benante in earnest. "I enjoy the really good conversations. And some people don't want to talk, they just want to present their stuff, have me sign it and that's it, which is fine. But I'll have friends there who are also doing appearances and I think it'll be a fun time."
Sometimes people just get nervous when they meet someone they really like and are afraid to talk much...
"Yeah, I think that's what it is too," Benante agreed, "I know for myself in the past, I don't really want to meet my idols because I don't want to disappointed. And usually I'm not disappointed, there's been maybe a handful of times where I met the person and I'm like, 'that's weird.' But I also have to say that maybe they're just having a bad day too. I've had experiences where shit was going on in my personal life and you're just not the right person at that time to meet someone. It sucks because you don't want to ruin their experience but there's shit going on with you."
Although a resident of the Chicagoland area, Benante said he'd also be willing to appear at similar conventions in other cities as well if the timing was right.
And when asked if there was anything else that Charlie Benante would like to say to his fans or fans of Anthrax who might be thinking about stopping by the Days of the Dead in Chicago?
"I'd say just please come out, I'd love to meet you all. And maybe have a drink," he laughed.
Although Days of the Dead Chicago isn't happening until mid-November, in the meantime you can catch Anthrax on our tour fall celebrating their 35th anniversary this year. They'll be headlining at the Concord Music Hall in Chicago this Wednesday night, September 21, with Death Angel in the special guest slot and Devil Land opening.
Tickets to see Anthrax are available at Ticketfly.
And for more information on the Days of the Dead convention in the Chicago area and to purchase tickets go to http://www.daysofthedead.net/chicago/
But if you can't make it to the Days of the Dead to meet Charlie Benante you can check out his website at any time and purchase not only his t-shirts but his own signature coffee as autographed gear and other items at http://www.charliebenante.com/
RELATED LINKS