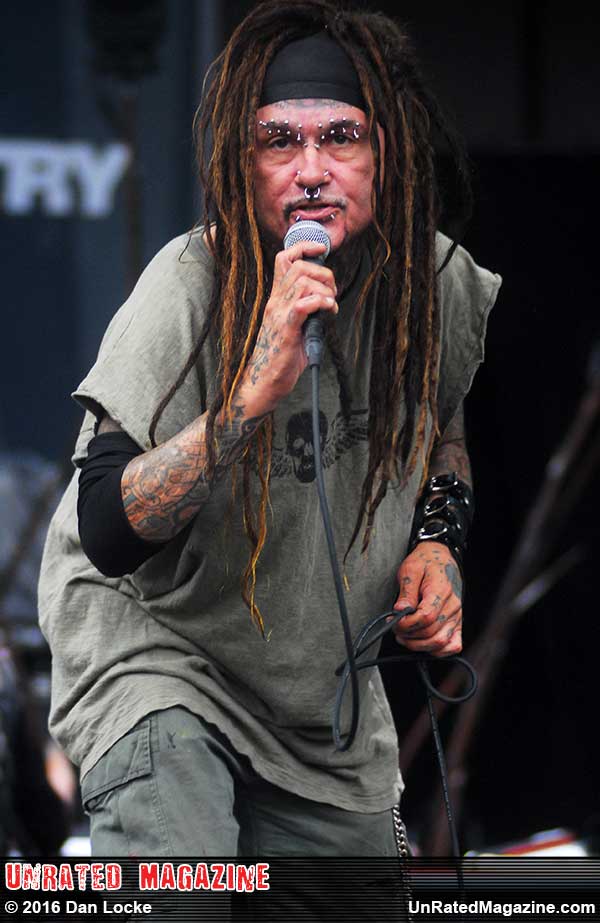 Chicago Open Air 2016
Toyota Park, Bridgeview, IL, USA
Chicago Open Air was by far more than just your average live concert festival, it was an entire event that literally catered to the metal music lifestyle. Catering to metal and industrial music lovers, this event clocked in more than 75,000 fans in attendance during its three-day stint at Toyota Park in Bridgeview, Illinois. But, just as producers of Chicago Open Air (Danny Wimmer Presents) had envisioned, the "festival" was much more of an experience for fans, rather than simply taking a seat and watching a few bands rock a stage or two. However, in this case, the two stages included the likes of Rammstein, Ministry, Disturbed, Korn, Chevelle, Korn, Slipknot, Marilyn Manson, and tons more.
The onsite experiences that were available included: Gourmet Man Food (containing a plethora of well-known and extremely respected culinary artists/restaurants); the Headbangers Beer Hall (the dive bar experience, complete with heavy metal jukebox blasting tunes via a back wall built only of Marshall amplifiers); the Jack Daniel's Experience (allowing whisky fans to witness first hand how their product filters through charcoal and into their trademarked oak barrels for aging); and, Monster Energy Experience was making sure that fans were staying energized via their product, as well as providing fans with interactive band experiences. There were also humanitarian-related experiences, such as Take Me Home Animal Rescue (spreading the word about its organization, providing veterinary services for pets in under-served and low-income areas; and, Dyin 2 Live / Fxck Cancer (raising awareness re: early screening as well as their program that provides cancer sufferers experiences, thus a chance to forget about their illness, if even for one day).
LIVE LIVE LIVE - Out of the amazing pool of talented metal bands who were present and rocking the shit out of Toyota Park, my focus was on the first night's headliner, Rammstein. This band comes directly from Berlin, Germany and they chose Chicago Open Air to be their only USA scheduled performance for 2016. This band certainly did not disappoint. Having seen them before, their reputation of both on and off-stage theatrics, including an immense amount of pyrotechnics, held true for the almost sold-out crowd on July 15th. Performing favorites, such as Du Hast Mich and Rammstein, fans were obviously appreciative of the duel arm mounted flame throwers present on vocalist, Till Lindemann, as well as the fireworks blasting from center field (yes - right in the middle of the main floor). Two other bands I was able to catch were a couple of metal and industrial favorite, coincidentally beginning their careers from right down the road in Chicago, Chevelle and Ministry. And, while Chevelle was great live (per usual), I was hoping to hear a little less of their radio favorites and a shitload more of their newest material from their latest album, "North Corridor." In terms of Ministry, Al Jourgensen and crew exploded the stage with their trademark frustration, a pounding that could literally be felt reverberating in my shins and was honestly completely exhilarating. And, "Stigmata"...live? Thank you.
Until next year, Chicago Open Air. And, PLEASE say there will indeed be a next year for you here!!
RELATED LINKS