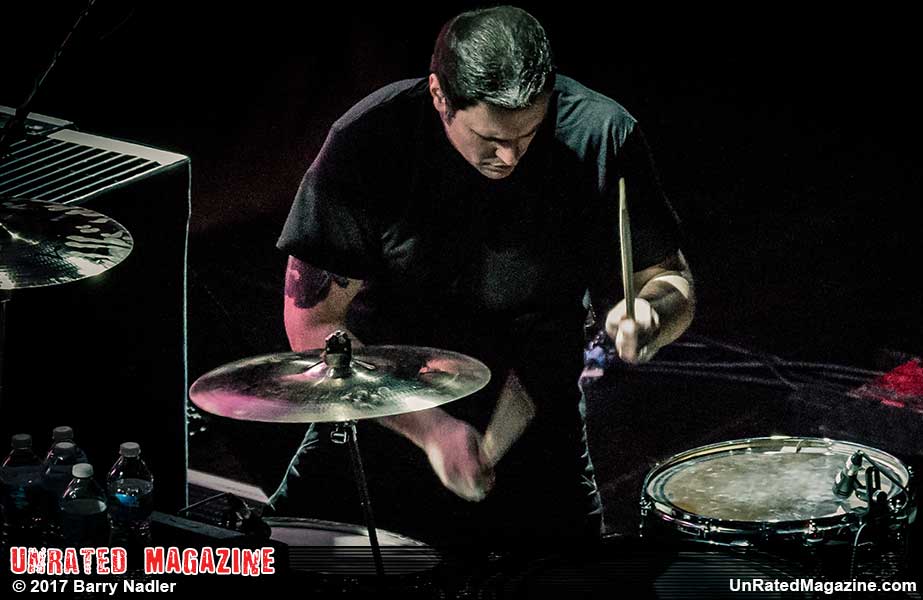 Breaking Benjamin and Wilson at Disney's House of Blues
House of Blues Orlando | Orlando, IL, 10USA | January 15, 2017
According to Benjamin Burnley, of Breaking Benjamin, "I have the mic, so you have to listen to every word I say!" And, the crowd did that all night - rocking out to the hit machine that Breaking Benjamin has become.
This show was one that a lot of people were really looking forward to. House of Blues, at Disney Springs, was sold out for the night. This was the last night of their tour before they went on the rock cruise, Shiprocked. Next stop&Miami and on to Grand Turk with the likes of Sevendust, Papa Roach, Alter Bridge, Avatar, and their supporting act for the night, Wilson. You could tell both bands were in a mood to party and were playing it a little loose during the latter part of their various shows.
It did seem like there were two separate shows with two bands that were distinctly different.
The opening band was a real surprise. I was not familiar with them and their name, Wilson, is fairly unassuming, so I had no idea what I was in for. Wilson hails from Detroit, Michigan. The five man band consists of Chad Nicefield (vocals), Jason Spencer (lead guitar), Kyle Landry (rhythm guitar), James Lascu (bass) and Matt Puhy (drums). If I had known the name of their 2013 album, Full Blast Fuckery, I might have had a clue as to what was going to hit the stage.
This was like a trip straight back to the gritty, nasty part of the 80's when bands like Skid Row, Warrant, and Ratt were all over the radio. This sound makes me very happy because I am a child of the 80's and listen to this style of music still today.
They represented newer styles as well, so it was a good mix. The singer was sporting a Sevendust shirt, while their guitarist was representing Steel Panthers. So, you got both ends of the spectrum there.
They were supporting their 2016 Album, Right to Rise. It was represented by at least four songs, "Give Em Hell," "All My Friends," "Satisfy Me," and "The Flood."
Chad repeatedly jumped up on the risers that were at the front of the stage to make him larger than life. As he led the show, he was very animated and a lot of fun to watch.
Appropriately enough, they represented the 80's with a cover of AC/DC's "Back in Black."
Towards the end of their set, Chad brought out a large, marching band-style bass drum for dramatic emphasis. He put it on the ground and proceeded to bang on it and bounce the mallets as he played. It is possible that this was not a real drum and more of a fun prop to play with.
This was a fun band and I would definitely be up for seeing them again, now that I am more familiar with their music. However, this was not the band most of the crowd was here to see though. They were here for the headliner, Breaking Benjamin.
About halfway through the show, Ben tells the crowd "We are just regular guys that lost our jobs because of you all!" As a reviewer, I would say that I am a casual Breaking Benjamin fan. I came across this band about eight years ago and liked their sound. However, it was never a band I really pursed, as a fan. What I failed to realize is how many hits this band actually had. There are bands out there that literally have 7-10 hits you know, but don't realize are that band's songs. For me, Breaking Benjamin was one of those bands.
Interestingly, Ben is the only original member of the band. One of the big things that changed in the newest lineup of the band is that several of the members sing backup and lead vocals.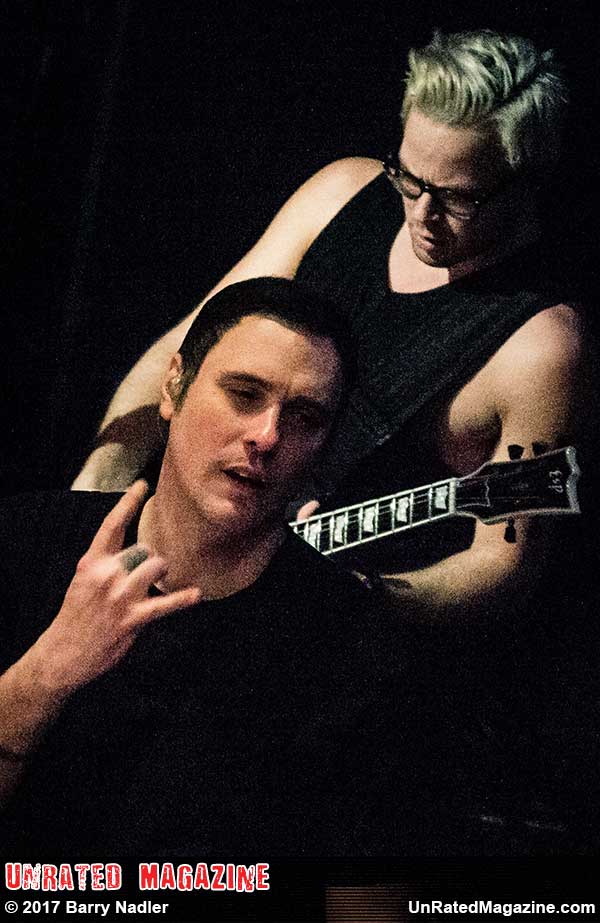 Breaking Benjamin is made up of Benjamin Burnley (lead vocals, rhythm guitar), Jasen Rauch (lead guitar), Keith Wallen (rhythm guitar, backing vocals), Aaron Bruch (bass, backing vocals), and Shaun Foist (drums).
Coming into this show, I was familiar with two songs that I could immediately identify and say they were from this band "Diary of Jane" and "I Will Not Bow." Both of which were played late in the set, with the first being their encore.
They were supporting their newest release, Dark Before Dawn. This album hosts at least three hits, all of which were also in the set - the two ballads "Angels Fall" and "Ashes of Eden," as well as the monster hit "Failure."
The stage presence of Breaking Benjamin was a completely different experience than what occurred during Wilson. Full rock and party mode was where Wilson was. Bright lights, fun props, and lots of bouncing around to pounding, rock riffs, Breaking Benjamin was a more moody, artistic experience. They had a lot of lighting from below the stage risers and lighting from behind - leaving the stage in reds, yellows, and blues. There was also two large fog machines at the front of the stage.
As the show started, it was clear to me that I was going to enjoy the music, as was the whole crowed. Everyone seemed to know all the words to most of the songs.
The show opened strong with just a string of hits. I kept finding myself saying "I know that one!" The first five songs were: "So Cold," "Angels Fall, "Sooner or Later (with Keith Wallen on vocals)," "Blow Me Away," and "Simple Design (Aaron Bruch on vocals)."
At this point, they stopped for a few moments and Ben pulled out a red light saber to illuminate the dark stage. They proceeded to play homage to a few of their favorite things, such as "The Imperial March" from Star Wars, "Bulls on Parade," Nivana's "Smells Like Teen Spirit", "Walk" and "Sad But True" by Metallica.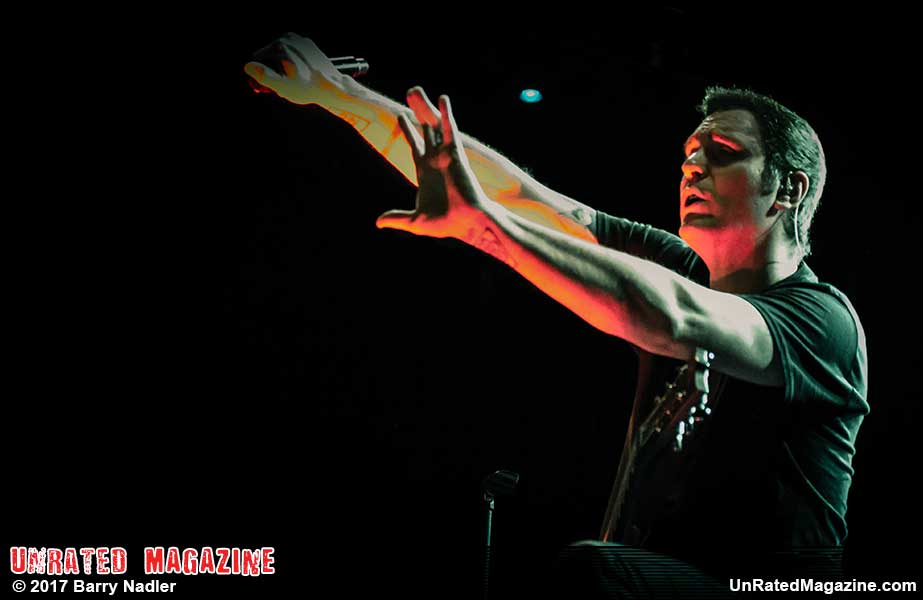 The set continued with yet more hits, including "Polyamorous," "Ashes to Eden" from their current album, "Believe" (with Aaron Bruch on vocals) from their 2004 album, "Never Again," "Breath," and "Evil Angel" (again with Keith Wallen on vocals).
At this point, they took a break to wish their roadie, Jarome, a happy birthday. Ben also took a moment to recognize the food at the House of Blues and state "When this show is over, I am going to shove my mouth full of all the food here because it is fucking great!"
With that, they closed the show with three more hits: "Failure" from their current album, "Until the End," and "I Will Not Bow." The crowd knew every word and was singing along with every song in this portion of the set. We even got to see Ben play a second drum set that was just off to stage left of the main drum riser.
At this point, you knew there would be an encore, since they hadn't played their last big hit. They closed the show out with "The Diary of Jane."
I walked away from the show realizing that I was actually a long-time fan of Breaking Benjamin and didn't know it. I had also gained a new band that I was a fan of and would be looking to learn more about Wilson. I am always impressed by bands that share vocal work. I enjoy seeing the different members show off their various skills. There are probably a few new CDs that will make my collection due to this show.
RELATED LINKS