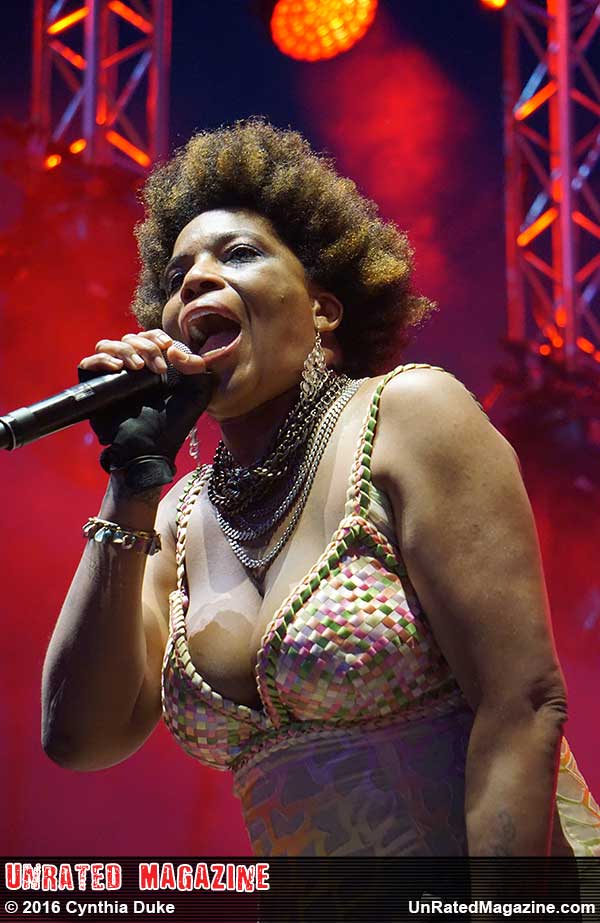 Kaaboo Del Mar 2016 Experience | Part 1
Kaaboo Del Mar 2016 Experience | Part 1 Thursday and Friday
KaaBoo Del Mar, Thursday Night, September 15, 2016
I believe Kaaboo Del Mar was my first music festival experience. Being new to the music festival experience I was like a hungry person with eyes bigger than their stomach. I made an impossible schedule of bands to see and things to do. The reality of my expectations were much different than what I had aimed for.
Also with me and co-writing was Pam Rowen. We started with the Thursday night VIP preview night. After picking up our media bracelets we were directed to the Indulgences building where we had a spa like experience. Not enough time to experience everything but what we did was great. The building was cool inside. There were jewelry booths, free manicures and pedicures, infused water, a booth to get a quick hair blowout or hair do, back massages and many more spa amenities. We of course got the back massages and Pam got her hair curled before we had to head out to see Macy Gray and Chris Isaak. We missed the surprise guest Sheryl Crow and Ed Kowalcyzk!
We got to the Trestles stage, before Macy Gray started, in a nice spot next to the barricaded VIP section. I was soon to lose that spot as I headed to the photographers pit to shoot Macy Gray. She came out about 7 pm to a brightly lit, fogged stage which they used often throughout the show. She was wearing a floor length gold dress with plenty of cleavage showing. Macy Gray was hard to shoot. She kept resting her arms on the microphone stand blocking her face. After shooting I managed to get close enough to Pam where she handed me some tacos. After eating I had do go sit on a retaining wall to the left side of the stage to rest my feet until time to shoot Chris Isaak. But, before Chris Isaak went on Pam and I went over to check out the oysters and corn. The corn was Mexican style with mayonnaise and spices. I didn't have the oysters but Pam did. I might mention that the back rubs and food and a lot of other amenities were all included free for this special night only.
When in the photographers pit for Chris Isaak, I was standing in front of the bass player, Rowland Salley, at one point and kept hearing some clacking noise. I looked out from behind the camera and realized it was Rowland Salley tapping his feet on the stage. It reminded me of the sound of people dancing above you when you have to go to a downstairs bathroom in a club.
Chris Isaak's voice was spot on and beautiful and the band were a lively bunch. Nice to know that Chris Isaak stuck with these guys after all these years. After shooting I went back to the retaining wall and watched. A lady had come up to my right with her young cat on a leash playing in the grass by the bushes. I watched for a minute and saw a little girl go by with her mom and stop when she saw the cat. She asked the owner if she could pet it but, whatever the lady said it must have summed up to a no. A disappointed little girl walked away with her mother.
It was a decent night with well behaved people for the most part. I did notice a tall older blond lady with a short haircut dancing around in the grass in front of the stage area. Life of the party type. More on her later, so remember this mention.
As we were leaving at the close of the show, I had been on our feet for a long time and were hurting, I mentioned to Pam, that the massage would have been good and better after the shows. We both agreed.
At this point I have to apologize for not doing some live video updates as I mentioned in the pre-Kaaboo article. It was so loud with all the people and music, I didn't think I would be heard talking.
KaaBoo Del Mar, Friday, September 16, 2016
The official opening day of Kaaboo Del Mar and our first full day. Our first action of the day was to have the media brunch and sparkling wine, called Toast, at JaM Cellars' Butter Lounge. We were one of the first media there and were greeted by the owners of JaM Cellar John and Michele, thus the name JaM. We were privileged enough to have a good amount of time talking with them before the rest of media came trailing in.
JaM Cellars has three wines Butter Chardonnay, JaM Cabernet Sauvignon and Toast Sparkling. I had the delicious Toast Sparkling and later went back to try the Butter Chardonnay. The best Chardonnay I've had up to this point.
The official wines for Kaaboo were Butter Chardonnay and very-berry JaM Cabernet.
Jam Cellars is actually from the same people behind the upscale John Anthony family of wines. Here is a video to watch regarding Jam Cellars' wines with John and Michele. Look for JaM wines at Trader Joe's, Whole Foods, CVS and many others. You can just head over to jamcellars.com for the full list and more information about JaM Cellars.
Butter lounge was right next to one of the main stages, Sunset Cliffs, that we were planning on being at first so, that worked out perfectly. Our first act to catch was Lawrence Taylor. A young man on the rise hailing from London. Check him out on YouTube. He's quite good and I recommend his song Bang Bang to start with.
Next up on the same stage was Orianthi, who I was looking forward to seeing. She is an Australian guitar shredder. One of the top all time female guitarist out there and she did not disappoint. Armed with a gold Paul Reed Smith axe, black thigh high boots and a red hat she blew the audience away as they cheered her on and I'm sure made some more fans. She's been playing as of late with Richie Sambora of Bon Jovi fame which you can find videos of on YouTube as well.
After Orianthi is was time to walk all the way to the other side of Del Mar Racetrack to the other main stage, Grandview. Everyone else at Kaaboo seemed to be going in that direction too so it wasn't a fast paced trek. We stopped off to use the restrooms just before the stage and I wound up sending Pam on to the show and had to go on a long and painful trek for a private matter after of which I went and rested my feet in the media room and ate dinner.
Heading back to Sunset Cliffs for Daryl Hall and John Oates, who were going on at 6:25 PM, I ran into my first snag for the photo pit. But so did all the other photographers. Apparently the bands management were going to use their own photographers and we were kicked out just before they went on. So the only shot's I got of them were from afar in back of the audience.
I went back to Butter Lounge and tried the Butter Chardonnay and sat and watched them play on the TV screen in there for the remainder of the show. After their set, Pam came to join me in the Butter Lounge and eat. While we were talking that tall blond older lady mentioned previously had come in and sat down. She was obviously very drunk and was trying to talk to us from across the room but, didn't make much sense. All I really got out it was that she stole a pillow and she likes to get a good belly laugh at least once a day and proceeded to crack up which was just awkward.
Jimmy Buffett also wasn't letting photographers in. So, we went to check out Dana Carvey but, there was such a long line it was blocking the way for us to try to speak to the attendants to see if we could get in so, we went on to the Encore building where they have the after show dance party. There was a small crowd in there at the time watching DJ Andrew Luce. Snoop Dogg or rather DJ Snoopadelic was to go on at 12:15 AM but as the evening had been unproductive and my feet were killing me, we decided to end our evening and go home and get our rest for the next big day.
Be sure to keep an eye out for Pam Rowen's article or articles for her side of the experience at Kaaboo.
End of part 1.
Read Kaaboo Del Mar Festival Review Part 2.
RELATED LINKS