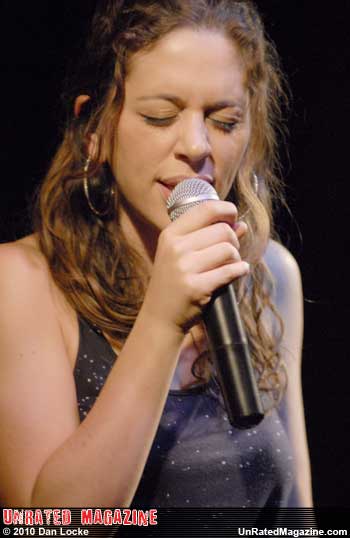 Luisa Maita and Bossa Tres Bring Brazil To Chicago
Martyrs - Chicago, IL, USA - October 4, 2016
Martyrs night clubs was the perfect setting for sounds of Brazil.  A Chicago club hosting a dimly lit atmosphere of intimacy.  The sounds of the night began with Chicago's Bossa Tres, fronted by Marcus Olivea who is originally from Brazil. Olivea heads the trio of surdo percussion and cavaquinho which just brings a real taste of authenticity to the Brazilian samba. Olivea vocals are excellent and a master percussionist of the Brazilian genre. His bands mates are Englishman, John Beard on cavaquinho and vocals, and Brazilian Hector Garcia percussion and vocals.  Beard who resides in Chicago mastered the technique and feeling to play the Brazilian small guitar, cavaquinho, which is similar to the ukulele.
The Bossa Tres played non-stop, up-tempo sambas all sung in Portuguese, for about one hour straight. I thoroughly enjoyed their performance as did the audience that  included people who danced along to the samba beat, with swirling arms and legs!
However the main act people were waiting for was singer Luisa Maita and her trio. All came from Brazil bring with them the sound of electric guitar, electric bass and drums.
I was expecting Luisa Maita to play the Brazilian bossa nova or samba but unexpectedly I heard American-style, psychedelic rock, straight out of the 60's San Francisco, California sound. The music was loud electronic, blurred vocals and mixed with electric guitar rock licks. I was transported back to 60's L.A., the soft style of Grace Slick type vocals via Luisa Maita. She had power in her voice this night and it could be seen in the audiences. If you were a rock fan then this was for you! Maita's sang in Portuguese and English, with no hint of anything Brazilian as far as style. It was not what I expected.
American rock music has been popular in Brazil to all the ages, just as Brazilian samba and bossa novas have been popular in American Jazz, and have become standard repertoire among jazz musicians and Brazilian music enthusiasts in America.
RELATED LINKS