Clean Your Clock
[
UDR GmbH (EMI)
]
Purchase Music at Amazon.com
By
Coren E McLeod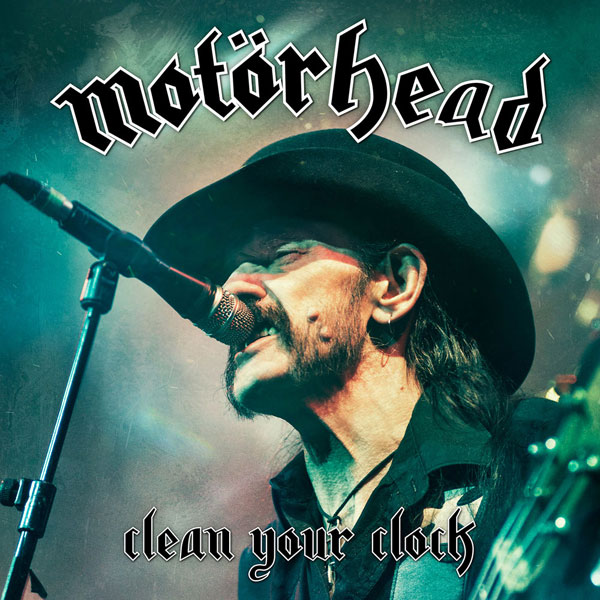 MotorHead Releases Live Album in Tribute to Lemmy and Fans
I remember growing up in the 1980s and living with a sister that was 6 years older than me. She was the definition of what a typical 80s chick was: skinny, black leather coats, big, blonde hair equipped with Aquanet and listening to heavy metal very loud. (My sister was a dead look alike of Kelly Bundy. Just saying. Stop drooling people!) I always thought even to this day that my sister Brandi is what every girl should be.
Living in a suburb of the Chicagoland area, I remember Brandi blasting from her room Guns N Roses, White Snake and Motorhead. With Brandi being 13 years old and I was just a tiny 7 years old, we would rock out to such songs like Sweet Child O Mine, Ace of Spades, and Here I Go Again. So, I have Brandi to thank for getting me into metal music at such a young age.
In December of 2015, the metal music scene lost in my opinion a legend. Lemmy of MotorHead was just a magnificent giant that sang and played the bass like it was his mission in life. Lemmy, in the eyes of many, was this hard rock creature that sang with conviction and connected with his fans on so many levels. MotorHead toured as if their life depended on it. Their stage presence would go all over the world playing to sold out arenas. In respect to their jaw dropping performances and their dedicated fans.
On November 20th and 21st of 2015 in Munich, Germany, MotorHead and UDR Records decided to record these 2 epic live shows. Which, in my opinion, could be the last "swan song" for Lemmy. The album entitled Clean Your Clock will be released on May 27th, 2016. While I was listening to this astounding record, the band just seemed on point delivering a right in your fucking face performance of raw talent.
Phil "Wizzo" Campbell always impresses with his wizardry yet gritty magic on the guitar. Mikkey Dee slams his drums as if he is the world is on fire and its his mission to save us all. And of course Lemmy, his voice was so dead on from each snarl and crinkle of his manly voice.
The CD starts off with the ever addicting heavy metal song to the Gods "Bomber." To fan favorite "Rock It" to "Ace of Spades" to ending with "Overkill," Lemmy was literally at his prime which would be his last show on stage. This CD represents a band that has had its glory days in becoming one of the most talked about and heavily influenced bands of its era. I was lucky enough to listen to this album and its jaw dropping. I could tune into Lemmy just killing it and melting off so many faces of the unbelievable crowd of on lookers.
MotorHead are the pioneers that served as the base for all metal heads out there. The entire band is a beast that took on a "take no shit" attitude and just went for it. Clean Your Clock is a tribute not only to Lemmy, but to the fans that wanted that one last thrill. However, do not expect this to be the last album. So, make sure you stay tune.
"So TURN-THIS-UP because as Lemmy himself said, the only way to feel the noise is when its good and loud... and remember Lemmy and Motörhead in the best possible way !!!"
RELATED LINKS
RELATED LINKS