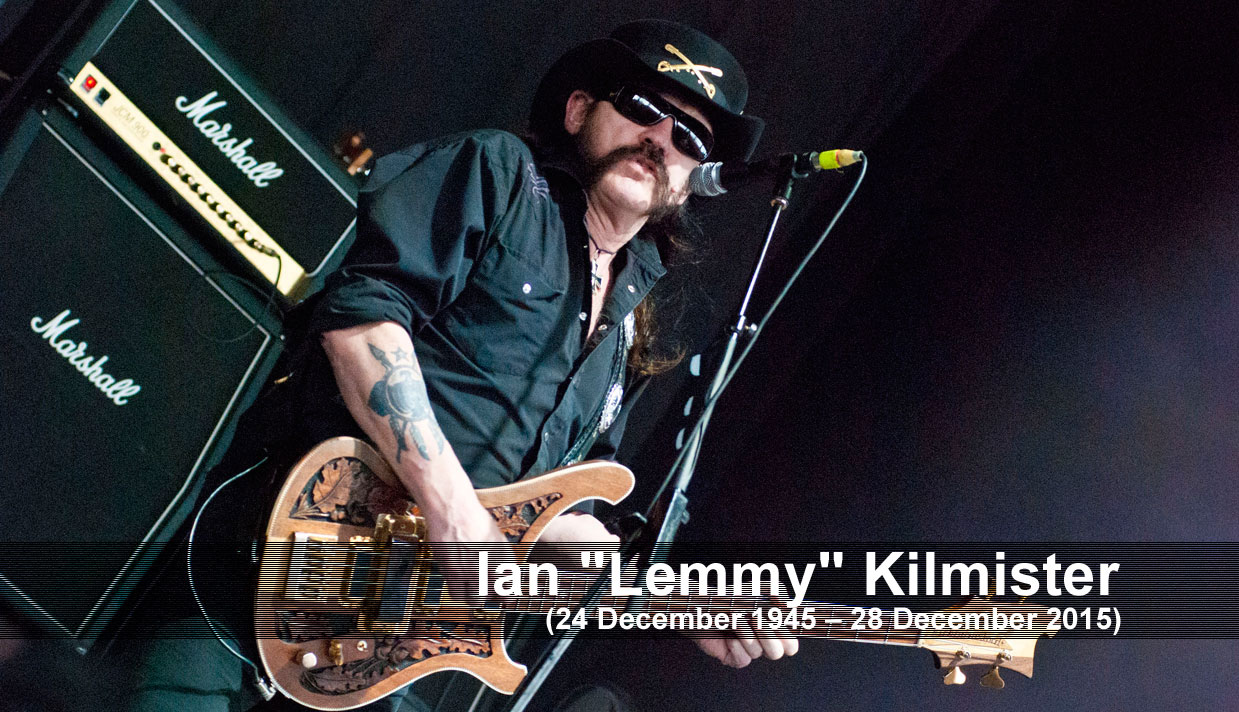 Motorhead | Memories of Lemmy
It was the evening of Saturday, December 26, 2015 and I was out with friends celebrating the end of the holiday season. We were talking about music as we always do, and Lemmy came up in the conversation (as he tends to do). Being the music journalist of the bunch, I reminded everyone that he had just turned 70 years old, and I realized that I had said that with a certain sense of pride. Here's this rock star – but not just any rock star – Lemmy Kilmister of the legendary Motörhead - and he had just had one hell of a year. At Sixty-nine years old his band put out a new album (their 22nd and it was a good one too), celebrated four decades in existence, and they'd toured extensively throughout the year. And then he turned 70 and Lemmy just always seemed invincible, like he'd live forever – or, who at least should live forever.
Two days later, he was gone.
Everyone loved Lemmy as did I. And as a fan of metal music I'm sure I would have been just as upset by his passing had I never interacted with him at all – but I was fortunate enough to have interviewed him on two separate occasions.
My first interview with Lemmy was in 2005. When it was scheduled I called one of my friends to tell him who I'd be talking to, I was excited and frankly a bit nervous. One might think that any interview would make you feel that way but honestly, you do get used to it. After a few interviews with major musicians you realize that they are people just like us. But Lemmy was...well, Lemmy.
Seconds into the phone call with the man himself, I relaxed. Lemmy was the real deal – honest, funny, kind, and just a goldmine of cool quotes. I got to ask him about when he worked as a roadie for Jimi Hendrix, and on a more serious note we talked about the tragic passing of Dimebag Darrell where I could hear the anger and pain in his voice. He had the most raw kind of nature, there was no guesswork as to how he really felt about something, he just said it and that's a rare trait. I even got to tease him a little when we were talking about his signature stance with the microphone positioned above his face and told him to make sure he blows his nose before going out on stage.
And then there were the parts of the conversation that weren't meant for print. He had mentioned that he really likes frequenting strip clubs and I told him about one in Chicago that he wasn't familiar with. He also asked me to come say hello to him after their Chicago show and said he'd buy me a Jack and Coke – but then quickly added, "Or which ever drink you'd like."
And Lemmy also told me to hang on to his phone number and to keep in touch - which kind of floored me. I did keep the number but I never once used it, and honestly the idea of doing so kind of rattled me. "Uh, hi Lemmy, it's Melanie...from Chicago...I interviewed you..." Yeah, there was no amount of courage in the world that would allow me to just 'give Lemmy a call,' but I was touched by the offer. But it's those kind of moments, these personal interactions that make this job (where it's a lot of work and very little money, if any) more satisfying. Those kinds of things are what I refer to as my 'little treasures,' they're what I take away from the conversation with these artists that becomes my own personal memorabilia, if you will.
I interviewed Lemmy again four years later and it was just as refreshing as the first time. I kind of wish now I'd made the effort to talk to him again, you know, the usual sort of regrets that haunt you once someone is gone. But I was fortunate and I won't forget that.
Although there is so much out there that's still exciting for a fan of rock and metal, the sky just seems a little grayer and the stars have lost a little bit of their luster now that Lemmy is gone.
In my second interview with him I asked him if there was anything else he still wanted to accomplish in life and he replied: "Oh yeah, but when would I do it because I'm on tour all the time? But I'd love to do something connected with archeology. I wanted to be an explorer when I was younger. But you pick your bed and you lie in it - but I've been pretty happy doing this, it's been a good life - I ain't complaining."
He did have a good life, and we're lucky that he shared it with us.
RELATED LINKS