Season of the Witch
[
60 Cycle Hum Records
]
Purchase Music at Amazon.com
By
Jake Warkel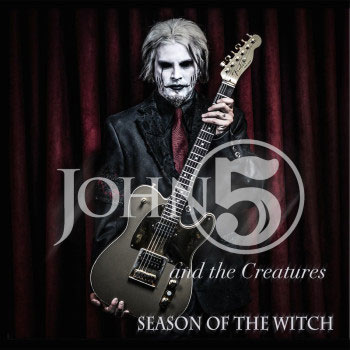 John 5 current guitarist for Rob Zombie who formally played guitar for the likes of Marilyn Manson, David Lee Roth and has also worked with Rudy Sarzo, Tracy Chapman, Ozzy Osbourne, Slash, Avril Lavigne, Meat Loaf, Lynyrd Skynyrd, Rod Stewart, and many more artists too mention. John 5's eighth solo album "Season of the Witch" is a power trio band comprised of guitarist John 5, bassist Ian Ross, and drummer Rodger Carter.
John 5's love for music and guitar is what keeps him moving forward with his career. He's always stayed true to what he loves which is playing Bluegrass, Country music, Western swing and he combines this with Metal Rock Jazz you name it John 5 plays it and does it well I noticed he loves doing triplets almost all the time which tells me that's his go to signature lick on guitar because it's in a lot of his work also constantly creating new wild, exotic, traditional to untraditional crazy sounds.
John 5 is definitely never afraid to try new things on guitar he's got this musical mind that's really not like others he knows no boundaries that's what makes instrumental albums unlike regular albums. With vocals you know the feeling the aggression the tone of that song, also you know the story with vocals with instrumental you have to have the instrument speak for you all the musical parts must come together to tell the story.
I personally like John 5's playing. I own majority of this work; my favorite album still is "God told me to" I'm not disappointed in "Season of the Witch" I think it's actually a really great album. It's definitely out there but most of John 5's work is out in left field but that's why I like his solo stuff he's not afraid to push boundaries or never really cares what people thinks, he just does what he wants to do because he loves it.
Track 2 "Black Grass Plague" is a Metal Country bluegrass song all twisted into one crazy tune that kicks from Doc Martins to Cowboy boots and don's forget the crazy banjo playing at the end by John 5. Guitars, Tits and Monsters, Can you say Jazz Fusion with triplets, hammer-ons, pulloffs, tapping all in one song plus killer licks of sorts. "Now Fear This" prog classical piece with some harmonizing going on and shredding all near end with a great vibe. "Behind the Nut Love" it says it all. This is played in open E in E major with clean tone with chorus and some reverb then start finger picking, harmonics, and pushing down on string Behind the Nut that's how you get this beautiful sounding song which John 5 has played for years. "Making Monsters" fast patterns at times with scales with catchy licks. "Here's To The Crazy One" which is my favorites there's really incredible tapping going on that John 5 does so well. Great tune with great melody. "The Macabre" is another tapping song that has the tapping looped with a nice guitar melody played over it. "Triple D" John 5 played on That Metal Show years ago so I was familiar with this tune already. Quick fun song. "Hell Haw" not my favorite just a clean tone country jazz blended material. "Ode To Jasper" is a simple quite mellow relaxing tune that can ease your soul. "Season Of The Witch" Now is bringing me back to "God Told Me To" it has the feeling, energy, mystique, playing that I embrace from John 5. I highly recommend you go purchase you will not be disappointed.
Slash has called JOHN 5, "one of the most mind-blowing guitarists around" and Rob Zombie has dubbed him "a fucking shredder." Well most importantly I think he's mind melting music creator.
Season Of The Witch track listing:
Book of Spells
Black Grass Plague
Guitars, Tits and Monsters
Now Fear This
Behind the Nut Love
Making Monsters
Dr. Evil's Spook Show
Here's To The Crazy Ones
The Macabrebr
Triple D
Hell Haw
Ode to Jasper
Season Of The Witch
RELATED LINKS