Chris Cornell (July 20, 1964 - May 18, 2017) Dies at Age of 52
Chris Cornell, lead vocalist for Soundgarden passed away last night in his MGM Grand Detroit hotel in Detroit. In addition to his prosperous solo career Cornell was the front man for Audioslave and Temple of the Dogs.
It's hard to see another rocker we all love pass away. Soundgarden was the first band signed by a major record label, ushering in the the Grunge phase of the 1990s. The Grunge Sound included Nirvana, Alice in Chains and Pearl Jam and many others, but Cornell's unique four-octive vocal range set Soundgarden apart from their peers and helped the band maintain success over decades.
Sir Elton John and Bush frontman Gavin Rosdale have posted messages on social media mourning his loss. Those close to him including band mates are said to be shocked by his sudden death. Today we mourn his loss with the the world.
Chris Cornell joins a growing list of rock greats gone too soon - Kurt Cobain of Nirvana (February 20, 1967 - April 5, 1994), Layne Staley (August 22, 1967 - April 5, 2002) of Alice in Chains and recently David Bowie (8 January 1947 - 10 January 2016).
For millions of fans this is a heartbreaking loss of an icon. Early speculation is his death is linked to suicide. Let's wait and find out.
Chris Cornell's Last Tweet @ChrisCornell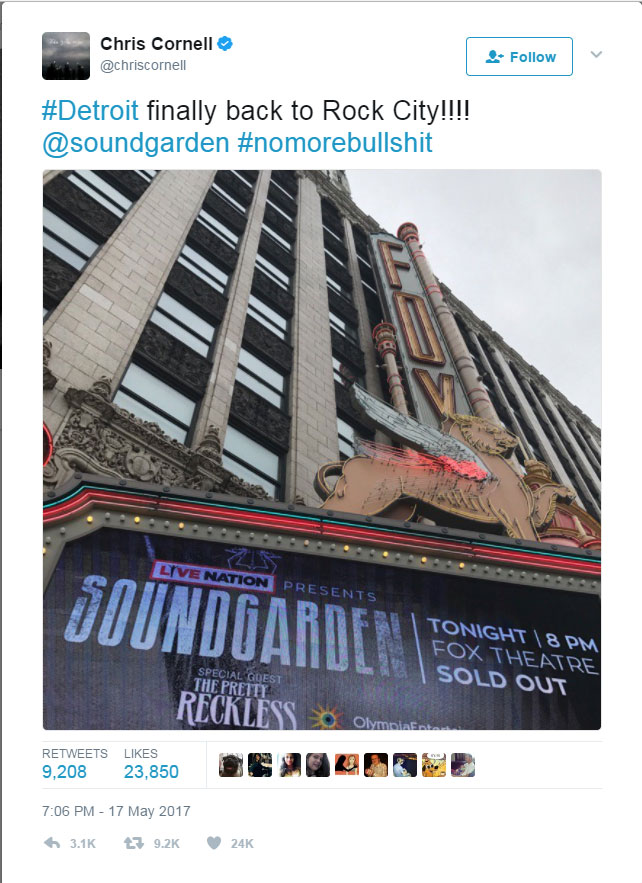 Chris Cornell Archive
Chris Cornell will tour in the Fall, playing a series of intimate shows highlighting songs he has written throughout his illustrious career. This is the first time US fans will hear acoustic arrangements of songs from 2012's critically-acclaimed King Animal, Soundgarden's first new studio album in over 16 years. American/Sri Lankan folk artist, Bhi Bhiman, will support Cornell on tour. 2011's first ever Songbook Tour sold out in minutes, and included performances at esteemed venues and festivals around the world including Carnegie Hall in New York City and the Sydney Opera House in Australia.
Praise for Chris Cornell's Songbook performances:
"This was a show that gathered its power from humility, a good surprise from a man of Mr. Cornell's skill set." — New York Times
"Sometimes you don't recognize the full power of a voice until you strip everything away from it. Such was the case with Chris Cornell's drop dead great show at Town Hall last night....the approach served to reveal both the full force, and the utter control, of his singing. It made it clear, at last, just how much skill he brings to his vocals, as well as how rare his timbre remains." - New York Daily News
"The two-hour, nearly two-dozen-song performance was a master class in the fine art of solo performance....he wove tender folk-tinged ballads, hard-rock torch songs, and soaring anthems into a cohesive whole, telling a few tales in between, "Storytellers'-style." - Boston Globe
"Chris Cornell is a touchstone for an entire generation of music fans. The rocker turned in a show befitting his status at a capacity House of Blues on Sunday night, rewarding fans and providing a new look at some beloved tunes." - Dallas Morning News
Chris Cornell has the ability to connect with listeners like few others of our time. He has maintained his own unique identity over more than two decades as a singer, songwriter, and lyricist, and has contributed to the catalogs of celebrated rock bands Soundgarden, Audioslave and Temple of The Dog. As a solo artist, Chris has contributed original songs to multiple movie soundtracks, including the 2013 summer blockbuster Man of Steel, and became the first American male singer to write and perform the theme song for the James Bond franchise in Casino Royale. He was recently nominated for a Golden Globe for his original song, "The Keeper" written for the film Machine Gun Preacher and wrote the song "Live to Rise" performed by Soundgarden in the mega-hit Disney film The Avengers. Cornell also had the honor of performing at the 2008 Kennedy Center Honors Gala, and at the 2013 Obama Presidential Inaugural Ball.