In an industry that's saturated with female singers, there may be a few that stand out from the crowd and gains notoriety. One such person who is gaining fans alike is singer/songwriter Jimmie Reign who hails from the Bay area that has brought us such famed rappers as E-40 and Too Short. Jimmie has been blazing the radio charts in the Bay area with her debut single, "Trying To Be Your Girl." I had an opportunity to interview Jimmie recently and find out exactly who Jimmie Reign is and what sets her apart from other up and coming female R&B singers.
---
Stefanie: Where does the name Jimmie Reign come from?
Jimmie: My father taught my sisters and I how to sing and his name is James. His friends all call him Jimmie, so in honor of him I took on the name Jimmie. Reign comes from me always thinking of myself as royalty. I've always been a little princess and now I'm the first lady of the Bay...Jimmie Reign.
Stefanie: How is it that you were able to start writing songs at the young age of 14?
Jimmie: I started writing poetry at 12 and at around 14, after listening to a Brian McKnight CD, I began turning those poems into actual songs. I also had a god-brother who was rapping at the time, and would ask me to come into the studio to write and sing hooks for him.
Stefanie: Your song "Trying To Be Your Girl" was written after an argument with your then boyfriend, do you find a lot of inspiration for your songs from your own experiences?
Jimmie: Oh yes, definitely. All of my songs are about someone or something that has happened to me. If you're one of my close friends, you can listen to my songs and know exactly who I'm talking about.
Stefanie: I read that you opened for Keyshia Cole, Letoya London, and Bilal. How was that experience and how has watching these acts helped you in your own performances?
Jimmie: Opening for them actually helped me to better understand different types of crowds. Sometimes you have crowds that are loud and want to jump around and scream, and other times you have crowds that just want to sit back and enjoy the show. So now I'm more aware of my surroundings when I perform.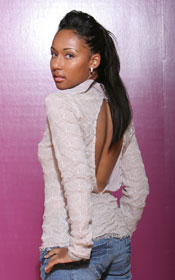 Stefanie: I also read that you are fielding calls from major recording industry executives wanting to know who is Jimmie Reign? First, who is Jimmie Reign and are you now in talks to get signed with a major label?
Jimmie: There has been some talk with different labels, so I'm just kind of waiting to see what happens. For those who don't know who Jimmie is: Jimmie Reign is talent that has been untouched. My writing is pure and emotional. My melodies and harmonies don't come from vocal trainers, they come from years of playing church with my sisters and pretending we were the choir. Jimmie Reign is fly, classy, and a diva in every sense of the word. I have a swagger not many women can pull off and a style that makes a 16 year old high school girl relate to my music just as well as a 40 year old divorced working woman.
Stefanie: You've worked with some pretty impressive people, Brian Morgan (SWV), Terry Ellis of En Vogue, and Damon Edens (Atlantic Records) how did these collaborations come about?
Jimmie: I've had a lot of supportive people in my corner over the years who were very good at networking. That's how I was able to work with Brian and Terry. I was blessed to have met Damon at a music showcase almost six years ago, where I was performing. He loved my writing and with his production style, we became fast friends. He has been a tremendous help to my career and always tries to involve me in whatever he has going on.
Stefanie: How would you describe your music?
Jimmie: I always describe my writing as saying what people should and wish they could say. I'm a "feelings" person. Before I ever say "I hate you," I'm going to tell you why I'm hurt. I don't male bash, I don't whine. I just say what I'm feeling straight up. Musically, I tend to lean more towards sample laced hip-hop tracks. I can flip a rap track and make it one of the best R&B songs you've ever heard.
Stefanie: What sets you apart from other female R&B artists?
Jimmie: (Laughs) This is always my favorite question during interviews. I have the ambition and the perseverance of a rapper trying to get put on. I'm bold and I'm blunt without being un-lady like, and I'm probably one of the most down to earth "divas" you'll ever meet.
Stefanie: What are your short and long term goals as far as the music industry is concerned?
Jimmie: As far as short-term, I'd just like to really make my mark on the West Coast. I'd like to go from being the "1st Lady Of The Bay" to being the "best in the west." Long term would be being able to live off of my music and provide for my family by doing something I love so much. Ultimately I'd like for people to just appreciate my talent.
---
RELATED LINKS