!link rel="stylesheet" href="/css/normalize.css"> <!link rel="stylesheet" href="/css/style.css">
Memories of Lemmy
It was the evening of Saturday, December 26, 2015 and I was out with friends celebrating the end of the holiday season. We were talking about music as we always do, and Lemmy came up in the conversation (as he tends to do). Being the music journalist of the bunch, I reminded everyone that he had just turned 70 years old, and I realized that I had said that with a certain sense of pride. Here's this rock star but not just any rock star Lemmy Kilmister of the legendary Motörhead - and he had just had one hell of a year. At Sixty-nine years old his band put out a new album (their 22nd and it was a good one too), celebrated four decades in existence, and they'd toured extensively throughout the year. And then he turned 70 and Lemmy just always seemed invincible, like he'd live forever or, who at least should live forever.
Two days later, he was gone.
Everyone loved Lemmy as did I. And as a fan of metal music I'm sure I would have been just as upset by his passing had I never interacted with him at all but I was fortunate enough to have interviewed him on two separate occasions.
My first interview with Lemmy was in 2005. When it was scheduled I called one of my friends to tell him who I'd be talking to, I was excited and frankly a bit nervous. One might think that any interview would make you feel that way but honestly, you do get used to it. After a few interviews with major musicians you realize that they are people just like us. But Lemmy was...well, Lemmy.
Seconds into the phone call with the man himself, I relaxed. Lemmy was the real deal honest, funny, kind, and just a goldmine of cool quotes. I got to ask him about when he worked as a roadie for Jimi Hendrix, and on a more serious note we talked about the tragic passing of Dimebag Darrell where I could hear the anger and pain in his voice. He had the most raw kind of nature, there was no guesswork as to how he really felt about something, he just said it and that's a rare trait. I even got to tease him a little when we were talking about his signature stance with the microphone positioned above his face and told him to make sure he blows his nose before going out on stage.
And then there were the parts of the conversation that weren't meant for print. He had mentioned that he really likes frequenting strip clubs and I told him about one in Chicago that he wasn't familiar with. He also asked me to come say hello to him after their Chicago show and said he'd buy me a Jack and Coke but then quickly added, "Or which ever drink you'd like."
And Lemmy also told me to hang on to his phone number and to keep in touch - which kind of floored me. I did keep the number but I never once used it, and honestly the idea of doing so kind of rattled me. "Uh, hi Lemmy, it's Melanie...from Chicago...I interviewed you..." Yeah, there was no amount of courage in the world that would allow me to just 'give Lemmy a call,' but I was touched by the offer. But it's those kind of moments, these personal interactions that make this job (where it's a lot of work and very little money, if any) more satisfying. Those kinds of things are what I refer to as my 'little treasures,' they're what I take away from the conversation with these artists that becomes my own personal memorabilia, if you will.
I interviewed Lemmy again four years later and it was just as refreshing as the first time. I kind of wish now I'd made the effort to talk to him again, you know, the usual sort of regrets that haunt you once someone is gone. But I was fortunate and I won't forget that.
Although there is so much out there that's still exciting for a fan of rock and metal, the sky just seems a little grayer and the stars have lost a little bit of their luster now that Lemmy is gone.
In my second interview with him I asked him if there was anything else he still wanted to accomplish in life and he replied: "Oh yeah, but when would I do it because I'm on tour all the time? But I'd love to do something connected with archeology. I wanted to be an explorer when I was younger. But you pick your bed and you lie in it - but I've been pretty happy doing this, it's been a good life - I ain't complaining."
He did have a good life, and we're lucky that he shared it with us.
Story by Melanie "Sass" Falina, January 8, 2016.
Lemmy of Motorhead Dies of Cancer on December 28, 2015
Lemmy Kilmister
(24 December 1945 28 December 2015) #RIPLemmy

Motorhead frontman Lemmy Kilmister has died. Ian Fraser Kilmister was born on Christmas Eve, a few days after celebrating his 70th birthday the legend who is known to us all as Lemmy of Motorhead passed away on December 28, 2015. For all those who have seen Motorhead in concert, Lemmy was iconic to everyone in music. As the tributes go out today, we at UnRated Magazine say our prayers to Lemmy. May you Rock the heavens for Eternity. You lived life as a Rockstar, a True Rockstar. Now you will be remembered with all our other rock and roll heroes. RIP Peace Lemmy.
Just a little about Lemmy, he was born as Ian Fraser Kilmister on December 24, 1945 in Staffordshire, England, post -World War II child. Lemmy many musical careers included being a roadie for Jimi Hendrix Experience, and a member of the band (vocals, bass) Hawkwind, before becoming the front-man and bass player of one of the most known bands in the world, Motorhead. His graspy voice brought world fame on the record charts with the song, Ace of Spades.
LEMMY AND MOTÖRHEAD AT NUMBER ONE!
MOTÖRHEAD, the loudest, coolest and most iconic rock'n'roll lifestyle around are at number one this week:
The Wörld Is Yours - #1 on this week's CMJ's Loud Rock chart
Lemmy: 49% Motherf**ker, 51% Son of a Bitch - #1 on three Billboard's charts this week: Music Video, Music Video DVD and Music Video Retail (Both the DVD and Bluray are in Amazon's Top 10 Best Selling Documentary Chart.)
This is a first in the U.S. for Motörhead, the hardest working, hardest touring band around. 2011 is a big year, as they celebrate Motörhead's 35th anniversary and the release their new studio album, The World Is Yours on February 8.
The critically-acclaimed documentary about Motörhead's iconic founding-frontman, titled LEMMY, premiered nationally in January and was released on DVD on February 15. The theatrical release of the film has also extended into its sixth straight week in New York City.
Being the true road warriors they are, Motörhead will finish their North American tour in Los Angeles at Club Nokia on March 11th. If you haven't already gotten your tickets, get them now, as every show has sold out by concert time.
The band will then continue to once again conquer the globe, visiting Australia and South America in April/May, before returning to Europe between June and August.
In other Motörhead news:
- Motörhead will perform on The Jimmy Fallon Show on March 2.
- Lemmy appears as the band's wild driver in a new Foo Fighters' video for their song, "White Limo."
- On February 25, the UK's Livewire Music Project released a charity single which is a cover of Girlschool's 80's hit, Emergency, featuring not only Girlschool, but also Lemmy. The single is available on all the usual download sites, and the proceeds will go to help rebuild a school in Haiti.
"Rock N Roll is my religion; I don't need no miracle vision..." - Motorhead, "Rock N Roll Music"
...What quintessential lyrics for a tireless staple of heavy metal like Motorhead.
Each Motorhead release spanning the past three decades has been a package of gravel and grit, thrusting rock and roll, and controlled fury. The World Is Yours is no exception.
"Born To Lose" has the familiar raspy groove music fans have come to expect from Lemmy and company. "I Know How to Die" has got a great live-vibe with a hard hitting guitar solo, "Waiting For The Snake" is raw and cryptic, and "Brotherhood of Man" is pulsing moodiness.
"Get Back In Line," "Rock N Roll Music," "The Devil's In My Head," and "I Know What Your Need," are all hard-hitting metal anthems.
"Outlaw" is a great showcase song that reminds the listener that Lemmy is not the only rock star in this band. The guitar work is fierce and Mikkey Dee's drumming is solid and aggressive. The feel of this song alone can easily be the embodiment of Motorhead.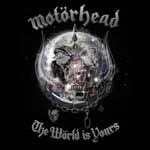 "Bye Bye Bitch" is another classic Motorhead tune dripping with vigorous cadence. This will be another fun one live.
The World Is Yours will be released on February 8, 2011, until then Motorhead is headed back out on to the road this month; their obligatory Chicago show will be February 19 at the Congress Theater. Clutch and Valient Thorr are opening.
Pre-order The World Is Yours from Amazon
Motorhead "The World Is Yours" Tour 2011
LEMMY HONORED WITH LIFETIME ACHIEVEMENT AWARD
Last week, Motörhead's legendary frontman, Lemmy, was honored with Revolver's Golden Gods Lifetime Achievement Award, and performed his hit, "Ace Of Spades" with Slash and Dave Grohl. (Photo credit: ©Kevin Estrada)
The Revolver Golden Gods Awards show airs on VH1 Classic on May 22.
Other Motörhead news:
Ace of Spades is the latest album inductee in the May issue of Decibel Magazine's prestigious "Hall of Fame" series, which explores landmark albums in the badass pantheon of extreme music. Says the magazine, "Ace of Spades finally, definitively, captured this unkempt band's sound, a sonic force so unruly and crass that it appealed to punk and metal crowds equally. Yeah, the title track is perhaps the greatest metal anthem ever written, but there are a half dozen on here-"(We are) the Road Crew," "The Hammer," "Jailbait," "Fast and Loose," etc.-that are just as ass-kicking and memorable. Not surprisingly, Ace debuted on the U.K. charts at number four and went on to be the band's biggest selling album, the one that would finally help them grab a foothold in the U.S."
On May 7, Lemmy will perform with Slash and Matt Sorum, among others, at the MusiCares MAP Fund benefit concert.
A number of Flip Skateboards signed by Lemmy will be given away on a variety of sites soon.
The Lemmy movie debuted at SXSW last month. The filmmakers are sorting through offers for the film's distribution.
Michael Monroe has a new song he wrote about Motörhead. It's called "Motörhead For A Fall," and he performed it in Austin at SXSW.
Lemmy provided a very unusual recipe for the upcoming rock 'n roll cookbook, "Mosh Potatoes." The recipe is called "Krakatoa Surprise," and has chocolate syrup, curry powder, brandy and a variety of other ingredients. The publisher will be including a warning label
Lemmy appears on Slash's new record on a track called "Doctor Alibi."
Motörhead are scheduled to play Rock In Rio Madrid on June 14, as well as many other festivals throughout Europe from May to August.
This summer's TV version of the Rock 'n Roll Fantasy Camp will include Lemmy's visit to the campers, regaling them with anecdotes from the road.
It's been 34 years since Motorhead was born, and in that time Lemmy Kilmister and company have been on a lot of tours. This tour coming up is no different from most - beginning in just a few days and snaking around the U.S. and Canada through October, then picking up again over in Europe until practically the end of 2009 - and with few days off in between.
"Yeah, well, days off cripple you on tour," says 63-year old, Motorhead front man Lemmy Kilmister in the frank manner in which he says most things, "But it's what I do. It's what I'm supposed to do, I feel."
Each and every musical road warrior has to somewhat adjust to the wear and tear that touring does to you physically - and that too is something that the iconic Kilmister takes in stride. Not only is he used to it after so many years, but he really couldn't imagine it any other way.
"Everything seems ok so far. I've got type 2 diabetes but I've had it for years, you know? It's not going to change anything about my lifestyle; I just take the pills and hope for the best. You can't stop everything you do, you know, because that's just a different life then and I'm not interested in that.
And health issues aside, sometimes bands have to deal with some interesting people along the way. At the tail end of this tour that Motorhead is about to embark on they will be playing in Russia again for the first time in almost a decade.
"Over there the only people to work for are the mafia, you know, because they run everything. So it's like the last time we went over there - the last two times we went over there - we were working for them. And that's alright but it's just that they want people like Rod Stewart and that. Really big sellers, you know, so they can pile them in."
And Lemmy, the man Alice Cooper described as being like a pirate, isn't at all intimidated by having to work with mafia-types.
"No, no, over there they're just doing their job and they get the show on and do the best they can."
Thirty-four years and nineteen albums down the line, what's it like trying to put together a set-list with such an abundance of material?
"We just fight over it. We all have our favorite songs and we push them, it's quite simple. Just like anything else you decide between three people. Some songs really don't make it on stage whereas they're good on the album, and the other way around. 'Ace of Spades' is not bad, it's a good song. We're pretty lucky with all our songs; they're pretty painless to play. I'm not horrified by any of them," he chuckled. "I'm not playing anything I'm ashamed of which is a great thing, you know."
But it's not only Motorhead's music that has inspired people. Film-makers Greg Olliver and Wes Orshoski are in the process of making Lemmy: The Movie , a documentary which includes an adoring collection of interviews with musical luminaries such as Slash, Alice Cooper, Dave Grohl, Marky Ramone, Mick Jones, Mike Inez, and more, talking about - who else but Lemmy.
"They're still fucking around with it. They're like, 'Oh no, you can see the end of the microphone in that shot.' You'd think people will die if they see that; people all over the world will die and make their children orphans," Kilmister says in jest. "The sky will fall; it's definitely important. I never quite understood, but I suppose it makes better movies," he laughs. "But they're good guys; they came to us and asked to do it and we said film some stuff and edit it and then show us, and they did and it very good and so we said 'go ahead.'"
The teaser/trailer of the film is available for viewing online and showcases a slew of wonderful musicians singing praises to Lemmy and his quintessential rock and roll lifestyle.
"It's great, a great job that. It's most gratifying, really. You know, if you got showed this every day you don't think of it as a fucking icon," Kilmister chortles. "It's nice of them to say that."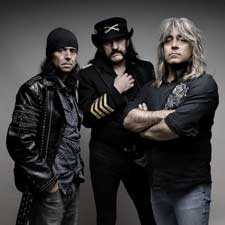 So does Motorhead have any plans yet for the 35 th anniversary that's coming up next year?
"Nawh, I don't look at it like that, you know. I've been doing it a lot longer than that - I didn't form the band until I was 30. You don't think about how long you'll be doing it when you're forming a band. You don't think, 'How long will it last?' You don't think about it you just want to play and it's something to do because you like doing it."
With Motorhead's most recent release, Motorizer , having been released in 2008, are there any plans yet for the next - and 20 th - studio album for the band?
"Yeah, we're going in in January to start doing the new one. So, it should be out by the end of the summer, I guess and all that."
Is there any material written yet for the forthcoming release?
"No, we're always under the knife," laughs Kilmister, "It seems to work for us that way, you know. So far so good."
And do Lemmy and company ever do any writing while out on the road?
"Basically you'll get an idea but you never remember them. I've lost count of the great riffs we had at sound checks and we've said, 'Record it!' But then never remember one, neither do I. Hopeless, right?"
Despite the fact that these rockers have earned veteran status, they're also appealing to the younger generation as well - not just via their albums and live shows, but also in the Guitar Hero games.
"The Guitar Hero thing, or Rock Band - I haven't got a computer, you see, so I don't know about this stuff. But it's gone through the roof really, it's pretty cool as long as they don't think that's really playing guitar, you know?"
So with more than 40 years in the music business and almost three and a half decades in Motorhead alone, what has Lemmy Kilmister learned about the world due to his taking this path in life?
"Well, you know, you win some you lose some, you learn stuff you wouldn't have learned and then you don't learn stuff you would have learned. So it's about even, I guess. The only thing that I have learned is that I'm really lucky to be doing a job that I would have done for free, and I'm getting paid for it basically. You go out there to play music because you love it, you know, you don't do it to get paid in the beginning. And then you find out, 'Wow, I can get paid too?' And that's really lucky, I used to work in a factory before I was in the band and it was fucking horrendous. People must lose their minds there; you have to shut your mind down to get by. I'm really glad I don't have to do something like that in my life, you know, I'm glad I got this and could get away from that because that was fucking terrible."
Is there anything else that this rock and roll pirate would like to accomplish in his life?
"Oh yeah, but when would I do it because I'm on tour all the time? But I'd love to do something connected with archeology. I wanted to be an explorer when I was younger. But you pick your bed and you lie in it - but I've been pretty happy doing this, it's been a good life - I ain't complaining."
Motorhead will be playing in Chicago on August 30 at the House of Blues.
Interview by Melanie "Sass" Falina ©2009;2009
Motörhead, The Hardest Working, Hardest Touring Band In the World, Announce 2009 U. S. Tour Dates
Having completed a highly successful tour of the U.S. last year with Judas Priest and Heaven & Hell, Motörhead continue to answer the global demand for their live assault in 2009. A sold-out tour of South America took place in April, the band is currently in Europe headlining some of the summer's biggest festivals, and they will return to the U.S. in August for a real rock'n'roll bill with The Reverend Horton Heat and Nashville Pussy. Without taking a breath, they will then go back to Europe, performing throughout the continent, from October through December, with support in the U.K. from eternally cool cohorts The Damned and Girlschool. In the spring of 2010, the band will commence work on their as-yet untitled new album.
Ongoing Motöraction for 2009:
A concert review last week in a European newspaper continues to pushthe petition calling for the knighting of Lemmy. Sir Lemmy??
The article goes on to tout Motörizer, the band's most recent record, saying that the band's "no-nonsense hard rock has been credited with influencing everything from heavy metal and speed metal to punk and thrash." It ends with the comment, "Few bands hold a candle to Motörhead."
The highly anticipated LEMMY movie with footage shot throughout the last two years, up close, personal and outrageous.

Lemmy appears as "The Killmaster" in the upcoming Action game, Brutal Legend, featuring Jack Black, Tim Curry and more - coming to the Xbox 360 and PS3 this October.
Beach culture brand Hurley has collaborated with Motörhead on a capsule collection of t-shirts, jackets and accessories, sporting classic catch phrases, song titles, photos and of course, the famous Motörhead logo. Hurley celebrated the launch of the collection last month with a party for Lemmy at one of his favorite spots, The Rainbow, on the Sunset Strip.
Re-releasing this Christmas, the very successful Metal Xmas CD, containing Lemmy, Billy Gibbons and Dave Grohl's version of "Run Rudolf Run," produced by Bob Kulick.