Famous author Jack Kerouac once stated that "great things are not accomplished by those who yield to trends and fads and popular opinion," so when Jason Reeves dropped out of school and moved from Iowa City to Los Angeles in 2005 to pursue a musical career he definitely went against the grain of modern society that likens a college education to success. Statistically speaking, people who don't finish college (besides professional athletes) have it much harder down the road than those who do, but if Jason's destiny is to become a musician, do the numbers really matter? The answer is "No," and what's more important is that he gave his intuition precedence over outside logic; thus, committing himself to a "Dharmatic" existence. For Jason, and everyone else in this world, there is one Dharma that reigns supreme: one must dream, and then pursue before he or she can accomplish. It is very difficult to pursue something without direction or motivation, and a dream not followed up by action remains just that, a dream. "All human beings are also dream beings," Jack Kerouac wrote. "Dreaming ties all mankind together," and Jason's dream probably started while taking piano lessons from a blind instructor at the age of five.
"I play by ear because of [my piano teacher], and I don't pay attention to notes or care what the chords are called," Jason told the LAist in an interview last October. "She taught me how to feel the music instead of thinking about it," which explains why each song's visceral emotion is so impressive. From the beautiful innocence of "Someone, Somewhere" to the gritty acoustic sound of "You In A Song" Reeves delivers an honest reflection of the experiences that helped him evolve into the artist he is today.
All songs exist in the atmosphere," Jason commented to the Northeastern Illinois University Independent in late 2008. "And artists are on a romantic search to pull them down and give them life." Before signing to Warner Bros. in 2008, Jason pulled a ton of songs from the sky and performed them at "coffee shop" gigs where his popularity earned him the title of #1 unsigned folk artist on MySpace in 2007. The Magnificent Adventures.. originally debuted at #2 on iTunes's Folk chart, and was named one of iTunes's Top Folk Albums of 2007, before Warner Bros. decided to re-release it in physical and digital format with four tracks remixed, prior to this the album could only be purchased at a Jason Reeves show or online. Other standout tracks from Jason Reeves' Magnificent Adventures include "Happy Accident," a song that explores the infatuation between lovers during the early stages of a relationship; "Never Find Again," an expression of appreciation for a moment and feeling that cannot be duplicated or repeated; and the enchanting "New Hampshire," a tune about someone (Reeves probably dated) from New Hampshire who cuts off contact with him because "she wants to see it all." The album's most riveting moment comes during "Pretty Eyes," a heartfelt confession of fear and vulnerability felt when veering into the eyes of a loved one for the last time. "Maybe I would disappear without you/Maybe I would fall into the sky/But I'm in heaven orbiting around you/And your pretty eyes." The piano used at the end of this emotional outcry can only be interpreted as a man desperate to touch the soft face of loved one as she goes farther off into an abyss of darkness.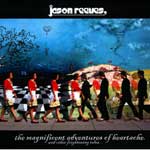 "I hope it is true that a man can die and yet not only live in others but give them life, and not only life, but that great consciousness of life," Jack Kerouac, author of Jason Reeves' favorite book, The Dharma Bums, once wrote; and although Jason Reeves isn't sleeping on trains and climbing mountains he does embody an important aspect of Kerouac's persona, the ability to dream, pursue, and accomplish. Jason's career started with a dream that he decided to pursue when he moved to Los Angeles in 2005. Now, a mere four years later, he is signed to a major record label with a promising future ahead of him. So, with respect to the rules of Dharma, did Jason Reeves accomplish? The answer is "Yes," but not when he got a major record deal. His greatest accomplishment came the day he ignored outside logic to pursue his dream of becoming the singer/songwriter he is today. While statistics and numbers comprise the language of logic emotion and intuition stem from the voice of your heart, and if you listen to its call, like Jason Reeves, you too will understand how it feels to be a Magnificent Dharma.
Story by Sam Frank ©2009