Creedence Clearwater Revival - 1969 Archive Box (2016)
Fantasy (Concord Music Group INC)
Review by Barry Brecheisen
Release: September 9, 2016
You may not realize it, but 1969 was an amazing year for rock music. Without it, we wouldn't have some of the most iconic music we still rock out to today. That year bands like Led Zeppelin, Genesis and YES released their first album. If that isn't enough, we also saw Neil Young, CS&N, Chicago, Alice Cooper, The Stooges, Blind Faith, Santana, Nick Drake, Allman Brothers Band, Rod Stewart and The Jackson 5 all debut that year. That's not even listing the now classic albums released by established acts like "Tommy" by The Who, "Abbey Road" by The Beatles and Cream calling it quits with "Goodbye." This was a huge year to be alive.
1969 would also be a big year for a band just coming off their own debut the previous year. 1969 saw Creedence Clearwater Revival release not one, not two, but three albums. To showcase that prolific period and as part of Record Store Day on April 16th, comes the 1969 Archive Box. Serving as both an audio and visual time capsule, this special box set brings you back to that astounding year with vinyl, EPS, CDS and a collection of artifacts from that period.
How does a band that already is feuding behind the scenes, managed to handle a grueling touring schedule, make two big Ed Sullivan Show appearances, headline Saturday night at Woodstock and still release three studio albums? Even The Beatles only could release two albums a year. CCR is one of those bands that defied the odds and gave us some of the greatest rock songs of all time.
Straight from the Fantasy vaults, this box set tries to reproduce the material as it was released back in 1969. But instead of just releasing the original US versions, they have decided to mix it up a bit. Unboxing the super cool case, you find the three vinyl records. "Bayou Country" is presented with the Japanese release with alternative cover, red vinyl and lyric sheet insert. "Green River" is the Italian release with alternative cover art and "Willy and the Poor Boys" is the original US version. All three albums come with a CD version for you to take it on the road.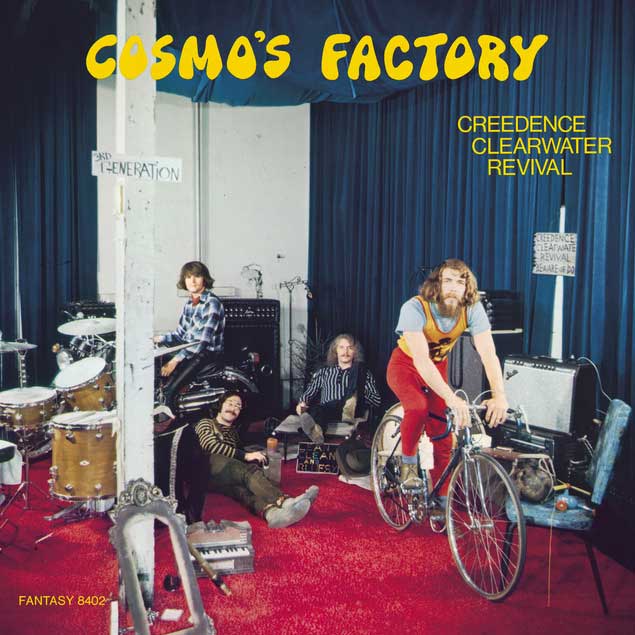 Next up, you have three EPS and again these aren't just your standard US releases. There is a Japanese release with Bad Moon Rising/Proud Mary/Susie Q/I Put a Spell On You, also released with red vinyl. There is a Brazilian EP with Proud Mary/Bad Moon Rising/Walk On The Water/Lodi. And the final EP from Mexico, with Fortune Son/Down On The Corner/Tombstone Shadow/Cross Tie Walker.
As I mentioned earlier, this is both an audio and visual experience. The visual portion is mostly contained in a reproduced notebook titled, 1969 Press Clippings. This includes newspaper press clippings, bios, interviews, all presented in a high gloss feel that makes you think they are really taped into the notebook. You also have a bumper sticker, Woodstock ticket, 8x10 previously unreleased concert photo, Green River album poster and a Willy And The Poor Boys textbook cover. 1969 was an incredible year for this band that was at the top of their game. There's clearly something to be said of this time period for music where bands were producing classic albums and songs in their sleep. CCR in 1969 released two Top 10 albums, one number 1 album and four hit singles. So if you are a fan of that period, a fan of the band or just a fan of amazing packaging, this is a box set for you. The 1969 Archive Box is a well-made and thought out collection of material that will really bring you back to a year that still influences our music today.