!link rel="stylesheet" href="http://unratedmagazine.com/assets/css/video.css"> <!script src="js/modernizr-2.5.3-min.js">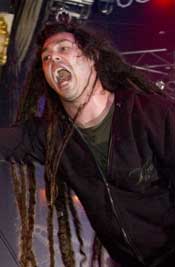 Shadow Fall consists of SHADOWS FALL--BRIAN FAIR (vocals), JONATHAN DONAIS (guitar), MATTHEW BACHAND (guitar), PAUL ROMANKO (bass) and JASON BITTNER (drums).
Shadows Fall
New album for 2002 Produced by Zeuss (Hatebreed, God Forbid), THE ART OF BALANCE is the much anticipated follow-up to SHADOWS FALL's critically heralded Century Media debut OF ONE BLOOD. Of that album, Guitar World wrote, "Forceful playing gives OF ONE BLOOD its strength, but the subtleties give it depth and invite repeated listenings--a cornerstone of longevity in any genre," while Metal Hammer proclaimed, "Successfully combining aggression, power, and some complex time changes which would have the mighty Iron Maiden gasping for breath, SHADOWS FALL trample roughshod over most musical labels you can throw at 'em. It's reassuring to know there are still bands out there who play metal as it was intended: loud, fast and downright noisy".