When an artist grants an interview they're usually promoting the release of their new album; maybe a new album and a tour, or their new book or movie. But there's always that one new thing that they're talking about.
Talking to Henry Rollins, however; is a whole different ballgame.
Rollins never has that one thing that he's working on - there is always a plethora of items on his plate.
In this past year alone Henry Rollins has guest-starred on Sons of Anarchy, the drama series on the FX Network, and he's released A Mad Dash, another installment of journaling of his recent traveling, working on documentaries, and everything else in this man's busy life. Rollins has also toured with his talking performances, was a guest performer on the Flaming Lips rendition of the Pink Floyd album Dark Side of the Moon, hosts his own radio program on KCRW, writes a 'straight talking' column for Vanity Fair, traveled extensively for personal knowledge and curiosity - and that's not all. Throw in his roles in various movies, speaking engagements, and voracious interest in politics and social issues - how Henry Rollins has time to eat or sleep is a mystery.
This punk rock icon seems to live his life with a casual willingness to try almost anything that is asked of him professionally, and this is why his biographical information is so diverse, chaotic, and fascinating.
Rollins' most prevalent work as of late, at least to the fan's perspective, would be his guest role on Sons of Anarchy.
Rollins plays A.J. Weston - "muscle" for a group of white supremacists; basically a really scary guy. Anyone who's ever watched or attended any of Rollins' talking shows knows the man is pretty adamant about the fact that discrimination due to race or sexual orientation is just wrong. However, he had no problem playing the role of someone so 'bad' and so much different than himself in real life.
" No, it wasn't difficult really. The character was very simple as far as emotional range," said Rollins, who is currently in Europe kicking off the beginning of his Frequent Flyer Tour.

"Finding the guy was a process of eliminating emotion; the reductive process is easy for me because it goes down the same road as focus."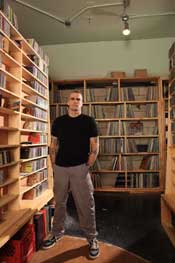 That focus goes into every aspect of Rollins' career.
Even when between tours - despite the fact that he's juggling other projects - there's always that mindfulness and eagerness for what's next. Early in January Rollins said the following in his website dispatches regarding the forthcoming tour:
'I have been waiting for this tour to start for a long time. I always start tours with a great deal of anticipation. I don't like being away from the stage for too long'.
Rollins isn't the only one excited about his Frequent Flyer Tour; his spoken word (though he has said he doesn't like calling them that) performances have acquired a sort of cult following. Audience members know what to expect of Rollins and come out afterward both satisfied and hungrily anticipating more once the next tour is announced.
But what does Henry Rollins get from these shows - how are they satisfying to him on a personal level?
"I like to connect with audiences. I like to tell them stories and relate to them. It sounds stupid but that's what it's all about to me."

 

"I probably like the audiences more than they like me," Rollins adds in jest, of course.
He insists however that he doesn't really have a set agenda when preparing his material for a new show.
"I try to let the stories do their own thing. Quite often, there is a central theme running through them, often it takes me some shows so find out what that is."

 

"I try to make the stage a place for discovery as the tour progresses. It keeps it live for me."
One theme audiences are sure to hear about is Rollins' wanderlust.
"It's curiosity that gets me out the door. In 2008 I was in Vietnam, Burma, Thailand, Laos and Cambodia. I had been to Thailand many times but not to any of the other places."

 

"Travel is what I do as much as I can. If I have two weeks where I am not totally obligated to something, I will often leave America and check out some other place."
His love of travel and desire to understand not only other cultures but their social issues as well came together nicely in three different documentaries for IFC, the Independent Film Channel. Rollins documented life after Hurricane Katrina in New Orleans, the newly acquired freedom for the people of South Africa, and the conflicts which have plagued Northern Ireland for more than three decades.
Sadly, there are no immediate plans for any more of these documentaries; Rollins comments:
"They are great to do but they take money and that's the hard part."
But if up to his choosing, where would Rollins like to cover in a future documentary?
"I would like go to Palestine and interview people there about what their lives are like, same thing in Iran. I don't think the latter would be possible at this time though."
And where, if anywhere, would this man who's been everywhere like to visit for his own personal exploration?
"I would like to get to Turkmenistan and Uzbekistan. It's a part of the world I have not spent much time in."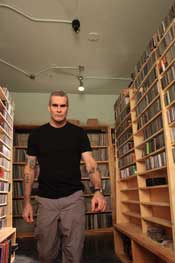 With an entire list of things he is doing, places he's gone, and projects he has recently done, one of the outlets that Rollins hasn't utilized recently however is his own brand of rock and roll. The last Rollins Band tour was in 2006 and there are no plans to revitalize this medium any time soon.
"I can't see the good of going out and playing old music. Life is short; I want to do a few other things [rather] than the same old songs. Not that I don't like them, I just think it's artistically lazy at this point."

 

Rollins continues: "I think I played music really hard and as best as I could in my limited capacity and don't know how I could top what I did."
However, there is a new record out where Rollins can be heard - the Flaming Lips have recently recorded their own rendition of Pink Floyd's Dark Side of the Moon. Rollins was a part of the project; albeit in a physically distant kind of way that only modern technology can manage.
"They asked me to be part of it and I said ok. I was in the studio working some stuff and so we had all the gear set up already. I did the stuff they asked and we sent it to them at the studio they were working at via the internet. They wrote back and said the audio came through fine and they had what they needed."
Singer. Actor. Writer. Publisher. Speaker. Traveler. Henry Rollins wears many hats. Is there anything else he'd like to add to his repertoire?
"I would like to become a better photographer. I'm working on that."
Henry Rollins will be at The Vic on April 7, 2010
Photos: Maura Lanahan
Frequent Flyer Tour Poster: Shepard Fairey