!link rel="stylesheet" href="http://unratedmagazine.com/assets/css/video.css"> <!script src="js/modernizr-2.5.3-min.js">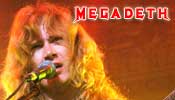 2010 Lineup: Dave Mustaine, Chris Broderick, Dave Ellefson and Shawn Drover
2009 Lineup: Dave Mustaine (vocals, guitar), Chris Broderic (guitar), James LoMenzo (bass) and Shawn Drover (drums).
2006/2007: Dave Mustaine, Glen Drover (guitar), Shawn Drover (drums), James Lomenzo (bass)
Megadeth
Since rising to international fame in the 1980s, Megadeth has sold more than 20 million albums worldwide, including six consecutive platinum albums, with eight consecutive Grammy nominations for Best Metal Performance. In addition, Mustaine's recently-released book MUSTAINE: A Heavy Metal Memoir debuted at #15 on the New York Times best seller list in the Hardcover Nonfiction category. Megadeth's signature shredding and rousing lyrics have not only set standards in hard rock and metal, but helped define the genres. Founding lead vocalist/guitarist Dave Mustaine--who was the recipient of the first annual Revolver Golden God Award in 2009--is renowned for his ability to use music to shake things up, make a point and rattle your brain literally, figuratively and sonically. This is exactly what Mustaine and Megadeth did with 2009's Endgame (Roadrunner Records), which received some of the highest critical accolades of the band's career. Megadeth recently released the Rust In Peace Live Blu-ray, DVD and CD (Shout! Factory), captured on the final night of Megadeth's historic Rust In Peace 20th anniversary tour at the legendary Hollywood Palladium, not far from where Dave Mustaine formed the band in 1983. Rust In Peace Live--which debuted at #2 on the Top Billboard 50 Music Videos chart (DVD/Blu-ray)--marks the return of original bassist David Ellefson (Megadeth 1983-2002) to the iconic multi-platinum group. Ellefson (bass) joins Mustaine (lead vocals, guitar), Shawn Drover (drums) and Chris Broderick (guitar). During the Jägermeister Music Tour, Megadeth continue to play their landmark 1990 Rust In Peacealbum--which cemented Megadeth's status as one of the most important metal bands with masterpieces like "Hangar 18" and "Holy Wars...The Punishment Due"--from front to back.
---
Dave Mustaine Announces Return Of Founding Bassist David Ellefson To Megadeth Line-Up
Megadeth founder and frontman Dave Mustaine has announced the return of original bassist David Ellefson (1983-2002) to the iconic multi-platinum group. This reunion is appropriately timed to Megadeth's upcoming historic month-long Rust In Peace 20th anniversary tour which launches March 1 in Spokane, WA. At these incredibly special shows, Megadeth will play their landmark, genre-defining 1990 album Rust In Peace in its entirety, in addition to other Megadeth favorites.

"This shows the power of brotherly love and forgiveness," Mustaine says. ";David Ellefson belongs in Megadeth. Next we are going to show you the power of getting your asses kicked...HARD!"

David Ellefson concurs: "This is a huge moment for all of us, band and fans alike. It is a great celebration of the music from one of the biggest landmark albums of our career."

Ellefson will join Mustaine and Megadeth band members Shawn Drover (drums) and Chris Broderick (guitar) on tour in support of the group's current CD Endgame, which has received some of the highest critical accolades of the band's career.

"We'd like to thank James LoMenzo for several years of loyal service on the bass, and wish him the very best," Mustaine adds.

For more information on Megadeth, go to: www.megadeth.com.

<!cfinclude template="includes/ad_spoutable.cfm">