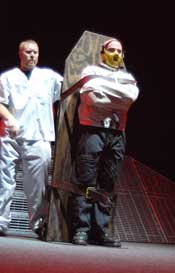 About Disturbed
Disturbed to Perform First-Ever Shows in South America
Band will Visit Colombia, Brazil, Argentina and Chile in August
Multi-Platinum Band on the Road All Summer Long Headlining 4th Annual Rockstar Energy Drink Mayhem Festival
Multi-platinum hard rock band Disturbed have toured all over the world since forming in 1996, but have never performed in South America...until now. For the first time in its long career, the Chicago quartet will visit the continent, performing shows in Bogota, Colombia, Sao Paulo, Brazil, Buenos Aires, Argentina and Santiago, Chile August 21 - August 27, 2011.
"We are so excited to be playing in South America for the first time ever," says Disturbed front man David Draiman. "It's been a long time coming and we can't wait to rock the fans down there."
The shows come after Disturbed wraps up headlining this summer's fourth annual Rockstar Energy Drink Mayhem Festival. The tour, which also features Godsmack and Megadeth on the main stage, will make a 26-date trek across the country beginning on July 9th in San Bernardino, CA. Tickets are now on-sale. Please visit www.disturbed1.com or www.rockstarmayhemfest.com for tour dates and ticket info.
In other Disturbed news, the band's current album Asylum has been certified gold by the R.I.A.A. In addition, Disturbed has made for sale a previously unreleased song, entitled "3," at their official website www.disturbed1.com. All proceeds from the sale of the track, which is available for $.99, go to benefit the Damien Echols Defense Fund, which pays for legal fees, forensic testing, and investigative fees for the three men known as the West Memphis Three who were unjustly convicted of murder in Arkansas in 1994. The Free the WM3 Support Fund is group of private individuals who strongly believe that Damien Echols, Jason Baldwin, and Jessie Misskelley are serving prison terms for murders they did not commit. For more information, please visit www.wm3.org.
Disturbed have sold 12 million albums and over six million digital tracks worldwide. Asylum is Disturbed's fourth consecutive studio album to debut at No. 1, a feat achieved by only two other rock groups in history: Metallica and the Dave Matthews Band. Disturbed has had eight No. 1 hits at BDS Active Rock radio, tying them with Creed for the second most on the chart. The band has also had the third most No. 1 hits at Mediabase Active Rock, with seven.
Disturbed South American tour dates are below. For a full list of dates please visit www.disturbed1.com
TOUR DATES IN SOUTH AMERICA
Aug 21 - Bogota, Colombia - Palacio de los Deportes
Aug 23 - Sao Paulo, Brazil - Espaco Lux
Aug 25 - Buenos Aires, Argentina - Teatro Flores
Aug 27 - Santiago, Chile - Caupolican Theatre
August 11, 2008 -- Burbank, CA -- Multi-platinum hard-rock band Disturbed have set a record for the longest running Number One track in the history of Mediabase's Active Rock chart with "Inside the Fire," the lead-off single from their gold-certified album Indestructible. The track was Number One for 14 weeks at Active Rock Radio and also Number One on the BDS/Billboard Active Rock Radio chart for 15 weeks.
The second single from Indestructible, the title track, hits radio this week.
Certified gold by the R.I.A.A., the self-produced Indestructible debuted at Number One on Billboard's Top 200 album chart and remained in the Top 10 for five weeks and is still in the Top 20 after its June 3rd release. Indestructible is the band's third consecutive Number One album, following their platinum-sellers Believe (2002) and Ten Thousand Fists (2005), making Disturbed one of only six rock bands in history to score three consecutive Number One debuts with studio albums. Disturbed's 2000 debut album, The Sickness, has been certified triple-platinum by the R.I.A.A. with sales closing in on four million. Formed in Chicago in 1996, Disturbed have sold a collective 10 million albums worldwide.
Disturbed is currently on the road co-headlining this summer's Rockstar Energy Mayhem Festival Tour through August 19th, before heading overseas to tour Australia, New Zealand, Japan, and Europe through the end of the October.
---
Disturbed roots lay with long time friends Dan Donegan (guitar), Mike Wengren (drums), and Fuzz (bass) who were active on the Chicago Music Circuit through the late 1990's. In 1997 David Draiman joined the band, from that point on Disturbed started laying a new road as a hard-hitting metal super band. Draiman's powerful voice was more than an attention grabber it opened their audience base worldwide. Their debut release called the "Sickness" originally released in March of 2000 made the airways and singles became common on radio till recently with the upcoming release "Believe" The first single called "Prayer" off the new disc called "Believe" is being played nationwide on every rock and alternative station with a music video that brings the guys from Disturbed into our homes for a visually stimulating concert.
Story 2004

Disturbed Tour Information from Pollstar
---
RELATED LINKS