!link rel="stylesheet" href="http://unratedmagazine.com/assets/css/video.css"> <!script src="js/modernizr-2.5.3-min.js">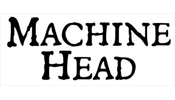 Robb Flynn – Lead Vocals, Guitars, Adam Duce – Bass, Bkg. Vocals, Dave McClain – Drums, Phil Demmel – Lead Guitars
Machine Head
MACHINE HEAD Kicks-Off String of In-Person, Open to the Public Listening Events to Launch 'Unto The Locust' Today in Los Angeles, CA – New Listening Party Details Announced!
Today, MACHINE HEAD kicks off a string of listening events in celebration of the much anticipated release of their new album, Unto The Locust, on September 27th. The first event takes place today in Los Angeles at On The Rox (The Roxy, upstairs) and the other events will take place in New York, Chicago and their hometown, Oakland, California, in the coming days. These events provide fans with an opportunity to celebrate the album's release with the band and hear the acclaimed new album in its entirety, already being hailed by music journalists world wide as MACHINE HEAD's best offering to date.
MACHINE HEAD will join fans, friends and industry at all four events, each unique in its own way, but every one promises to be a night to remember. ** Please note, MACHINE HEAD will not be performing at any of the events.** Says vocalist/guitarist Robb Flynn of the festivities, "There are listening parties being held for this release all over the world, but we felt that putting a handful of events together here in the States and attending them ourselves would be a great way to give our fans and friends across the country a chance to hear the album before its release, and us a chance to hang with all of them as that's happening. We can't wait!"
These events will be free to attend, but space is limited at some of these venues so please arrive early to ensure entry. To sweeten these events, Unto The Locust will be available for purchase at the Oakland, New York and Chicago parties and a limited number of t-shirts have been produced specifically for each event by Full Metal Jackie, presenter at the Los Angeles event. Some of the first fans to arrive at each of the four events will receive one of the t-shirts for free. All events will also have a limited number of free posters. Hails and Horns Magazine will be giving out copies of their magazine and a number of free subscriptions at the Oakland event!
All of the events will have drink specials and the band's videographer will be on hand to document what promises to be a great night for the fans and MACHINE HEAD!
The dates for all four events are open to the public and are without a cover charge:
Thursday, September 22nd - Los Angeles, CA - On The Rox (upstairs at The Roxy Theatre), 9009 West Sunset Blvd, West Hollywood, CA 90069 Presented by Full Metal Jackie - 10:00 PM, 21 & Over.

Saturday, September 24th - New York, NY - Last Rites Tattoo Theatre & Gallery, 511 West 33rd St, 3rd Floor, New York, NY 10001 9:00 PM, All Ages

Sunday, September 25th – Chicago, IL - Exit, 1315 West North Ave, Chicago, Il 60622 **NEW TIME** Presented by The Chicago Metal Factory – 10:00 PM, 21 & Over.

Tuesday, September 27th – Oakland, CA - Oakland Metro Operahouse, 630 3rd St, Oakland, CA 94607
TO DEBUT BRAND NEW TRACK "LOCUST" ON JUNE 14th
BAND TO PERFORM AT 2011 ROCK STAR ENERGY DRINK MAYHEM FEST ALL SUMMER
NEW ALBUM DUE OUT SEPTEMBER 27th
Normally, one would be wise to avoid a plague of locusts. Prophets warn about them and they occur in the Bible. However, in the Summer of 2011, metal fans and headbangers are going to happily succumb to a "Locust" in the form of a brand new track from Bay Area metal icons MACHINE HEAD.

The band, which released the back-t0-back, modern classics, 2004's Through the Ashes of Empires and 2007's The Blackening, are aiming to unleash their third masterwork in a row on September 27th via longtime label Roadrunner Records. The as-yet untitled new album is being recorded at JingleTown Studios in Oakland, with frontman Robb Flynn producing, and it is sure to level anything and everything that happens upon its path.

Machine Head will prepare for the release of their new album by appearing on the main stage of the Rock Star Energy Drink Mayhem Festival for key dates (while headlining the Extreme Stage for others) this summer; the tour kicks off this July. This is the band's second tour of duty on Mayhem, as they appeared on the festival during its inaugural run in 2008.

An advance mix of "Locust" will be on sale at iTunes on June 14th and will be included on an iTunes Mayhem digital sampler. Download cards for the digital sampler will be distributed at every date of the REDMF so fans can redeem the song after being summarily kicked in the face by Machine Head's always devastating live show.

"We've been working on the record for a few weeks now, and when the opportunity to be a part of the free Mayhem sampler came up, we did not want to pass up the chance," said Machine Head vocalist/guitarist Robb Flynn. "We're so pumped for our fans to hear the new music that we're so proud of."

Flynn went a little deeper about the meaning of the song, saying, "'Locust' is a metaphor. Locusts fly in a swarm, but they can't control which direction they fly; they float on the wind, they land, cause massive destruction, and then float away on the wind to leave you in the aftermath. The song is a metaphor for a type of person that sometimes comes into your life and has a similar effect."

Musically, the song is the essence of what Machine Head have been doing for nearly two decades. "It feels like the culmination of what we've been doing for the last 17 years: power grooves, patented Machine Head harmonics, crushing guitars and dark melodies, but taken to a new level," Flynn said. "It's a natural progression from The Blackening, but different than anything on that record. In the past, when we debuted a new song, it was usually the fastest, thrashiest tune. This time we wanted to go with something just straight-up heavy."

The song is eight minutes in length, which is not unfamiliar territory for the band. Flynn even joked, "We still can't seem to write a damn song under six minutes. But Machine Head aren't writing music for the radio or MTV. This is for us. This is for the metalhead who let's music take him on a journey. This for the metalhead for whom music is the only thing that matters, to whom music is a savior. This is for the music fan who's going to study every detail of the artwork, go online and find the lyrics and memorize every word, and let it take them away from their f---ed up life for a while. It's for the music freak, who maybe just wants to get hammered, air-guitar and sing at the top of his lungs, and act like an friggin' idiot while starting a moshpit in their living room with reckless abandon. Because that's who wrote this song, and those are the only people we care about connecting with."

Flynn finished, "We know you'll be as excited about it as we are. So, Head Cases, on June 14th, check out 'Locust.'"

Machine Head rode a wave of incredible success in the '00s, one that is certain to carry them through this new decade. They were nominated for a Grammy for Best Metal Performance –their first-- for "Aesthetics of Hate" from The Blackening and were invited to tour with Metallica in the US and Europe, and also joined Slipknot, Slayer and Megadeth on tour dates. They have also headlined some of the biggest festivals in Europe, performing as a part of Wacken (Germany) and Download (England.)

"Locust" is a true metal anthem from these metal torchbearers, and it's erected upon the band's signature, crunchy guitar tone, pummeling riffage, a thunderstorm of percussion and Flynn's militaristic barks. "Locust" is one of those cathartic, "gets the red out" type of songs that will incite mosh pits across the globe and cause the listener to be purged of all their anger (and exhausted from rocking the hell out) once the last note fades out.

Prepare to suffer unto the "Locust" on June 14th and beyond.

How do you create a masterpiece of modern metal? Is it a conscious effort on the part of the artists or is it something more organic – a confluence of events and moods, emotions and mechanics that all come together in the right place at the right time? That's the question that comes to mind upon the first listen to Machine Head's sixth studio album The Blackening. Guitars rip, drums pound, bass thunders and lyrics resonate as the Bay Area quartet soars past the bar set by its critically-lauded predecessor Through the Ashes of Empires. If Empires was the sounding of the trumpet, then The Blackening is the arrival of the hordes: dense, aggressive and inescapable.

Produced once again by singer/guitarist Robb Flynn (Roadrunner United, Machine Head) and mixed by Colin Richardson (Bullet For My Valentine, Funeral For A Friend), The Blackening pushes the band's groundbreaking sound farther than it's ever gone before. Challenging themselves and each other to write a record that would demolish all of their boundaries, the band has delivered 60 minutes of the most structurally complex and technical material that Machine Head has ever recorded. Three part guitar and bass harmonies, dueling solos, and savage thrash intricacy sit alongside soaring 3 part vocal harmonies, ultimately crashing head first into bludgeoning, Neanderthal riffage. "Pushing ourselves came pretty naturally with The Blackening. "After writing songs like "Imperium," "Vim" and "Days Turn Blue To Gray" on the last album, we felt really comfortable magnifying the complexity of our songs and it really shows on this album," exclaims drummer Dave McClain. That fact becomes brilliantly obvious after listening to just the first few minutes of album opener "Clenching the Fists of Dissent." Yet, those "first few minutes" are merely a portion of what the ten-minute epic has in store for the listener, serving both literally and figuratively as the war cry for the record and setting the stage for the colossal statement that is The Blackening.

Fighting alongside the band's monstrous musical effort are Robb's gritty, streetwise lyrics which teeter effortlessly between brutal metal shouting and lush, melodic singing. Going from what has recently been a more introspective focus, the words that grace The Blackening return to the socially-conscious narrative so prevalent throughout their earlier albums, focusing heavily on issues that touch one and all. "The nature of the times during the writing of this album led to a very dismal atmosphere throughout... this is far and away the darkest material that we've ever written" states Flynn. With lyrics that refuse to tread lightly when it comes to politics, war and organized religion, Robb spits anger and disdain in the truest spirit of the angst that fueled early 80's punk rock. Songs such as the aforementioned opener "Clenching the Fists of Dissent," the massive "Halo" and epic album closer "A Farewell To Arms" attest to that fact.

Continuing the theme, "Aesthetics of Hate" captures the band's anger towards a story that surfaced right after the tragic death of Dimebag Darrell that bashed both the legendary guitarist and the metal community as a whole. "Now I Lay Thee Down" plays like a twisted Romeo & Juliet with its own ugly ending. "Slanderous" addresses the hate and name-calling that still permeates throughout society, even in today's "PC" climate. "Beautiful Mourning" speaks to the lowest of low points in a life, while "Wolves" references the strength and power of the pack, speaking to Machine Head's rabid fans as well as the band itself.

And with good reason; to witness Machine Head live is to understand both their unique internal chemistry and the undeniable bond that the band shares with its audience. With a performance that has been honed and strengthened through nearly nine years of non-stop worldwide touring, Machine Head are touted by many as the best live band in metal. Oftentimes one can barely hear the band perform over the din of the audience singing along to favorites, new and old alike. Tickets for the band's recent sold-out U.K. tour elicited bids in excess of $300 per pair on eBay and had bootleggers selling rip-offs of frontman Robb Flynn's coveted "FUCT" stage T-shirt.

One can fully appreciate the band's current level of success by looking back on their less-than-glamorous beginnings: beer-fueled rehearsals in an Oakland warehouse that they shared with 4 punk rock bands, playing their first parties, local shows (some members not even old enough at the time to get into the 21+ clubs they were booked in) with the likes of Rancid, Deftones and Napalm Death. To spread the word, Machine Head took guerrilla marketing into their own hands, relentlessly flyering high schools and stickering unsuspecting cars at metal and punk shows. The band's first demo - recorded for $800 in a friend's bedroom, with their amps in the bathroom - was a very rough estimation of their burgeoning sound, a combination of the aggression of metal and punk, and the social anger of urban rap, intertwined with hypnotic Alice In Chains-esque vocal harmonies. It was this demo that eventually made it into the hands of Roadrunner Records, setting into motion the course of events that would lead to the 1994 release of their groundbreaking debut, Burn My Eyes.

Resplendent with some of the heaviest guitar tones ever heard in metal (thanks to their pioneering use of a dropped B tuning, and Peavey 5150 amplifiers – virtually unknown prior to BME) and released the same year as such seminal albums as Pantera's Far Beyond Driven, AFI's Answer That and Stay Fashionable and In Flames' Subterranean, Burn My Eyes crashed head-first into the then-barren metal world. Critical praise overseas, combined with 17 months of non-stop touring (including 5 months with Slayer), a U.S. headline tour that had them booked at every pool hall, strip bar, and rock club in America, a European headline tour that had them booked in the very same venues they had just supported Slayer, Burn My Eyes went on to become the biggest-selling debut in the history of Roadrunner Records at the time, and would soon serve as the template for much of the 'metalcore' sound that dominates the aggressive music market today.

Their annihilating follow-up The More Things Change... would see the band expand their trademark sound, pushing the envelope even further. Several high-profile tours in America followed, including Ozzfest (which saw the band flirt with expulsion after starting an on-stage grass-throwing riot in Detroit), firmly established Machine Head as a live draw to be reckoned with. Unfortunately, the bands' hard drinking reputation and dependence on alcohol and drugs began to get the best of them. Then-guitarist Logan Mader would quit the band, and Flynn would enter therapy soon afterward to deal with his own problems.

Choosing to face his demons head on, the frontman confronted his issues through his lyrics. Rather than lashing out at society, he exorcised his own personal demons, purging his psychological wounds on the emotionally-charged shockwave that was their 3rd album, The Burning Red. Flynn's confessions on the songs "Five" and "The Burning Red" were lyrical scars torn wide open, revealing dark truths that he had yet to even share with many of his closest friends. This heightened lyrical heft lent itself to even greater musical experimentation, with the band incorporating such lesser known influences as The Cure, and the guitar psychedelics of Jimi Hendrix into their healthy dose of metal. Bassist Adam Duce agrees, "The Burning Red was a brave and pretty bold step forward. We felt like we had kind of backed ourselves into a corner after The More Things Change..., so we decided to take some risks, screw playing it safe." The risk paid off, with The Burning Red allowing Machine Head to expand its fan base outside of the metal genre in the U.S., and abroad. Subsequent tours of the U.S., and again more dates with Slayer in such far-away places as Korea, Japan, Australia, and Europe, would take the band to previously un-scaled heights.

While the band's 4th effort Supercharger would produce such live concert favorites as "Bulldozer" and the harrowing "Trephination" - a fact solidly reinforced on their follow-up live album HellaLive (recorded at a sold-out 5000-capacity concert at London's Brixton Academy) - as well as include two U.S. headlining tours, their first-ever festival headlining appearance at Germany's With Full Force Festival, and a slot at Japan's "Beast Feast" festival, both the band and fans alike felt that Machine Head could push themselves harder, challenging themselves to forge something that was once again fresh and innovative.

Enter 2003's Through the Ashes of Empires. Hailed by critics and fans alike as a metal masterpiece, Through the Ashes of Empires went on to become the 2nd-best selling record for Roadrunner Records Europe that year. Six months later in the Spring of 2004, the album saw its U.S. release, also via Roadrunner, The album debuted at #88 on the Billboard Top 200 (tying Machine Head's highest debut ever) and their follow-up live DVD Elegies bullied its way to #13 on the U.S. Billboard charts, and #4 on the U.K. charts. Their three U.S. headline tours of clubs and small theaters (garnering a direct support slot for Lamb Of God on select U.S. dates) and their two European headline tours of large and small theaters achieved stellar numbers, selling out nearly all shows in major markets throughout both continents. The band's European summer festival run included blistering appearances at Germany's Rock Am Ring / Rock Am Park (as direct support to Korn and Evanescence), a show-stealing Donington performance as direct support to Slipknot and Metallica, prompting fans to vote Machine Head "Best Band of the Day" on Download's official U.K. website, and finally, a headlining slot atop Germany's prestigious Wacken festival (with the fans once again electing Machine Head "Best Band of the Festival" on Wacken's official website), would wrap up what was nothing short of a spectacular run for the band.

Little did anyone know what they had in store... with lead guitarist Phil Demmel firmly entrenched in the ranks, and drummer Dave McClain practicing upwards of 7 hours a day, the band re-entered the studio with a near-insatiable hunger and new thirst to create. Guitarist Phil Demmel notes, "Since I was only in the band long enough to contribute to a few songs for 'Ashes', I really wanted to put a signature Flynn/Demmel stamp on this albums' material. We really pushed each other with the riff interplay and the harmony solos to a high point in this bands' history." Singer/guitarist Robb Flynn echoes that sentiment, stating that "In many ways this was the most important record of our career. We needed to make a record that was fearless in its ability to embrace, but not be limited by what we had accomplished before. All of our musical heroes have made monumental records that didn't necessarily go with the evolution of their band; a perfect example would be The Cure from Pornography to Disintegration, or Metallica from Kill 'em All to Master of Puppets. Those bands destroyed their drawing board and reconstructed it."

And it is that fearlessness that has allowed Machine Head to make music that is daring, true and honest. Never creating the same album twice, they've stuck their necks out numerous times, always looking to push the envelope just a little further. And while any time you take a risk, some results may fare better than others, there's one thing you can always be sure of - the Machine Head album you're listening to is the album they wanted to create. Compromise has never been an option for Machine Head. With The Blackening, that same creed of indomitable passion and unflinching sincerity has brought us the genuine article, having yet again set a new high watermark for themselves as well as the genre. Don't let the name fool you... The Blackening is, without a doubt, Machine Head's brightest moment.

Biography courtesy of Roadrunner Records 2007.

<!cfinclude template="includes/ad_spoutable.cfm">