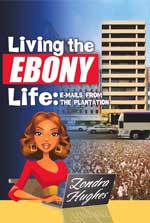 LIVING THE EBONY LIFE: E-mails from the Plantation
Former Ebony Editor Releases Tell-All LIVING THE EBONY LIFE: E-mails from the Plantation
Backed by E-Mails, Memos and Grainy 'Surveillance' Photos--Editor Zondra Hughes Recounts the Outrageous Office Politics That Ultimately Derailed Ebony, the No. 1 Magazine in Black America
The transitioning media climate is only partially to blame for Ebony's woes, argues former Ebony Associate Editor, Zondra Hughes author of Living the Ebony Life: E-Mails from the from the Plantation, (www.livingtheebonylife.com), now on sale.
"New media didn't derail Ebony magazine," Zondra Hughes says, "bad management did." In EBONY LIFE, the author provides the context for the magazine's recent woes with a shocking paper trail that exposes the work conditions under a few rogue overseers, collectively referred to as 'The Man.'
Delivered in a humorously punchy narrative, EBONY LIFE also includes celebrity encounters, the rivalry between Ebony and Jet editors, and a floor-by-floor tour of the elaborately decorated building.
INSIDE THE EBONY LIFE
Zondra served seven years (1999-2006) in the Ebony editorial department, widely regarded as 'The Plantation' by company insiders due to the quirky company policies such as assigned lunchroom seating. In 2006, Zondra's whistle-blowing memo established a precedent as the first Ebony Associate Editor to publicly address the practice of workplace bullying at the company. Zondra was fired but refused the company's severance offer, which included a clause not to pursue legal action.
LIVING THE EBONY LIFE: E-MAILS FROM THE PLANTATION, (M.O.O.D. Lounge Books, 2009). ISBN: 978-0-9791666-1-7; trade paperback, 270 pages. For more information, please go to: www.livingtheebonylife.com
AUTHOR'S BIO
Zondra Hughes made her literary debut on the outrageous and over-the-top Wendy Williams smash hit, Ritz Harper Goes to Hollywood! (Pocket Books/Karen Hunter Publishing). She is the editor of N'Digo, and a featured blogger for The Huffington Post and ChicagoNow. The author resides in Chicago.
April 2010