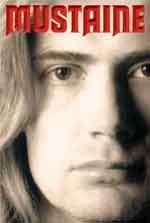 Mustaine: A Heavy Metal Memoir
I read through Mustaine (by Dave Mustaine and Joe Leyden) on this past Saturday. I purchased the book a few weeks back when Dave Mustaine was in Chicago promoting the book at Borders back on August 20, 2010. I forgot that I purchased a copy, but I was in the store photographing a sports legend and remembered that I had the book on reserve. On the day that Dave Mustaine was in town at Borders, I was photographing the book signing, when Dave Mustaine entered he did not stand and pose with the book as most authors do... hey that was fine with me. A couple of the other photographers were kind of pissed at that fact. Not me, it showed that Mustaine was pure heavy metal and the monkey shit we ask celebrities to do at book signings and red carpets, well Mustaine had nothing to do with it, he just ignored the press and gave his attention to the fans in line. Dave Mustaine was respectful and gave us plenty of photo ops, so I don't want anyone think that he was rude to the press, it was further from the fact. He was there to meet fans and sign autographs; you can say the press was the sideshow act.... Later that night, Mustaine would go on to perform at the UIC Pavilion with other legends of thrash metal. I would have loved to have been at that show, even more to photograph, but other obligations were more important. Being someone who has seen Megadeth in concert at least 20 times, as a fan and photographer. But my family had precedence, I'm not 18 anymore, and I love coming home these days to be with my wife and children. Sorry Megadeth, even with Dave Ellefson back in the band, I have to rain check... till next time when Megadeth rolls through Chicago.
The years 1985/86 were my first introduction to Megadeth, It was just before the Peace Sells album hit the stores, weeks before, I started listening to Killing Is My Business..., and put Metallica aside. I am sure many kids at the time saw more energy in Megadeth than Metallica, and the battle continues today. Don't think I'm not a Metallica fan, I am, and love the band, I will honestly say somewhere in 8th grade or around that time, one of my friends had one of those tapes before the release of Metal Up Your Ass.... Oops I mean Kill Em All. This was a time when Iron Maiden ruled, Ozzy was reckless and Saxon carried the song Denin & Leather, but you only knew this because my life after school was to head to the record store, Kroozin Music to be exact ... a small store on the southwest side of Chicago. A little more history, as a metal head or someone who started to listen to a heavier taste, there was no radio stations and further was MTV. Although both would play some Iron Maiden in wee hours of the night (which is one of my favorite bands), but I honestly do not ever remember hearing a Saxon song on the radio ever. Maybe they were aired or not, but I do not recollect. Anyhow, back to Megadeth, when Peace Sells... came out, Megadeth was very heavy in my rotation following the likes of Maiden, Saxon, Motorhead...and of course Metallica. But Megadeth ruled my stereo with Maiden. You have to understand, that is all that I listened to at the time. I was really hooked to Megadeth, and this book just keeps me being a fan. We all have some obsessions, one is music and one my bands is Megadeth. Man, it would have been great if one of my photos made the book, maybe the next one.
I'm not an expert on Megadeth, others feel I am, I like to feel that I followed the band from almost infancy, so it was a pleasure to read the book. Dave Mustaine connected with me, maybe not the lifestyle, but from being a fan and attending many of the shows. The book Mustaine, was a great read, I'm glad to hear the life of Dave Mustaine and Megadeth through him, his honest take on the history. Much of my Megadeth history is from listening and reading many interviews over the past few decades, but I honestly never really knew how bad his addiction to drugs was... that really was kind of an eye opener that was not pronounced in articles as Dave Mustaine did in his book. I'm also very glad to see that the Dave's are back together and currently on tour. I just never wanted to see Mustaine without Ellefson, to me they are Megadeth. If you know anything about Dave Mustaine, the anger, egotism, control, narcism, they are all in this book. Dave Mustaine goes into details about his band and whos band it is... the recollections that Mustaine has of the many members who were part of Megadeth since 1984 are portrayed, his beefs, friendships and partnerships over the years. Dave Mustaine really touches on the fact that substance such as heroin and cocaine controlled much of his life. He believes in the life of the Rockstar, the image, the sex, drugs and the rock and roll. Some things that I am ashamed to admit, is I never knew of his band MD.45, you can read the chapter. I have heard of performances as Vic and the Rattleheads, but that is not touched in this book. Also something I have to learn more about is the band Bungie, that is how Dave Mustaine met Lars Ulrich. Budgie, that band that started Metallica in a way, I read about them in Wikipedia about an hour ago, until earlier today, I have never heard of the band, Budgie (I guess I am no thrash metal historian). As the last chapters come to the end of the book, Metallica is revisited, as through many passages, but all Megadeth fans know this... nothing new when Metallica was inducted into the Hall of Fame, and I am glad Dave Mustaine decided to stay home. The book ends with Dave finding Christianity and Jesus, and his life is now about his family and music. I know we will see more...
Now for some incoherent rambling ... read if you like, but below are some of my highlights at Megadeth shows... Specifically three shows...
I was in Hawaii for the Rust in Peace tour. I remember it very well, I got all my Navy buddies and we went all 3 nights at this place called the Pink Cadillac or something... I attended all the nights, on one of the nights some freakin guy knocked me on the back of the head, I think my friend Scott (RIP 2009), knocked the dude down and beat him down. My side story, Scott wore black shirt this night with SECURITY written on its back, he was also a bit older than the average military guy and loved confrontation, while he was beating this guy, the other security just let him pummel this dude who knocked me on the back to the head, security just assuming he was one of their own. (My friend Scott passed away last March; he had an alcohol and substance abuse, much of the same that Dave Mustaine abused. Scott and I talked very often after the Navy, and he always was looking to get out of the depression his life was....so many passages in this book which Mustaine goes through I can understand because my friend went through. He spent so many times in rehad, trying to find God, but his luck ended. So good to have you with us Dave Mustaine. The other eventful Megadeth show night during the Hawaiian Rust in Peace tour I remember is when someone's boot put a gash in my forehead, my face was blood red, I was right in the front row, and I always wondered if Mustaine realized a bleeding kid in the front row, but that is rock and roll and metal. Miraculously, my would healed without a scar, the doctor told me because I was sweating so much that it healed very quickly. This was probably the best show I was ever at, one because it was Megadeth and two because my brothers, my Navy brothers were there. Unless you served in the military, I doubt you can know what I am talking about. Other events from the book are when Megadeth opened up for Alice Cooper, that was my first Megadeth show, what most I remember of this show is that every word out of Dave Mustaine's mouth was f u c k, f u c k, f u c k..... One thing in the book that Dave Mustaine goes over is that Alice Cooper is a friend and his Godfather. That is cool to hear. Coming from someone who hit the debauchery days of the 1970s. Alice Cooper offended parents, but then gets on the Muppet show, not bad for a heavy metal shock rocker. After I got out of the Navy, back home in Chicago while attending college, Megadeth headline UIC Pavilion, man that was an awesome night to see Megadeth in a huge venue of thousands of people. Just a few years before I caught the Rust in Peace tour, now the Countdown to Extinction tour... what most I remember that Megadeth had the balls to put Suicidal Tendencies on the bill that was great. I remember having a busted knee at the time with a seat on the floor about 25 rows out from the stage. Well luck would have it that during ST set, every seat in front of me came down, as moshers mangled all the metal seats into a huge pile that must have stood 10 feet. The good part for me, I had no one in front of me and a great view of the stage from that point on. That was one of the moments for me that it was the end of seats being put up at metal shows, at least in Chicago. After that show I rarely have seen, to this day, seats at metal shows on the floor.
RELATED LINKS