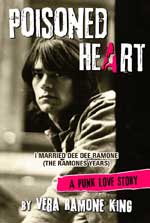 Poisoned Heart: I Married Dee Dee Ramone (The Ramones Years)
It was a talk given by a Buddhist reverend where he asked his listeners to ponder how 'things are not as they seem, nor are they otherwise.'
His example gave the heart wrenching dichotomy of listening to newlyweds looking out a window at San Francisco's Golden Gate Bridge and cooing at it's beauty – whilst he remembered counseling a couple whose son had committed suicide by throwing himself from very same bridge the newlyweds gazed upon.
Per these points-of-view is the Golden Gate Bridge a beautiful bridge?
Yes. And no.
'Things are not what they seem, nor are they otherwise.'
Poisoned Heart - the book written in memory of punk rock icon Dee Dee Ramone by his ex-wife Vera Ramone King - has us contemplating the same sort of dichotomy.
Was Dee Dee Ramone the out-of-control, abusive, drug addict that the media, rumor, and legend say he was?
Yes.
Was Dee Dee Ramone a sweet and giving man who'd often said that when he saw Vera for the first time it was love at first sight?
Yes.
Dee Dee Ramone was both these men, both sides of this coin; he wore both faces – sometimes concurrently. And one side of this story without the other would not do justice to this gifted songwriter who helped change the face and sound of music. Regardless of which side fans or friends or readers would be prone to focus on – it simply wouldn't be the whole story of this man who's flame had, sadly, burnt out entirely too soon.
Vera Ramone King tells hers and Dee Dee's story in earnest and offers readers an honest account of the good and bad of Dee Dee Ramone. She tells her love story sans bitterness or regret. And tells of her own brush with death and how it's taught her to appreciate all that's good in the world – and that simply, no one is perfect – not her, not Dee Dee, and neither you nor I.
---
RELATED LINKS