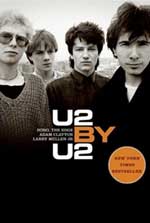 U2 by U2
Told through the eyes of U2 themselves, U2 By U2 tracks the band from their early, humble days in Ireland to rock superstardom of the present day. Fascinating, revealing, and at times long-winded, the most intriguing areas of the book are the early stages as the band struggles with youth, rejection, spirituality and upheaval at home.
The group's members -- Bono, The Edge, Adam Clayton and Larry Mullen Jr. - take turns at reminiscing, each giving their own version of a specific event, which at times does impede the continuity of the book forcing readers to ask what actually happened. But on the most part the band is in sequence despite the years, and in some cases decades of discrepancy.
With help from author and friend Neil McCormick, U2 has assembled a book full of hundreds of vivid and colorful, never seen before photographs, which perfectly illustrate the different eras and stages of the band. No stories of overindulgence, infidelity and indecency, this passionate and insightful book is a joy regardless of its tendency to drift. A few chapters in, and you two will be waving the white flag and wearing a pair of fly shades.