Catching a show in an intimate setting such as Chicago's Elbo Room allows one to breathe and feel part of the musical experience.
Chris Long shows great talent as a singer and songwriter, not to forget that he's fabulous on guitar, far apart from just giving us a long guitar solo. A 45-minute set of good Rock n' Roll. When Chris Long plays you can feel part of the performance that transcends into the people who come out on this Friday night to catch a master at work.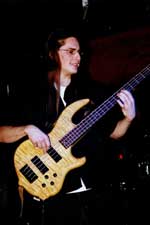 many lobbyists today try to condemn the freedoms that we enjoy from day to day. Once such freedom is the right to hold a cigarette and inhale. Tonight the smoke that rises from the lit ambers of tobacco fills the room with a haze that brings the right aura into the dimly lit floor and makes its way to the stage where Chris Long (guitar), Roman Niziolek (bass), and Rick Vitek (drums) are totally immersed in the magic they pour from their souls. This moment in time takes us away from the daily hassles even though a brief 45 minutes; enjoyed to the fullest, even if one feels it's just an illusion. But what is music? An art! The right for us to take our lives to a different dimension, a different time and a different place, to escape the daily lives we live.
As the smoke and lights bleed into each other creating a closer atmosphere between Chris Long and all of us that came to see him perform. I personally sat in a booth at the back of the room to fully take in the music that played. Allowing me to feel the room and all that was part as a whole of my observations. Many who just moments ago were conversing, enjoying a cold beer or drink, stopped in silence as Chris Long began. Chris worked his guitar as a skilled professional. Breaking in times in between to thank all that have come out to see him and his band.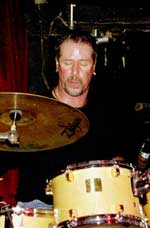 One of the many favorites such as "Angel On My Side", were early in the night and gotten everyone in the mood. Roman Niziolek maybe hiding in the dim lights on stage, but not deaf to one's ears as you hear the very powerful chords of the bass make its ways to our ears. This song seems to mean much to Chris as you see him put his heart into the song. You want to sing along with Chris, you feel "Angel On My Side" as being personal to each. All 3 musicians are seen with favor on stage performing, as they break out of the song knowing it's one of the songs that bring us closer together to oneself.
From song to song, Chris would step back and give us some blues and rock and roll. Moving emotional solos to harder rock with hard-hitting edge. Always keeping us in the groove of good guitar rock and roll. Working the small stage which was his to control, Chris new every inch of his surrounding to pour out great blues with, "Have You Been Mistreated". You cannot take your eyes off Chris as he worked the instrument in his hand. As you watch Chris you can see the music in his facial expression and the work put into playing to perfection. No honors tonight in money or gold, but cheers, clapping and occasional drink from fans. Those were the honors bestowed for the performance.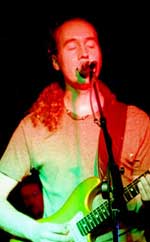 The final of the night was "Mountain". A great drum intro by Rick Vitek got you moving along as every other sound of bass and guitar came into place. Not allowing anyone to leave without a high energy in his or her souls.

---
RELATED LINKS
Chris Long Web Site
Photo Gallery