For many years now, Chicago's House of Blues has been showcasing the very best talent the music industry has to offer. "The House" has been especially generous to the heavy music scene, having hosted most of the world's top internationally known Metal bands at one time or another. Occasionally, one of Metal's "legends" will grace the "The House" stage and wet the devouring appetites of Chicago's Merciless Metal Maniacs. However, on Friday, May 16th, our beloved Metal Legions were treated to not only one Metal "legend", but two of Metal's all-time biggest "Icons"...Motorhead and Anthrax!
It's always rather difficult to review concerts of these "Icons" because everything that can be written about both of these bands has been written at least a thousand times over. But I can confidently tell you this much, both Motorhead and Anthrax came into "The House" and furiously annihilated the highly energetic crowd, just as they always relentlessly did in their earlier days of Metal mayhem. This would be an evening of "Molten Metal Music" to remember forever and Chicago's Metal Minions were primed and ready!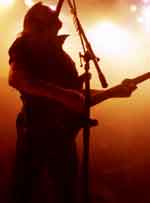 The almighty Anthrax opened their barrage with an extremely intense version of "What Doesn't Die" from their most resent CD release entitled, "We've Come For You All." Vocalist John Bush and company never sounded better as they steamrolled though titles from the new CD as well as classic Anthrax gems such as "Antisocial", "Only" and "Drop The Ball." Guitarists Scott Ian and Rob Caggiano did a masterful job of executing all the heavy groove riffs any Metalhead could possibly ever ask for. Bass guitarist Frank Bello gave the wild and loyal Anthrax fans an incredibly dynamic and visual performance (he was everywhere!) as drummer Charlie Benante blew everyone away with his slammin' expertise, especially during the song, "Nobody Knows Anything", also from the new CD. But the most impressive aspect of Anthrax's performance on this night was the bands unbelievable overall intensity and sheer aggression. Anthrax gave their fans everything they had and left the stage with the crowd screaming and begging for more.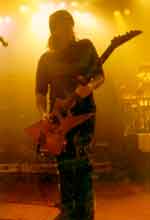 It was now time for the Metal Institution known as...Motorhead...to unleash their endless fury on the Windy City's heavy music family. You could feel the electricity in the air and a sense of awe as Lemmy, Phil (Zoom) Campbell and Mikkey Dee stalked onto the stage. As always, Lemmy walked up to the microphone and declared with a growl that, "We are Motorhead." And from that moment on, they were simply that...Motorhead...the one and only! I could go on forever about what fantastic musicians they are. Or I could write in great detail about all the tremendous songs they played, like "Metropolis", "Ramones", "Over Your Shoulder", "Sacrifice", "Orgasmatron", a chilling version of "God Save The Queen" and of course, "Killed By Death." However, the truly amazing thing about Motorhead is the bands timeless longevity and the fact that they have always done things their way, the Motorhead way. Sticking to what they do best and not listening to outside influences. They're still here, in our faces, harder, faster and heavier than ever! For nearly thirty years now, Motorhead has courageously symbolized what Rock and Roll and Heavy Metal Music are all about. The legend continues...
RELATED LINKS:
Photo Gallery
Motorhead Web Site
Anthrax Official Web Site
Label Site: Sanctuary Records

April 20, 2004 - CD/DVD Review - Music of Mass Destruction

December 5, 2003 Review - Anthrax Came For You Chicago

June 28, 2003 - Anthrax Announces Tour

June 6, 2003 - ANTHRAX Films Video for "Safe Home", Features Cameo by Keanu Reeves

May 16, 2003 Review - Motorhead / Anthrax at the House of Blues

March 5, 2003 - ANTHRAX Releases 'WE'VE COME FOR YOU ALL'