During the weekend of Friday, June 27th & Saturday, June 28th, the Metal Music Foundation (
target="_blank">www.metal-music-foundation.com
) held their "Raising Metal Hell" Classic Metal Festival III at Oasis One-Sixty in Chicago Heights, IL.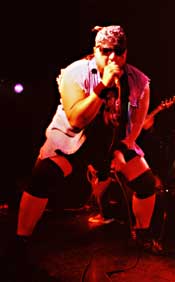 Anyone into the heavy music scene knows that metal music over the years has been broken down into many different factions. There's thrash metal, speed metal,
power metal, death metal, black metal and the list goes on and on. However, these metal factions, as different from each other as they may be, have at least
one thing in common. They ALL have roots in traditional, "Classic" heavy metal and that's what this very special, two-day event was all about. The Classic
Metal Festival III featured 22 bands with traditional heavy metal influences and also included a couple of "true" classic heavy metal bands in Meliah
Rage and Nasty Savage.
Friday's line-up started at about 5:30PM and featured nine bands. The scheduled opening band had to cancel, so Chicago's own Souls Demise boldly
stepped up without hesitation and opened the Classic Metal Fest with an extremely impressive set of merciless metal mayhem. Eden's Fall, also from
Chicago, was massively hard and heavy and gave an electrifying performance. Pennsylvania's Wastoid wasted no time firing up the crowd with their
heavy riffing and straight-up rock/metal as did New Jersey's Alchemy X with their own menacing and uncompromising attack. Florida's metal warriors
Premonition were the next band to invade the Oasis stage. Vocalist Tattoo Frank had every metalhead in the venue head banging throughout
their set and especially during the metal anthem, "We Are Metal." Metal tyrants Iron Cross, another Florida based band, then proceeded to annihilate
their loyal fans with a song list loaded with dark and haunting metal hymns. Both Image and Chaingunn gave powerful and dynamic performances.
But it was Virginia based Twisted Tower Dire that received the loudest response from the enthusiastic Oasis crowd on Friday. The band was brutally
heavy and singer Tony Taylor worked the crowd like a true professional.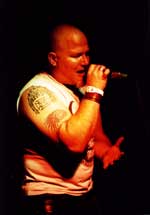 Saturday's part of the fest began at 2PM in "Classic" style with relentless metal assaults from Suburban Funeral (Kalamazoo, MI) and Desecrator
(Jamestown, NY). Brooklyn, New York's Twilight Odyssey, featuring outstanding female vocalist P.J. Berlinghof, proved without a doubt
that they are a force to reckon with. Chicago's "heavy as hell" Twelfth Gate was up next and they did not disappoint. Iron lunged Scott
Huffman continued to demonstrate why he is one of the Midwest's top metal singers. Salt Lake City's Katagory V and Chicago's Rival also
gave commanding performances before King Fowley's October 31 finally hit the stage. One of the most popular bands of the event, October 31 is a "true"
classic metal band with a monster guitarist in Brian "Hellstorm" Williams who also shreds for Chaingunn. It was fantastic to see
King on stage again, giving his all after a rough year personally. Next up was New Jersey's Vyndykator. This band has a singer with
nuclear power lungs! "Vokillist" Bob Mitchell (also with Alchemy X) must be heard to be believed. Pagan War Machine put on a killer set
which set the stage for Boston's classic metal legends, Meliah Rage. With a new singer (Paul Souza) and only a few rehearsals before the gig,
the band could have been a little tighter. Nonetheless, Meliah Rage still thrilled the metal masses and brought back many nostalgic memories to those
metal veterans old enough to remember their music. Although Metalucifer isn't exactly a household name to many in the U.S. heavy music scene, the band
received a tremendous response and definitely left their mark on the wild Classic Metal Fest fans with an incredible metallic barrage that will never be
forgotten by those fortunate enough to witness the all-out metal onslaught. With band members from Japan, Germany and Mexico, Metalucifer may very
well have stolen the show. Legendary Floridian metal warriors Nasty Savage, supporting their recent release "Wage of Mayhem", gave a "nasty"
performance as Nasty Ronnie once again showed us what to do with televisions that don't work! Even King Fowley himself was seen in the front
row head banging to these guys. Nasty Savage put on a great visual show that was a lot of fun to watch. Unfortunately, the Classic Metal Fest had to
end at some point, so New York's Zandelle hammered the final nail in the coffin at around 2AM.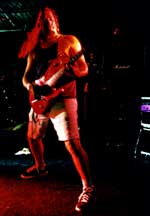 In an era when most metal festivals in the U.S. are dominated by death, black and nu-metal bands, it's very refreshing that the Metal Music Foundation has
created a metal festival that caters to those metalheads who absolutely crave true, traditional "classic" heavy metal. Plans are already in the works for
next years Classic Metal Festival IV. To those of you who really appreciate traditional heavy metal music, I highly urge you to make plans to attend next
year's event. I'll see you at the fest again next year. In the meantime, HAIL to the Metal Music Foundation...and...to the Metal Gods!!!
---
| | | |
| --- | --- | --- |
| | | |
| | | |
| |   | |
---
RELATED LINKS
Metal Music Foundation