Ozzfest2003 brought a number of surprises to the line up including a band from Miami, Florida called Endo. On July 20th, many Chicago Metal Fans were introduced to the hard sound of Endo. Vocalist Gil Bitton took the hearts of the fans early and worked everyone into frenzy.
Touring on the second stage at Ozzfest, Endo fans and new on goers visualized what is to occur in metal music. With their recent release on July 29, 2003 "Songs for the Restless" is sure to set a stir on the music being pumped out of video and radio. The band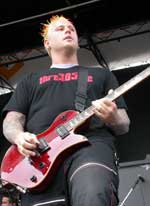 on stage shows the force to take and hold their place in metal. Outputting high velocity melodic sounds that are clear and distinctive to only support with their onstage presence. From their latest release, Clean Sheets (And A Dirty Mind) strong vocals of metal brought fans to the rise. Recently having a list on the Soundtrack for Daredevil "Simple Lies", were recognized by many that might have just heard of Endo on the movie CD. That did not stop the band from the real hard driving hardcore fans from pumping out much of the new stuff off "Songs For The Restless". "For You", has the elements of the smart metal force moving, showing the bands progression into mainstream as radio dialers turning to hear the tune. Are they what many considered the nu-metal or just the reinvention of the traditional metal of the early onslaught when metal, thrash alike was only listened in the underground.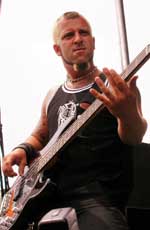 Gil Bitton really took vocals to a high peak to make the lyrics solid, heard and distinctive. Together with good drum beat and guitars, the compliment to now to see more then 20 minutes of live music from Endo. I am sure after OzzFest 2003; many will wait to see Endo on tour for much longer and full experience the band can offer.
Possibly much of the reason for getting into the music of Endo is the power, which can be seen from now veteran metal Icons of our millennium Disturbed. No frills on stage as earlier Marylin Manson, just Disturbed and the fans. Much of same look as the ending of their "Metal As A Weapon Tour", only Draiman, Donegan, Fuzz and Wengren, with a red velvet cover behind the stage holding the symbol of the faiths from the new Album. Bringing their whole life to Chicago with a 50 minute set.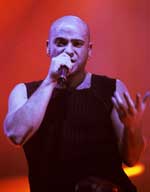 David Draiman is the spokesman for metal and proud to profess such faith, stating to the Ozzfest fans, "You Empower Us, We Empower You. Each one of you will leave stronger this day then you were before." Kind of makes you choke today in a world that is getting harder as this economy is putting people out of work and making many jobs today harder to attain for much in return. Performing basically every track Disturbed has unleashed and not enough for us. Ending their set with Stupify.
Disturbed output many of their new and old including "Intoxication", "Believe", radio friendly "Believe" and "Remember" and a song that I personally did not think would make the track on air play, but editing does "Liberate" just right. Listen to many soundtracks today and you will here the "SICKNESS" and the sound of Disturbed.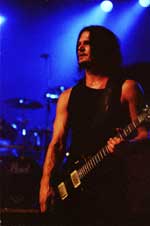 Ozzfest and Disturbed are not forced on Chicago but accepted with full heart and soul of all to go see them. I thank the labels that stand behind UnRated Magazine and allowing us to taste the flavor of metal.
---
RELATED LINKS
Ozzfest Site
Endo
Endo Photo Gallery
Disturbed Web Site
Disturbed Sept 05, 2002
Disturbed Review Sept 21, 2002