One of the handful of truly unswerving artists of the last decade (along with No Doubt, Foo Fighters, Pearl Jam) is Sheryl
Crow. She embodies everything I love about rock 'n roll. She embraces the paramount moments from it's past and makes them
her own through her music. She absorbs the crowds at her concerts and most importantly, she always shines a light on the
future of rock. Back in September 1994, I was waiting for a friend in a dorm hall at DePaul University on our way to see the
Rolling Stones. While I was waiting, I remember seeing the video for "All I Wanna Do" for the first time on MTV. It was
right about this time that the buzz surrounding her started to grow. Within a year, I don't think there was a soul who
listened to the radio who did not know that voice which would prove to be more than just a one-hit-wonder, but a truly
remarkable artist and for my money, one of the truly illustrious artists of my generation.
---
I've been blessed to see Sheryl live numerous times over the years and she always graces the stage with great presence. That
being said, I had gone to see Sheryl Crow a few times last year, invited my friend Paul both times - but he did not want to
go, mainly because he was not too sure how much of her material he would know. Then the phone call came in January. Paul had
just watched the Rolling Stones on HBO where Sheryl showed up to perform "Honkey Tonk Woman". No sooner did the song finish
than Paul called me and said "I need to see her live, let me know when she's coming to Chicago".
Paul and I connected on a trip to New Jersey a few years back to catch Bon Jovi play a special charity show in Asbury Park.
A mutual friend introduced us. During that trip, we had lots of things in common, including our love for Springsteen, the
Stones and U2. Since then, we've made it back to Jersey a few more times for Springsteen charity shows, caught U2 more times
than we'd like to admit on their 2001 tour and will occasionally catch the random show here and there while we see these
music greats flex their muscles. The rides home usually involve heated debates about whether these artists are striving
forward or stuck in their past. I love seeing an artist embrace new material in concert, where Paul comes from the school of
"I paid a lot of money for these tickets...give me the hits". Sometimes he brings up good points and gets me.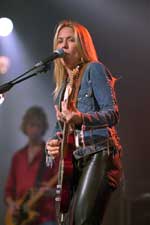 The other
times, I orate about the opposite and occasionally get him to agree with my opinions...sometimes. Either way, it's a win-win
state of affairs as we are able to open the others eyes to a circumstances we might otherwise overlook. As Sheryl's tour
schedule came out, Chicago was there, but she was either opening for Bon Jovi or playing in front of 500,000 people Fourth
of July weekend. I pointed Paul to her gig in Fort Wayne, IN about a month later...it was all he needed as we lucked out,
got third row tickets and did the road trip to see the current goddess of rock.
The typical road trip ensued as we debated about the merits of Springsteen's "The Rising" and what he would be playing when
he hit Chicago the following week, or course opinions differed. Yet, the conversation was spirited and as slowly made our
way to the small town on Fort Wayne and the theater which she would be gracing her presence with on this given night. The
theater in Fort Wayne is one of the most stunning I have ever seen; even better, the capacity of the theater was 2,500. I
was fortunate enough to catch Sheryl last year in Chicago at the House of Blues-an incredible experience, just because the
intimacy the room allows. However, I was able to see her rock 24,000 people 2 months earlier at Milwaukee's Summerfest. She
has no stage fright; she is incredibly comfortable with the audience whether there are 1,000 or 50,000 people in attendance.
Lots of people question me often about why I love seeing so many acts live in concert. There are numerous reasons, one of
them being when the lights go out. There is nothing like having the whole place turn pitch black as we wait for the artist
to make their way to the stage. You could see the shadows of Sheryl and her band members arrive on stage one by one. The
anticipation grows...the crowd becomes more restless and then you hear that opening riff, tonight, it's a riff everyone
knows. "Steve McQueen", the incomparable rocker from her most recent release, "C'mon, C'mon" opened the show...a textbook
rock song and one of the finest songs I have heard over the course of the last few years. I love the riff, the lyrics, her
vocal style, the raunchiness and sexiness of its sound...it's perfect in every way a rock song should be. When I hear this
song on the radio, see it live or watch Wayne Isham's great video, I am reminded of why I love music so much. Sure, it was
not as big of a hit as "Soak Up The Sun", but who cares; this is a song that I am sure Keith Richards and Clapton are
wishing they wrote. As the set progressed, you can sit back and see every bit of inspiration she has received in her life
appears in her repertoire. There are the songs that have a little country flavor ("Sweet Rosalyn" & "Strong Enough"), those
that are straight ahead rock ("Steve McQueen") and then the perfect hit singles ("All I Wanna Do"). A truly amazing feat
occurred earlier this year when her duet with Kid Rock, "Picture" blasted across airwaves all over America. Not only did
people love the song, but it attracted people who never would listen to Kid Rock in a million years had a new respect for
him, because they felt, "If Sheryl is singing with him, there must be more than meets the eye". She opens people's views
and ideas to expand; maybe this motorcycle driving, beer guzzling fiancée of Pamela Anderson has much more to his soul than
the American bad-ass persona.
The Fort Wayne show was perfectly paced where her tight knit band performed in front of images on the screens that
overlapped the back of the stage. Back in the set after a brief absence, is material from her masterful third album "The
Globe Sessions". "It Don't Hurt" and "Anything But Down" were two highlights of the near two-hour show. She sings these
songs of loss love, strength and hope the same way Springsteen and Dylan did early in their careers. The number one reason
that artists like Springsteen and Crow are as popular as they are is because people identify with them, they relate to them,
their words, hopes and struggles. When Sheryl performed a somber yet incredibly moving performance of "Redemption Day", from
her self-titled sophomore effort, words and images of peace and hope appeared on the screen behind her, every single person
there was engrossed. The understated performance was truly remarkable for the fact that it was a slow number that seized the
audience's attention and held it for the entirety of the song.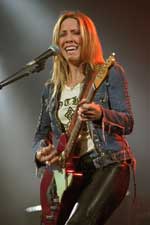 The pacing of the set allowed the songs to breathe their own existence. Unlike other artists out there today, Sheryl is not
as fortunate to run the gamut of the stage and jump up and down...mainly because of the fact she is always playing an
instrument and in some cases, the lead instrument that drives the song. Over the course of the night, she played guitar,
bass and piano along side her incredibly tight knit five-piece band. It's not always easy to fight for the audience when you
have to worry about not making any technical mistakes. However, Sheryl does her best; she gets out there, tries to make eye
contact with those in the audience so they know she's there for us on that given night.
Towards the end of the main set, she took a breather and performed the lost album track, "Home". It was never a huge hit for
her, but is easily one of the best songs in her repertoire. The song about discovering the values you were brought up with
is as intimate and personal as an artist can get in revealing their inner emotions and feelings. It may not have been a
top-ten hit, but it will hopefully find its place on her upcoming "Best of" collection, right where it belongs. She followed
it with "Picture" which brought everyone to their feet while guitar/bass player Tim Smith duets with Sheryl on the song.
It's amazing how Kid Rock's album was deemed a failure upon it's initial release and 14 months after it came out, it went
back into the top 5 on the Billboard chart based on the sales for "Picture" alone. From here on out, it was a full on rock
fest, "All I Wanna Do" made its way into monster rock-pop anthem "Soak Up The Sun". This is one of the greatest pop-rock
songs I have ever heard and one that I guarantee will slowly become a rock classic. Everyone was on their feet; 5 year olds
to fifty years old people were dancing and shaking their bodies to the infectious sounds of "Sun". "Everyday Is A Winding
Road" ended the main set. As the band left the stage, I slowly looked over at Paul and asked if he was having a good time,
he signaled me a big "yes".
As the band returned to the stage, she went full force into the Elvis Costello number, "Peace, Love & Understanding". It
resonated throughout the theater and Sheryl was very animated, constantly moving and running all over the stage. At one
point, she went up on the drum riser and leaped into the air, strumming her guitar with her feet behind her...a classic rock
moment. Paul turned to me smiling and said, "No matter how many times I may see other artists do that, I can't help but
think Pete Townsend still does it the best!" He's right, but none of that mattered. What counted is how she won over the
audience and embraced all the best rock had to offer our tortured souls over the last thirty years. After the somber
performance of "Safe & Sound", she stood on top of her piano as the band began to jam on Led Zeppelin's "Rock & Roll". She
performed the song in its entirety (barefoot and all) from on top of the piano. It was a incredible way to end the show,
seeing her shudder her hips, swing her hair and be sexy without even trying.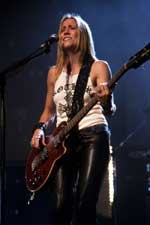 For me, the finest rock 'n roll have always shown a eclectic scope of influences. Sheryl is all over the map. There are
those who criticize her for not sticking with one specific genre of music, but this is what makes her music unique. While
she may borrow from several genres, it only augments who she is as an artist. Much like filmmaker Quentin Tarantino, Sheryl
picks up little things here and there from all fields of music. Whether she's channeling Zeppelin, Johnny Cash, Dylan, the
Eagles, Fleetwood Mac, Springsteen or the Rolling Stones, she embodies the utmost qualities of all of these illustrious
acts. I hope Sheryl will continue to integrate all types of music from our cultural landscape, make it her own, and offer it
back to the world just to prove that rock 'n roll is far from dead.
---
Sex has always been a driving factor in the stimulation and aura of rock 'n roll. While I have always felt it embodied in
the music I have listened to, I have rarely had a rock star overcome me with their sexuality. I'm a guy and while the
over-the-top sexuality of the younger generation is nice eye candy, it wears thin after a while. Like a beautiful women whom
you take out on a date realizing she's perfect until she opens her mouth nothing of substance comes out, there needs to be
something beneath the surface to make someone sexy. I was twelve-years-old back in 1988 and totally dug Lita Ford and her
"Kiss Me Deadly" music video. I was also into The Bangles, appreciated Madonna's willingness to be fearless, Joan Jett's
tough girl attitude...but never have I had a performer overcome me so that I am totally lost in them and am concentrated on
them 100% of the time, especially in a live setting. I have numerous female friends whom when they see Bono, Jon Bon Jovi
and other rock Gods, that they instantly lose control of their bodies, hearts and minds. I remember being at the House of
Blues for an intimate club gig Bon Jovi did back in 2000. I was up front against the stage and my friend Brian kept on
moving back, not out of will, but force from the women in the house. At one point, he was about 15 feet from the stage when
this girl tried pushing her way up front saying "I need to touch him, just once, just once!" My friend Brian looked at her
like she was insane. There was no physical way she would get up there unless she started climbing on people's shoulders.
That night, the music, its scope and text and the everyday persona of Jon Bon Jovi made her lose her mind, momentarily. This
is what Sheryl Crow does for me.
I saw Sheryl Crow from the second row at Alpine Valley in July. I was singing along to all of the songs and she and the band
noticed (opening acts are always happy to see other people know their songs when 80% of the people there are excited about
the headliner). I smiled at her and she grinned and winked back. I immediately turned to my friend Dan and he said "I saw
it...let's leave it at that" and laughed at me. It was exciting; they connect with you, look in your eyes and somehow make
the rest of your mind go blank. The rock band James had a song called "Sometimes", the chorus goes "Sometimes, when I look
deep in your eyes, I swear I can see your soul" These artists connect with us on an emotional level and when confronted with
them physically, we look deep into those eyes and the stories about lost loves, trials and tribulations make you more than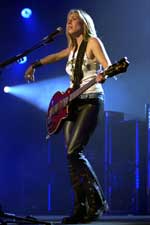 just strangers passing through life, but humans who are tied together by the experiences we have all shared. I don't care
that she's 15 years older than me, I don't care whether her hair is short or long, it's not about her body or the pants she
wears, but the weathered soul that speaks to me...she embodies sexiness in rock 'n roll better than anyone else ever has for
me, past, present or future. There is nothing sexier than someone who does not realize they are sexy. Sure, while Sheryl was
dancing on top of her piano, she was no where near as coordinated as Britney Spears, Christina Aguilera or even Madonna but
she embodied what I loved about rock 'n roll, she was raw and sexier than anything I had ever seen before in my life.
I always know when a woman is truly beautiful...when other women, unanimously, speak up. In the days leading up to Sheryl
Crow I had a number of my female friends ask me which shows I would be attending soon and I told them about Sheryl. "She's
hot" is what my friend Janel said. I laughed and she said, "No, really she is...if I were a man I'd date her in a
heartbeat". I had similar comments come out of at least a half dozen other females. When I saw Sheryl last summer in
Milwaukee with my sister, she turned to me and said, "I want her arms, they're perfect". I laughed but knew what she meant.
However, the thing that makes Sheryl even more alluring is her persona. She's a goddess...but she's real & alive which is
why she's the sexiest star out there now for my money. There are other women who are more exotic, more surreal, dreamlike,
yet while they are eye-catching, you don't feel like you would have a chance with them in a million years. Sheryl Crow
embodies a personality where if you bumped into her in a bar, you could buy her a drink and talk to her for an hour. She's
the type of girl a friend brings along to hang out at the bar and by the end of the night you are telling your friends she
is the girl you want to marry.
When I hear Sheryl's music and see her in concert, I'm moved by the sincere lyrics she belts out. It is one thing to have an
artist move you through their prose...it's another to truly feel connected to them. I know I would truly rather share a
drink with her than hound her for a photo or an autograph. Sheryl Crow's music is not the only thing genuine about her.
She's an original.
Strong Enough
Anthony Kuzminski
---
8/7/2003 - Aug 7th: Fort Wayne, IN Steve McQueen
There Goes The Neighborhood
My Favorite Mistake
Anything But Down
First Cut Is The Deepest
Leaving Las Vegas
Strong Enough
Redemption Day
Sweet Rosalyn
If It Makes You Happy
It Don't Hurt
Home
Picture
All I Wanna Do
Soak Up The Sun
Everyday Is A Winding Road

Encore Peace, Love & Understanding
Safe and Sound
Rock and Roll

---
RELATED LINKS
Photo Gallery
ALBUM REVIEW: Winding Down Life's Winding Roads
Sheryl Crow Web Site