On Friday July 25th and Saturday July 26th, Jack Koshick held the 17th Edition of the "Milwaukee Metalfest" at the U.S. Cellular Arena in downtown Milwaukee, Wisconsin. Still billed as "The Only Show That Matters", the MMFest featured nearly 100 metal bands from all around the world, which included about every style of metal in existence. Traditional metal, thrash & speed metal, death & black metal, industrial metal, nu metal and yes, even rap metal, were all represented. And as always, the annual event included plenty of metal music vendors from across the U.S. and Europe, along with heavy music record labels with booths promoting their bands and merchandise.
The MMFest is considered by many as the "Grand Daddy" of all U.S. metal fests simply for the fact that it has survived longer than most, if not all, other U.S. heavy music festivals. But with all the different styles of metal today and with the edition of several other annually held metal festivals around the country in recent years (some of those also promoted by Koshick), it's easy to understand why the MMFest doesn't quite hold the same importance in the metal community that it did a few years ago. And although many bands still do anything they can to acquire a time slot on the weekend line-up, Mr. Koshick must be finding it increasingly harder each year to sign the metal scenes more popular and recognizable bands. Big name metal bands no longer look at headlining the MMFest as the "prestigious" opportunity that it once was. And as with most large music festivals, there is the inevitable "chaos" that the bands have to endure. Poor scheduling, re-scheduling, sharing equipment that doesn't work properly, bad sound, bad lighting, another band playing at the same time in another room, etc. And all that, for a 15 or 20 minute set! The bands do their best to make the most of the opportunity and situation; but it's truly no "metal paradise" for them.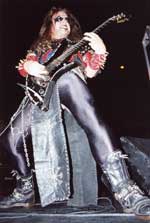 But with all the "downside" to this type of event in mind, I STILL wouldn't have missed this gig for anything! And yes, there were several excellent performances executed by bands on both days. Friday's highlights included merciless metal onslaughts from Summer's Dying, Enforsaken, California's almighty Cage and Swedish Black Metalers, Naglfar. Canada's Strapping Young Lad delivered a "monumental" entrée of metal aggression behind the relentless guitar wizardry of Jed Simon. However, it was Norway's unbelievably powerful Vikings, Enslaved that seemed to demand the most respect on Friday night. Body Count (featuring Ice-T) was another of the scheduled "headliners" for Friday night. As good as they are at what they do, their style really didn't fit with the event and there were many "old school" metalheads who were wondering out loud as to why they were headlining the MMFest!
Saturday proved to be the "heavier" of the two days with vicious metal assaults from South Jersey's, Hixon (featuring outstanding vocalist Marc Hixon), Chicago's demonic, Slave Driver and Denver, Colorado's Silencer. Ritual Habits from Los Angeles, also pulverized the MMFest masses as did Fleshgrind, Bloodstorm (Dallas, TX) and Death Metal Kings, Suffocation.
And as the legendary Mentors were rockin' on one stage, Chicago's metal tyrants Usurper ruled the other with their own brand of "Metal Lust." Usurper without question, unleashed one of the most dynamic and energized sets of the entire weekend as they masterfully demonstrated their unique, old school style of metal. Saturday headliners also included metal veterans, Nuclear Assault and the hallowed, Repulsion, with both bands contributing memorable performances. But it was M.O.D. and Vital Remains that attracted the most attention from the Milwaukee metal militia on Saturday. Glen Benton of Vital Remains (and of course, Deicide) helped in providing one of the evening's highlights when the "meanest man in metal" himself, came out and performed a song with M.O.D. Fans of both bands really enjoyed that one!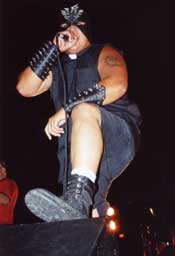 Obviously, it's the music and the dedication of the musicians that make this thing work year after year.
But for many who attend the fest, the opportunity to meet and hang out with some of their favorite bands,
as well as seeing old friends and meeting new ones, is by far the most enjoyable aspect of the MMFest.
Talking metal, drinking beer. Drinking beer, talking metal...and 100 metal bands to choose from to listen
to...LIVE. Not a bad situation for a metalhead to be in. Just people watching alone, is worth the price of
admission to this event!
No, things are never perfect at the Milwaukee Metal Fest. But all I know is that I still had a BLAST (again!) and I'm already looking forward to making my hotel reservations for next years MMFest XVIII. Every metalhead should experience the MMFest as many times as possible. I'll be looking for YOU there next year. In the meantime...Stay Heavy!
---
RELATED LINKS
Photo Gallery