You Wanted The Best. You Got The...
Playing to a crowd of 30,000 plus at Alpine Valley were the original Monster's of Rock, KISS. Sharing the headline with Aerosmith, KISS gave the crowd what they wanted. There were explosions and pyrotechnics that would rival most major cities 4th of July celebration. While it was debatable who the crowd was there to see, KISS made sure to rock their way into the hearts of the Aero crowd. Playing such hits as Detroit Rock City, the original rock power ballad Beth, Love Gun, and what KISS concert would be complete without the original cunning linguist, Gene Simmons, spewing blood and singing his signature song God of Thunder. Of course their set concluded with Paul Stanley smashing his guitar into two pieces during the Rock-N-Roll National Anthem, Rock-N-Roll All Night!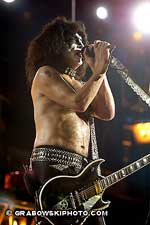 While visually the show was exciting and the song selection was appropriate, the set was too short. Having to share the stage with another headliner, really cuts into playing time. And with a catalog as extensive as KISS's, you can't help but want a longer set than 85 minutes. I understand that this stage of the game, KISS may be motivated by the almighty dollar and perhaps that is why a bit of the magic is gone with out the presence of the Space Ace, Ace Frehley, but I see no reason to share the stage. I am sure the rest of the KISS army would agree that they would rather see a full set with only one headliner vs. having two.
As for Wanting The Best and Getting the Best, this won't be true until KISS reunites once again with Ace and plays a true two hour headline set.

---
RELATED LINKS
KISS Photos
KISS News 2002
KISS Web Site