The last time Billy Idol had a hit, it was in a movie that starred Andrew Dice Clay, MC Hammer had the number one album on the charts and it would be another year before another rock album (REM's "Out of Time") graced the top spot on the Billboard chart. What a difference thirteen years makes. After Idol's
"Charmed Life"
album in 1990, he took three years off, returned with a mediocre album (at best) and spent the better part of the next decade out of the limelight.
However, a few years back, he decided to rise from the ashes and return to the concert stage. This brought about a career resurrection of sorts with the release of a "Storytellers" and "Greatest Hits" discs. Not only that, but he has returned to the stage with his musical soul mate, Steve Stevens. You know, the guy with big hair from Michael Jackson's "Dirty Diana" video? It may be 2003 and instead of playing arenas, Billy strolled into Chicago's House of Blues for two sold out shows, but, something many did not realize is these performances in 2003 are better than they were in his 80's heyday.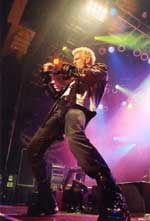 The band hit the stage and opened to the roars of an audience that was excited to see one of the original punk rockers. Opening with "Cradle of Love" he took no time in making sure he would command his tight knit band, and the filled to capacity House of Blues crowd. As soon as "Cradle" concluded, the band charged right into the Generation X anthem, "Dancing With Myself". Idol's first ever hit to this day remains his very best. It's unlikely he'll ever top it...the excitement of the crowd and the performance by the band were top notch. This is one of the reasons you go and see these acts you grew up with, because when you see songs like "Dancing With Myself", you remember why you loved these songs and it also makes you realize there is nothing as good anywhere on the radio today. "Flesh For Fantasy" followed and generated great reactions from the crowd during its chorus with fists thrust into the air. I somehow knew we would be taking a nice ride memory lane.
Besides Idol's snarling lip, the most obvious attraction was Steve Stevens's dazzling guitar playing. Some people see him as being overrated but when he pulled out the acoustic guitar for a number of songs, even his critics were silenced. The is no doubt whatsoever, the man was put on this earth to play guitar. His over the top theatrics, including his bangs, are perfectly at home on stage with Idol. Even the songs he did not record with Idol benefited from his improvisation. After the better part of a decade playing with numerous different artists (including Michael Monroe and Vince Neil) Steve is finally back where he belongs, besides his musical soul mate.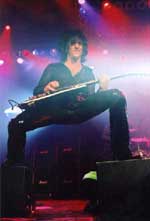 The best moment of the evening was the acoustic intro to "White Wedding" Right here, Billy and Steve showed everyone they are still razor-sharp musicians. Most faded rock stars of yesteryear, which have been out of the limelight for so long, would not dare to fiddle with such a well know number. Yet, they worked it up in a unique way and then brought it back home for a rocking finale.
After a strong set hour long set, Idol took some time to introduce a few newer numbers; "Stranger In My Skin", "Man In The Kill Box", "Walk The Line", and "Beautiful Life" were all performed. While it was admirable, the songs did not stick with me. None of them sounded bad, but none of them jumped out at me either. Which leads to the inevitable question: Will Billy Idol ever break through to the mainstream again? That is a question we may have to wait another year or two before we can answer.
There was great irony in the performance at the House of Blues. While it was a top-notch show, the question that came to mind is that how much longer can Idol continue to churn out the same old warhorses before people get tired of them? Granted, the show was everything you can ask for; intimate, long (over two hours) and chock full of hits. I cannot really think of a single hit song he did not do. The only thing missing from his solid and energetic set was new material that grabbed people. One has to wonder what Billy's long-term plans are. I loved every bit of the show and it was probably better than seeing him ten to fifteen years ago, but where does he go from here? Would I pay the $45 ticket price to see him do the same show again in a year? I doubt it. I love seeing bands play their big hits, but at some point, it gets old. I saw KISS recently and while the show is as amazing as it has ever been, it is the same exact show they did from three years ago, only shorter. This is the number one reason they are touring with Aerosmith, mainly because they cannot get people to fork over big money for the same show over and over again. People always complain when you see established acts perform new material because they want to see nothing but the hits. But let me ask you this, if every show were the same with the same songs, wouldn't you stop going after seeing them once or twice? Springsteen and the Stones can still tour and fill stadiums because they have new material to plug. Plus, to their advantage, they also have deep catalogs they can rediscover, unlike Idol.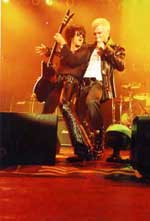 The encores were even a throw back as he opened them with "Hot In The City" before launching into two covers, "Mony, Mony" and The Doors "LA Woman". Each song was a spirited performance with incredible interaction between the band and audience. The audience's reaction to "Mony, Mony" was priceless. Imagine a wedding with 1400 invited guest, most of whom have consumed large amounts of alcohol and you can probably picture it. Why I thought that would be it, Idol and company surprised me as they made time for one more number, "LA Woman". The song has grown immensely since Billy's take on the song from 1990. It was a great way to end a show and left everyone on a high note in the sweltering walls of the House of Blues. As the steam subsided in the intimate, yet hot, atmosphere of the crowd, everyone appeared to be satisfied. I had a great time and can proudly say I have seen the original punk rocker live and in the flesh. However, my main question is how much longer he can continue to replenish the same songs over and over again? It's time Billy and Steve got together, put these new songs to tape and get them out there. Till they do this, Billy Idol will be a mere trivia question on shows like "I Love the 80's". He deserves better.
---
RELATED LINKS
Photo Gallery