The last time Sammy Hagar rocked the house was the summer of 1995. When he toured with the newly re-formulated Van Halen. The music was hot again and Sammy Hagar's vibrant energy was putting the band back on the charts with hits such as Dreams, Poundcake, Why Cant This Be Love, When Its Love, Cant Stop Lovin' You , all huge radio hits including a hit titled Right Now followed up by a video that sent strong messages to young MTV viewers.
In the early 80's Eddie Van Halen recorded a sound track and provided the background music for a feature film entitled "The Wild Life" a 1983 follow up to the cult classic "Fastimes at Ridgemont High". The movie featured a few young aspiring actors like Cristopher Penn, Lea Thompson and Eric Stotlz all who went on to share success in Hollywood. If you listen to the soundtrack carfully you can hear the intro to the cut Right Know in the background music tracks when it was first created by the gutair legend. The piano play is easily recognizable. Sammy Hagar and Eddie worked great together writing songs, and the hits were rollin. That was the last time Sammy was a part of something that was really working great. Too bad things didn't' work out for VH. However, It was cool that Sammy could find a way to continue doing what he really enjoys performing & producing a hard hitting rock-n-roll show.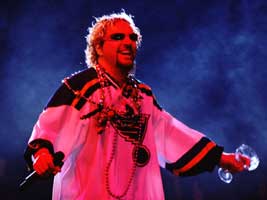 Now here it is 2002 and I got a chance to see Sammy's show at the old Riverview Theatre in St. Louis MO. Sammy started the night with There's Only One Way to Rock and his energy charged both the house and the lawn. Locked and loaded Sammy went on to play all of his 95 hits, as a huge video screen flashed images of half- naked women shaken their money makers at the beach. Sammy didn't forget about anyone who listens to his stuff. He played Three Lock Box, Take a ride (Heavy Metal), while flashing video images of Sammy back in the Montrose years. His Show included women in bikinis serving drinks as well as a Cabo margarita shaken not stirred Sammy style. He had a two bleachers set up on stage filled with fans singing all Sammys hits and dove into the bleachers a couple times honoring his beloved fans. Sammy told the crowd he felt like he was a part of a kick ass tour with the same energy surrounding the summer back in 1995. Sammy's entire wardrobe, including an American Flag, came form his fans. Alex, Michael and Eddie were not preset and nobody cared. Sammy 's Waboritas included a great guitar and bass player who were tight and full of that magical energy Sammy inspires.
Sammy gave the crowd a 5 star show that most of us will never forget. David Lee Roth formally with Van Halen, opened the show. It was kinda cool to hear those old VH songs performed by the only man who should be allowed to sing them. Overall, Dave's show seemed to be missing something. Eddie Where are you?