"Please note that the following review is about the adult xxx movie industry. This is not for minors!"
The adult movie industry gathered during the week of January 8-12, 2004 for the largest event in the adult film industry. A convention that was a build up to what many call "The Oscars of the Porn World", UnRated staff was invited to attend the event and check out the adult xxx celebrities hosting their production companies. Too bad we did not get into the actual AVN awards where the honors are given for such things as best performer and many other eccentricities.... maybe next year. However, we as many others were very fortunate to be able to attend during the non-public times. During pre-general attendees, we had free roam to meet all the adult celebrities, chitchat and take pictures on top of pictures of very willing young ladies of porn. Don't get the wrong idea, this was not a adult playboy type of exhibit NUDITY was not allowed, just as any convention you might have attended in the past, however the focus here was on the adult film industry. Though the targeted audience was trade people, there were fan hours during the show and it became full to capacity as anxious fans waited to enter the Expo. The fans circled outside the expo to what I considered to be longer then a city block. Now that's Entertainment!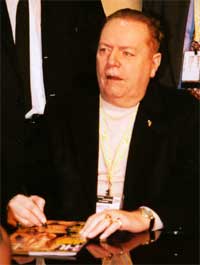 The 5th Annual AVN Adult Expo was held at the Sands Expo Center adjacent to the Venetian Hotel and Casino. If you were not in town for the Adult Industry Conventions there was plenty of other attractions like the roulette wheels, black jack tables or the slots with chips to win... or loose... why not this is Las Vegas "Sin City". Where else can you host such an event that brings the adult industry and fans from around the world? This year's many new promoted attractions were the new Business to Business (B2B) marketplace, where industry professional could meet with other trade show professionals and other events such as seminars and meet and greets.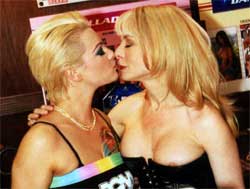 When you walked in you knew you were at an adult related convention, no other then Ron Jeremy would meet you at the Metro Booth during a Friday morning on the 9th of January 2004. "The Legend of Porn", greeted all with autographs, photos and discussions of the more then 1700 films and probably 5000 women as heard. Ron Jeremy in recent years has been just spilling into the mainstream media with a motion picture, videos and now co-hosting the Sunday night show "The Surreal Life". If the line was too long waiting for the "Hedgehog", there was always a wonderful starlet such as Ann Marie to allow you spend some time to take photos.
Some of this year's celebrity guests promoted for attendance were Rap star 50 Cent, others were found wondering around were Ian "Lemmy" Klimister of Motorhead. Unfortunately, we did not see Lemmy or catch the porn star that Lemmy mentioned in an article in "Revolver", none other then Midori. Jenna Jameson was in attendance and could be found at the Vivid Booth. When Jenna arrived the crowd went wild to even catch a glimpse of the porn star superstar as I am sure the line for autographs was quite a wait. Jenna Jameson could be one of the main adult industry professionals that brought adult film industry to mainstream status. Jenna Jameson was the co-host for the Annual 2004 AVN Awards, which was held on Saturday.
One of the huge attractions was the Hustler Booth, everyone knows of Hustler if you like it or not. The international print publication headed by the Flynt Industries took on xxx film several years ago with better then expected success. The Expo's unveiling was honored by no other then Larry Flynt, presenting the ribbon cutting ceremony. If you missed Larry Flynt at the ribbon cutting ceremony, you could still catch him active at the Hustler booth signing the most recent issue of Hustler for fans and trade goers. We were fortunate to catch the Media Adult Industry Icon with full smiles at the event while signing for all the fans.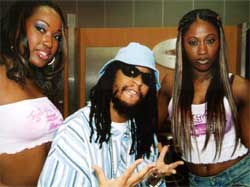 None other then Nina Hartley was in support with other adult celebrities in the Adam and Eve booth, signing autographs and photos. Nina was more then down to earth, she took the time to talk and enjoy herself as the line grew longer and longer of awaiting fans for just a hello or a photo. If you don't know who Nina Hartley might be, then check out the Movie Hit "Boogie Nights", you'll remember her famous line, "What the fuck do you think I'm doing".
As we walked to the other side of the AVN Adult Expo, we found rapper Lil' Jon and the East Side Boyz supporting the crew at Video Team. Video Team is one of the premier adult film producers of ethnic films bringing girls like India who appeared in produced films by Snoop Dogg and now with Lil Jon and her co-hostess Angel Eyes in "Lil' Jon American Sex Tour". Lil' Jon showed that music and sex really are one.
While taking in all this adult entertainment, you would have most definitely ran into the girl who lost government office to no other then Arnold Schwarzenegger in the race for governor of California "Mary Carey", hold on Larry Flynt ran too. Moving on we ran into Laurie, the women whose husband is known as king of porn and again the movie "Boogie Nights" which was loosely based on John Holmes. The big explosion on late nite commercials are things as "Girls Gone Wild", the crew from Shane's World were on scene who's theme are your girl next door college co-ed, the lovely college co-eds posed and laughed. So many girls, girls and girls. Just to name a few: Tawny Roberts, Belladonna, Teanna Kai, Ashton Moore, Jenna Haze, Carmen Luvana, Gina Lynn, Krystal Steal, Mercedes, Mercedes Ashely, Savanna Samsom, Brianna Banks, Julia Taylor, Devinn Lane, Kelly Madison, Daisy, Simone, Rachel Rotten, Sky Lopez, Jessica Drake, Shay Sweet, Boo, Stephanie Sweet, Venus, and many, many more.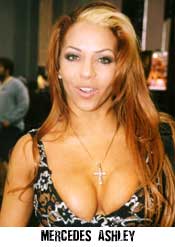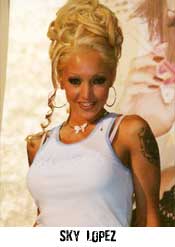 CLICK ON ANY PHOTO TO VIEW GALLERY
All the major studios had booths set up with the big names up front such as Vivid, VCA, Wicked Pictures, Hustler, Jill Kelly, Digital Sin, Video Team, Digital Playground, WCP, and so many more large and small producers in the world of adult xxx video/DVD entertainment. Promoting every thing from web sites, DVD, 3D DVD, toys, and giving away prizes, sampler dvd, hats, t-shirts, you name it you got it. We apologize for not listing all, but you can check out AVN.com and see what it was all about.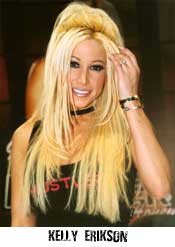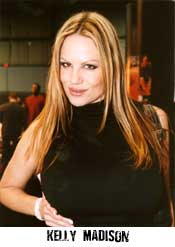 CLICK HERE TO VIEW PHOTO GALLERY
"Sponsored by AVN Magazine, the undisputed, premier trade publication for the adult entertainment industry and a segment of the AVN Media Network, AEE is the only adult-oriented trade show to capture the excitement and dynamics of the industry, encompassing all links in the business chain -- from manufacturers, distributors and retailers to the hottest adult stars and enthusiastic fans!" ---- AVN Magazine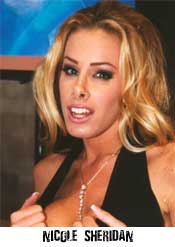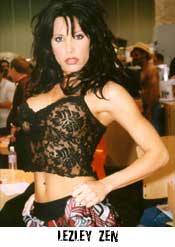 CLICK HERE TO VIEW PHOTO GALLERY
Till next year, we wait for 2005 thousands of movies more to come. If you are interested who the winners were, check out the AVN Awards.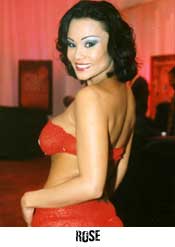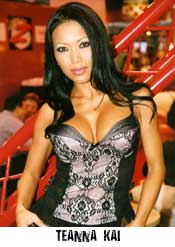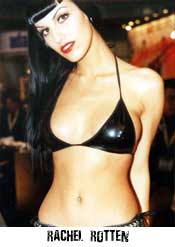 CLICK HERE TO VIEW PHOTO GALLERY
---
RELATED LINKS
AVN Adult Expo 2004
AVN Web Site Photos and More Stories
Lil Jon and the East Side Boyz
Photo Gallery