Since relocating to Chicago from New York, Dope has played suburban Oasis 160 as well as other clubs in the area many times. Despite their bassist retiring and their tour bus breaking down a few months back, they've pressed on. In fact, for almost a year now, they've been touring nationwide in support of their latest album,
Group Therapy
, a four-star, high energy, down-and-dirty rock album. Drummer, Racci Shay has temporarily filled the bassist slot, allowing him to thump away on strings instead. Adrian from Powerman 5000 has been sitting in behind the kit for the tour.
Singer, Edsel Dope is no doubt one of the most intense and motivated rock performers ever. Such is the work ethic of his band. In fact, you could even say Edsel is a perfectionist. He demands the same level of intensity and dedication from his band and crew.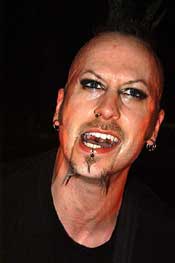 As Dope took the stage, the modest setup nearly exploded when the guitars roared from the speakers like the shockwave of an atomic bomb. Edsel did his trademark, show-starting springboard leap into the air, dreadlocks spraying in every direction. The crowd pressed forward and those up front deemed themselves lucky if they had even an inch to move. Yup, it was a Dope show all right; but this was not just any performance - it was an "angry Edsel" show. Almost right from the get-go there were issues with the sound and vocal levels. Edsel never held back his concerns regarding the stage lighting, demanding darkness onstage between songs and that people "do their jobs right." At one point he stood towards the back, away from the spotlights beaming down front-and-center saying, "I'm afraid of the lights." The crowd may have been amused by some of Edsel's antics, but he wasn't using one-liners to test his comedy routine. Another instance occurred when he felt the lights were again on at the wrong time and he announced he was bending down to tie his shoe.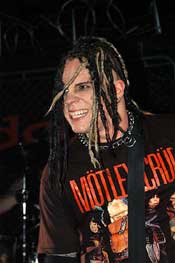 However, as a result of all the things bothering the band on stage, it fueled their inner fire. They played their asses off to extinguish it and to prove a point - no matter what, they'll get the job done. The band tore through an even mix of material from their three records. Edsel slung out gritty vocals left and right during the crowd favorite, "Fuck the Police," that easily had the crowd bouncing along. New songs from Group Therapy, "Bitch," "Motivation," "Bring It On" and "Burn" never resulted in any down time for those in the pit; they were as familiar with those songs as they were the band's older material. In fact, when the band does songs from their debut, Felons and Revolutionaries and it's follow-up, Life, the tunes rip through your ears with more intensity than listening to them on your home stereo at full blast.
As the band exited the stage, the crowd became infected with chants of "Dope!" Sure, it's aggravating for any band, or anyone for that matter, when things don't go according to plan, but we live in far from a perfect world. The fans let Dope know they got their money's worth - and isn't that what it's all supposed to be about, anyway?
---
RELATED LINKS
Dope's Official Web Site
Artemis Records