Noah was six hundred years old when the floodwaters came on the earth. And Noah and his sons and his wife and his sons' wives entered the ark to escape the waters of the flood. Pairs of clean and unclean animals, of birds and of all creatures that move along the ground, male and female, came to Noah and entered the ark, as God had commanded Noah. And after the seven days the floodwaters came on the earth. In the six hundredth year of Noah's life, on the seventeenth day of the second month-on that day all the springs of the great deep burst forth, and the floodgates of the heavens were opened. And rain fell on the earth forty days and forty nights. Genesis 7:6-12
So it was preordained. The evening of June 28th was overcast with clouds; many gray and become darker as the evening horizon arose. Would it rain? Would the skies open? Such were the answers as 13,000 faithful made their way to a distant suburb of the windy city for the live experience that is Peter Gabriel. Would the Angel Gabriel come through with a message to those seeking something deeper?
The summer 2003 Peter Gabriel tour was significantly different from the one that toured in late 2002. Gone are the "In The Round" stage and a number of newer songs. I went into this show with trepidation. Would it be as magical and surreal as the experience I had in November 2002 sitting from the front row, 15 feet from the man...and then there is the time I spent alone with him and a friend in his dressing room where he was but inches from me. I basically went to this show knowing nothing could ever touch that experience...I was right. What I did not expect was to be moved so profoundly that I almost felt a tear roll down my face as I watched this man and his band go above and beyond what I expected of them for the 13,000 faithful in attendance. He was clearly on a higher plan during the course of the two and a half hour set. It had been ten years since Gabriel graced the same stage in Tinley Park and unlike a decade ago, I feel those in attendance were there for more than just the standard hits show, but one with spirit.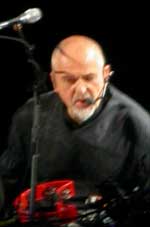 Like something out of a Biblical passage, the sky surrounding Chicago turned dark black moments before Gabriel and his band hit the stage. A few moments later, the skies opened and rain descended from the skies. Shortly thereafter, Gabriel opened his show with "Red Rain", the standard opener on the summer tour, in a surreal moment too good to be true. One must have imagined that Gabriel wrote the song for moments exactly like this. From that moment on, Gabriel and his band mates would transform the large and vast amphitheater into an intimate experience. The band was much more confident with the set list and songs from the tour opener eight months earlier. The trepidation from those moments at the tour opener the previous November were gone and it was clearly evident as the band forged ahead like a storm into the second song of the set, "More Than This" from Gabriel's "Up" album, the song was as powerful as it is on record. Right after, came what may be the best live song in Gabriel's repertoire; "Secret World". This song rings deep for many people and the emotions displayed and put forth by the band is nothing short of extraordinary. As I watched the band move around the stage during the chorus of this song, you see gusts of wet rains come up on the stage, yet the band was more powerful than any wind or thunderstorm occurring in front of them. It was here I realized I would be seeing more than just a copy cat show from the first leg of the tour. I have always believed it is best to see an artist towards the end of a tour, because they know the material inside and out. On this rainy Chicago night, Gabriel proved my theory to be a profound truth.
Gabriel presided over the stage like a holy man preaching to his people. Something so often overlooked is his genius, which is years ahead of his peers. Anyone who has heard his remastered catalog, especially on the SACD format, knows the details that go into recording each and every song. Layers of music piled onto one another, so rich and deep that very few artists have even begun to scratch the surface of his creative abilities. His stage show is no different. In terms of theatrics, he is hard to beat. Not only that, but he still manages to switch the set up every night. Granted, it's not like Pearl Jam where you will see a dozen different songs over two nights, but considering the vast undertaking his stage shows need, this still illustrates he wants each and every night to be unique. Evidence of this was the inclusion of "Games Without Frontiers", a song not performed on the first leg. With his daughter Melanie, Gabriel rode across the stage on mini scooters as the two of them performed the song while chasing each other around the stage, perfectly choreographed. Other changes included a metallic version of "Digging In The Dirt" where Peter wore a head-cam as he sang the song and gave the audience an eye shattering look at his intense pupils as he belted out this classic from 1992's"Us". Two other additions included "Don't Give Up" and "The Tower That Ate The People" The former was a duet with his daughter Melanie. While she does not have the vocal range of Kate Bush or Paula Cole, she does make up for it with the father-daughter bond she brings to the stage with her every night. There is something incomparable about her and her father singing "Don't Give Up" to one another. As the song faded out I was in awe as the entire crowd, lead by a reggae style by Gabriel, chanted: "Don't Give Up, Don't Give Up, Don't Give Up". I love listening to the official bootleg and hear this, but nothing can replace that memory and that feeling as chills ran up and down my spine hearing thirteen thousand people sing in unison. This is one reason why I love music live-moments like that can't be produced in a studio. Its one thing to see a picture of someone walking on a beach and it's another to actually be there and feel the wave's crash up against your bare feet. "The Tower That Ate The People" is a futuristic sounding track originally from his Europe only "Ovo" album, but has since been released on the second disc of his latest hits package "HIT". This is a song I initially passed over on "Ovo" but after seeing the keyboard and rhythm heavy track live, I have a completely new veneration for the song. This is exactly what live performances are supposed to do, open our eyes to songs we may have ignored previously. I left the Tinley Park show realizing I had overlooked yet another gem in Gabriel's vast and underrated catalog.
The second half of the show was a mix of hits and deep album cuts. "Growing Up", like the previous leg of the tour, showcased Peter in a womb-like ball bouncing around the stage in perfect sync to the music being performed. Following the rebirth of the Carpet Crawler, he brought "Shock The Monkey" out of retirement. While his indoor "Growing Up" trek the year before was one of the most amazing experiences I have ever had inside an arena, it did lack some major hits for those who do not follow Gabriel with extreme passion. It was great to see such strong reactions to his powerful selection of songs everyone has come to love over the previous three decades. "Solsbury Hill" found Peter and the wireless musicians walking through the entire amphitheater. Those that felt they had cheap seats realized they had anything but; Gabriel, guitarist David Rhodes, bassist Tony Levin and his daughter made their way through the crowd bringing the performance and the crowds roars to another level. "Sledgehammer" and "In Your Eyes" delivered the hits to the informal fans and even made the biggest cynics smile with the arms in the air, jaws flapping along to every word.
Then just as you may have felt the show was about to be over, a telephone booth appeared from behind the stage...then you heard the sweet sound of the organ which gave me goose bumps up and down my arms. "Come Talk To Me" was more than just a performance, it was epic storytelling. As Gabriel spoke his poignant lyrics into the phone receiver-front and center on stage was his daughter Melanie, who sang every lyric with him. I mentioned earlier that Melanie's voice may be limited compared to other female vocalists he has worked with; however, the emotion displayed during "Don't Give Up" was increased ten fold here. They did more than sing these words to each other; they spoke to each other, something they were not doing at the time of the songs release in 1992. The two were estranged; seeing father and daughter sing to each other goes beyond emotions, you felt like you were witnessing a rebirth. They may have not seen eye to eye a decade ago, yet here they are now, sharing this music with 13,000 people looking in and they have made peace with each other. This is more than just a performance, it was therapy. The closing song, "Father, Son" is as potent as anything Gabriel has ever written. He wrote it for his father and the quiet yet poignant song may not have been a hit or even available in the US at the time of this performance, but it closed the evening on a perfect note.
I walked out of this show feeling like I had been to a religious revival. I felt so safe, secure and inspired. I see a lot of remarkable shows every year, but not many make me feel like I am on my way to a higher plane. I remember telling my friend Cathy about it a few days later and she said to me, "I can tell you were truly moved by this performance, like there are no words to express the feelings you have". I may have sat in the front row eight months previously and spent ten minutes alone with the man whom has inspired my life in ways I can not even tell you. But the performance of that rainy summer night was an incendiary experience. Gabriel offered up official bootlegs from these shows on his website and I immediately ordered this show. I still get chills when I listen to it now almost a year later.
Peter Gabriel is about to embark on his fourth leg of his "Growing Up" tour this May in Europe. This is following his new Best-Of package "HIT", a wonderful two disc collection that is a completely different animal from his first hits package "Shaking The Tree" released in 1990. Also newly released is "Growing Up-Live" a wondrous DVD showing you in-door portion of the "Growing Up" tour as performed in the round. I can't recommend both of these two releases more. One can only hope that Gabriel will not wait another ten years before releasing another album. He seems to be in a comfort zone in the here and now with these unworldly performances and an increased output in recent years.
It's funny how so many of the themes over the course of this show had to do with family themes. From leaving the womb in "Growing Up"; to two lovers trying to make ends meat in "Don't Give Up"; the reconciliation in "Secret World" and "Come Talk To Me"; the love letter finale of "Father, Son"-it appears Gabriel has more on his mind these days than just making hits. He's come full circle as a human and realizes the true definition of as he inches closer to mortality; he has taken control of the important things in his life. Instead of putting things aside, like so many of us in life, the man has found himself renewed with a first rate tour, new album, a reconciliation with his daughter and a new wife and son. The man appears to have come full circle, finally all grown up.
The floodgates may have opened from the sky above me on that hot summer night last year, yet the real flood laid in the emotion conveyed by Gabriel through his poignant lyrics. Like the biblical character Noah, Gabriel has made a sacrifice for our own good by displaying his emotions through his lyrics for everyone to see and criticize. One may not comprehend it, but he offers his experience and anguish to us as a sacrifice. This is not painless for any performer to do, it's like reopening wounds and pouring salt into them, yet through his transfixing music we should take note of the lessons put forth by Gabriel. He may be all grown up, but I know there is still plenty I can learn from him as I continue my own journey... growing up.
Join UnRated Peter Gabriel Discussion where you can post your review or thoughts.
---
RELATED LINKS:
December 2002 Review