Phil Anselmo is the preacher man and the gospel he preaches is hard core heavy metal. Call em' friends, fans, disciples or just stoners, they are the truth that comes to listen to this bigger then life charismatic stature on stage. A friend of mine that knows Phil can only say, "What a character", expressing Phil's extreme belief in the music he plays. Dropping Pantera to what many in the hard core heavy metal community considered a move that was ill taken, Phil formed the project Superjoint Ritual a few years back. Going on almost 2 years of non stop touring, Superjoint Ritual is very driven byt the music, the lifestyle, the experience and the fan base that follow. Myself, each performance is the performance of a lifetime as Phil Anselmo takes that stage and controls people/friends who come to experience the nature of Superjoint Ritual "LIVE". Even if you are not a fan, Phil has the power to make you listen. A powerful deep voice that controls and attracts your attention, occasionally blurting out a "fuck" here or there, well lets say very frequently but that's what rock is about, no compromise and Phil Anselmo has not compromised a damn thing in rock. I have been fortunate to see Superjoint now 4 or 5 times and maybe missing them once or twice as Phil and the boys rolled in through Chicago over the past 2 years. House of Blues on April 27th was no difference. In Phil's own words, "Superjoint is a bad ass mother fucker. Answer me now, you're glad someone is bringing real heavy metal back on stage". Superjoint comprised of guitarists Jim Bower and Kevin Bond, drummer Joseph Fazzio, bassist Hank Williams III, that is correct the country legend's decendent and none other then Phil Anselmo. If you are interested about the beginnings of the band and how they came to be, Revolver Magazine ran a story March/April 2002 issue that was excellent. Look them up.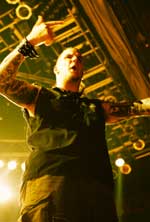 April 27, 2004 at the House of Blues was a gathering of people who came to have a good time. As the guys came out on stage, chants went up high, "Superjoint, Superjoint, Superjoint," as Phil Answelmo replied by pounding his mike against the chest 3 quick times in reverence. This powerhouse on stage commands what is his domain tonight, wearing the usual threads formed of cut off mechanix shirt and shorts with Super J emblem. The chants continued and Phil bears the mascot of the band name, putting his head back, lights the cigarette that is the namesake of the band and takes a few puffs illuminated by the stage lighting. The type of anti-social norm that our society contests against from day to day and most can live it tonight as it entices the crowd to continue chanting, "Superjoint, Superjoint, Superjoint".
Phil exclaims with the voice that is well recognized, "Listen, Listen, Listen, this whole show is dedicated to Solient Green's where one of the members was murdered".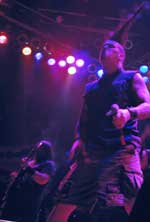 Hank Williams III's hair springs out of the ponytail, I was really surprised to see his face as the guys jump into the set. Phil himself sporting a long Mohawk as these followers of Superjoint Ritual start the dance so many know as the mosh.
Between song sets in the beginning of the show, you hear some fans yelling for Deicide, where Phil abruptly yells back, "Where the fuck do you see Deicide out here!","Deicide is not coming, you ain't going to see Deicide", as Phil mocks the guilty for screaming out their name, "They just did not make it!" The voices are not silenced and humiliated by the thunder of Anselmo.
Throughout the sets, Phil dedicated his set list, troops who are out in Iraq, "Personal Insult", bringing to the attention the Pro-American movement overseas and the disrespect they give our troops for not taking what we provide, the liberation to freedom. "Introvert" went out to old school thrash bands, "Agnostic Front" and "Carnivore" as Phil hit high pitch, "Raise it up!" continuing, "Thank you very fuckin much!"
As Super J jump into "Fuck Your Enemy", Irwin's dreadlocks are all over the stage and every other word F this and F that, reminding me of the cover song Metallica did "So Fuckin What". "The Destruction of a Person", prepared the fans up in the circle before the stage of what is to come, as the pace picked up 10 fold, every one went full force in the dance before Phil. It did not stop there, during songs like "Permanently", the strobe lights caused splendid effects of chaos on the stage with bodies flying as everyone surfed. I had to step to the back of the House of Blues to take in everything completely. This is where a show is great, when you can see everyone enjoying themselves and letting all know that the aggression is not to be taken seriously in music but enjoyed.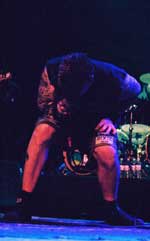 "Tonight is really fuckin on, you blow every city away", during the middle of "Alcoholik" and everyone responded with cheers back at Phil for bringing that detail to the show tonight. Chicago has welcomed Superjoint Ritual numerous times since their infancy only 2 years back.
Throughout each set, appreciation was showed as chants from the fans, "Superjoint, Superjoint, Superjoint", the band always responding 3 times quickly, either Phil pounding his chest with the mike, Joseph Fazzio giving you a triple attack of the bass drum. This is what it's all about. The first album was great, "Use Once and Destroy" and the new "A Lethal Dose of American Hatred" which is without disappointment and all are here to make it known. Phil and Superjoint took on a challenge to bring you pure hard core aggressive and pissed off'd music that is just as in the 1980's as today uncompromising that people always want more and need to be challenged. Phil is the guy to do it and bring it to the public eye because he already has the foundation and the reputation to push this hard bite to all in the thrash community. "Remember your reputation is at stake" as Phil exclaims to all that Chicago is the forefront of metal.
"Until next time we see you, hope everyone gets wasted, laid and eats some pussy", words from the antichrist of today's rock and roll. The last we seen this night as he drops his mike and walks off as the rest of the guys followed.
This coming Ozzfest 2004 will feature Superjoint Ritual, where they belong, in the forefront of the world of metal, in front of the summers metal traveling circus of worship on the "MAIN STAGE". You can not hide from Superjoint Ritual and Phil Anselmo, he will find you, he will come to your town again and again like the stalker till you experience Superjoint Ritual.
Join UnRated Superjoint Ritual Discussion where you can post your review or thoughts.
---
RELATED LINKS:
Superjoint Ritual Official Web Site
SuperJoint Ozzfest 2004 Photo Gallery