On Thursday, May 13th through Saturday, May 15th, Brad Youngblood and the Metal Music Foundation held the "Classic Metal Festival IV" at J.J. Kelley's in Lansing, IL. Billed as "Sticking to our Metal Guns", the three-day event featured a line-up of tremendously talented metal bands from across the U.S. and Canada whose performances are highly influenced by the sound and style of classic, traditional heavy metal.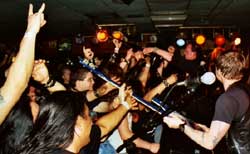 The party began on Thursday night with Northwest Indiana's Fallen, as fans and band members greeted each other to the fest. Even heavy metal fans from Europe, including record label and magazine personnel, attended this year's fest. Gold Star (Indiana), Black Widow (Maryland) and Wrath (Illinois) continued the classic metal barrage while fans and collectors kept the vendors busy throughout the evening. Thursday's edition of the fest concluded with a vicious metal attack from the "Warlords of Midwest Metal", Missouri's Conquest.
Friday's session of the "Classic" began with relentless metal assaults from New York's Desecrator and Leviathan. But it was California's Scarred, who truly had the "Classic Metal Fest IV" crowd responding early. Catch 22 (Ohio) was next and the band did a great job setting the stage for Cleveland's almighty, Destructor. These "Thrash Kings" ripped the place apart and had every head in the club banging. Without question, Destructor delivered one of the most intense performances of the entire "Classic." Florida Metal Legends Iron Cross, were next to annihilate the Classic Metal Maniacs and the band NEVER sounded better. Minnesota's legendary Impaler thoroughly entertained everyone with their unique brand of visual "Shock Rock." Impaler mercilessly executed songs from throughout their illustrious twenty year career before Chicago's Blacklyst finished the night off with an ass-kickin', heavy as hell set.
Saturday, the final day of the festival, was loaded with incredibly talented, old school classic heavy metal bands. At about 2:30 PM, Classic Metal Fest veterans Suburban Funeral (Michigan), got things started before Virginia's Division was unleashed on the J.J. Kelley's throng. Division is an amazingly tight band that I wish could have had a little better time slot so a few more people could have witnessed their performance. Chicago's Stonehenge, lead by Rebel Radio personality and "Metalhead Supreme" Scott Davidson, "metalized" the masses before Indiana's Gold Star, made a return appearance due to a cancellation. The stage was then "possessed" by the dark and atmospheric "chants" from Chicago's own, Ravensthorn. The "ritual" performed by these "Metal Vampires" had headbangers racing to the front of the stage. This was Ravensthorn's first "Classic." But with the response they received, I doubt it will be their last. Montreal Canada's Celestial Dawn and Chicago's Eden's Fall, also captured the attention of "Classic" fans before the events "headliners" invaded the stage.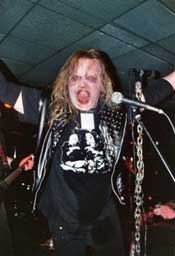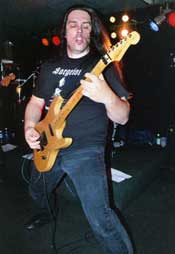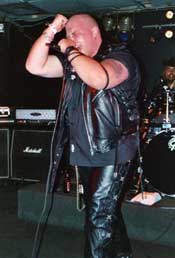 Making a rare appearance, Texas Doom Metal Gods Solitude Aeturnus, masterfully unveiled their haunting hymns of sorrow and despair to the "Classic" crowd and the band eventually left them screaming and pleading for more! The very highly anticipated return of Chicago's own classic metal legend, Tyrant's Reign, was next up on the schedule. Unfortunately, I had to miss their performance but I was assured by very reliable sources that Tyrant's Reign not only lived up to everyone's enormous expectations, but easily surpassed them. The Tyrant's are definitely back...and they're back with a vengeance! New Jersey's merciless Attacker also made a triumphant return while supporting their sinister new release entitled, "Soul Taker." Flaming guitar riffs and super-sonic vocals are the explosive weapons used here and Attacker knows exactly how to engage them. The ferocious "Thrash Attack" from Bay Area bashers Hirax, pulverized every metalhead still standing before Tremulus (Chicago) massacred the die-hards with one more metallic onslaught to finally end the "Classic Metal Fest IV."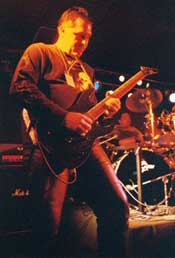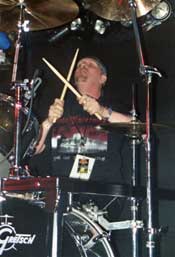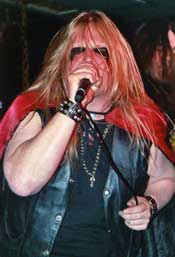 Overall, the "Classic Metal Fest IV" was a tremendous success and we all owe the Metal Music Foundation a huge THANK YOU for their contributions in helping keep classic, old school heavy metal alive. We hope to see you, at next year's "Classic Metal Fest V." As always...Keep it Heavy!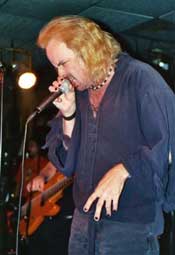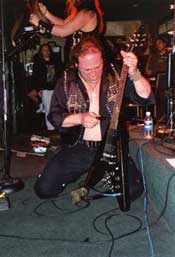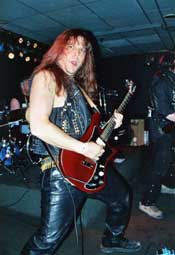 Join UnRated Discussion where you can post your review or thoughts.
---
RELATED LINKS:
Metal Music Foundation