After nearly nine years of separation the Van Halen brothers buried the hatchet with Sammy Hagar and in late 2003 the plans were put in motion for a reunion tour. About a week after the tour started, I received a bootleg of one of the shows. Say what you want about Van Halen, but they have always been a first rate live band, despite the length of their shows and the solo's that take place. In 1998 I saw Van Halen with their third singer Gary Cherone and to my shock...they rocked. Would I pay to see it again? Probably not, but the band was in fine form running through new tunes and standards like a foursome that had been together for twenty years. So I'm driving in my car listening to a bootleg from one of the first shows of the 2004 tour and I was distressed by the performance or lack thereof. One of the greatest guitarists to ever live, Eddie Van Halen, seemed so out of touch with his other four band mates. His solos were messier than a second rate guitar player in a cover band. The overall arrangements of the songs were all over the map and it all pointed to Eddie's playing. More insulting was the show clocked in at less than 120 minutes, yet they appeared to have enough time for 30-plus minutes of solos. Immediately I thought ahead to the second Chicago show that I was holding tickets for. Was this worth more than $100? At that moment...the answer was no.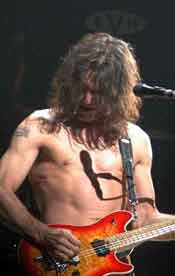 The band was virtually ignoring half of their Hagar catalog; only one song off of 1988's eclectic "OU812" and nothing off 1995's "Balance" was being played. The David Lee Roth catalog was lacking as well, performing only songs that had been done to death on previous tours. Considering it's been close to a decade since Hagar has played with Van Halen and six years since the rest of them even went on a stage, these shows should be hailed as a resurrection, the return of one of the greatest American groups ever. The amount of turmoil this band has gone through since 1996 garnered enough drama for a four-hour "Behind The Music"; two hip operations, a cancer scare, divorce, three singers (including two failed reunion attempts with David Lee Roth), the loss of a manager and their long time label, Warner Brothers dropped them. In the same time Sammy Hagar released five new albums and played well over 500 shows. While Sammy was still living the rock life and expanding his horizons, the Van Halen brothers were so inactive that no one, and I mean no one, ever saw them. Judging by the performance on this bootleg, it does not appear they were practicing their instruments either.
Van Halen concerts, while fun, have always left something to be desired. You walk away wanting a little more. I saw them in 1993 when they were touring behind the live album, "Right Here, Right Now". They were beyond astonishing; the band, the set list and the crowds aligned for possible the band's best tour ever, a show of unbelievable stature. They played for two hours and twenty minutes, a rarity for a Van Halen. With no new album to promote, the band dug deep into the catalog and even did a fixating cover of "Rocking in the Free World". Sammy Hagar performed a new song for the Chicago crowd, "This Is The Love" (which later appeared on his second post VH solo disc). The 1993 performances were coming from a band that was at their zenith and close to untouchable. As I finished listening to this early tour bootleg all I could think about how this sounded like a band who were mere shadows of that band I witnessed rock the free world a decade before.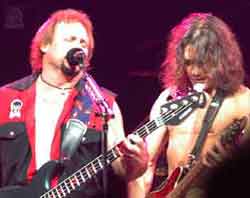 It's July 20th, 2004 and I'm sitting in the United Center waiting for the return of a rock guitar god feeling indifferent and preparing to be underwhelmed. The lights dim, and all of a sudden from the darkness we hear "Heeellllo Baaaaaaby"...the unmistakable voice of Sammy brought the crowd to their feet where they never left for the next two and quarter hours. Opening with "You Really Got Me Now" the band worked the crowd and at times reaching cataclysmic heights. What immediately struck me is how much more potent and in control they appeared to be from five weeks before. "Runaround" followed and it, along with all of the other songs from "For Unlawful Carnal Knowledge", would be played to perfection throughout the night. In succession, the awesome "Human's Being" showcased one of the best songs Van Halen has recorded in its twenty-five year career. I was excited as I watched Sammy, Mike, Alex and Eddie surprise me. "Up For Breakfast" one of the three new tunes on the band's new best of compilation, "Best of Both Worlds", came next and it could have been performed by Sammy or Dave, its classic Van Halen full of rocking metaphors.
She put the cream in my coffee (first thing in the morning)Put that butter on my biscuit (honey to my melons)Cherries on bananas (gonna need a second helping)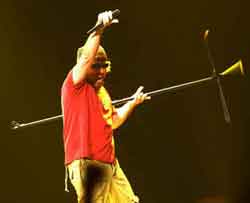 However, right when the band was about to take hold of the audience, the show lost momentum for the first of the four solos. Let's get this out of the way, solo's for the most part are useless, dull, boring and only are there as a breather for other players, so they can perform a longer show. Van Halen's single biggest liability as a live act is the solos. Tonight, close to forty minutes would be wasted on solos. Each and every time momentum was building, the show would come to a screeching halt as we watched the band doodle on their particular instrument. If a band is taking that many breaks, I expect a three-hour show. Michael Anthony's bass solo may be the most unnecessary solo ever given in this history of rock concerts. The only good thing about was that it was short. Out of the misguided bass solo comes "Somebody Get Me A Doctor" with Michael Anthony taking over singing responsibilities. Then the show really heated up with the meteoric "Poundcake". Those who complain that Van Halen have never made a good album since Dave left apparently did not give "For Unlawful Carnal Knowledge" a listen. It's easily the most guitar-oriented record the band has done since 1981. "It's About Time", the bands new single, fits in with the rest of the Van Hagar material with ease. It has a cheeky and catchy chorus that helps it be worthy as an extra track on a "Best Of" collection. However, once again, just as the band is gaining momentum, we have another unwelcome break, Alex's drum solo. Upon its completion, "Top of the World", "Unchained" and "Why Can't This Be Love" deepened the connection with old and new Van Halen fans, including myself, as I closed my eyes and felt like I was back in 1993. Nostalgia plays a part on this tour, but there is more here than meets the ear.
During these songs I become conscious that Eddie started to find his groove after a six-year absence from the concert stage. The bootleg I had from early in the door showcased a muddled and shattered Eddie; in Chicago he was a lean, mean and rocking machine. He's older and less graceful than he once was, but he's still a rock warrior at heart. Now here comes a confession I'm sure to receive heat for; Eddie's solos have always been superfluous. They are way too laid back and to be honest, bathroom breaks. However, in the walls of the United Center where two previous solo's had brought the night to a standstill, one emerged as a fire out of control; Eddie was back! Gaping upon Eddie's fingers as they moved up and down the neck of the guitar was otherworldly. He played for the crowd as if they were not even there; I say that with the highest compliment to the guitar god. It was like watching him write a song through the window of his 5150 studios. My doubts were overcome, I knew by seeing him he still has it. Those early weeks on the tour were merely a sign of him shaking the nerves and rustiness of not performing for six years. When he launched into "Eruption" the crowd went into a frenzied state, something virtually no other musician could garner during a solo. While he may be a bit slower with a hip replacement, he still has the ability to send shivers up and down our spine and the neck of the guitars we swing our arms like air guitars. At one point, he laid on the ground after playing the instrumental "316". While his hands were nowhere near the guitar, you could still hear it and out of the wings of the stage appeared Eddie's teenage son, Wolfgang. He sat down next to his legendary Dad and the two made music. Watching the look on Eddie's face as his son played to 16,000 people was incalculable, father and son together a few thousand of miles from home sharing an intimate moment. No bootleg could recreate the feeling within the arena that night of two humans connecting and sharing their bond with one another as an arena full of onlookers watched.
After Eddie's solo the band found its wings and took flight for the remainder of the night with faultless performances of "Jump", "Panama", "Dreams", "When It's Love" and "Right Now". While Eddie may have stolen the show with his guitar solo, the night's MVP was clearly Sammy Hagar. For those moments where Eddie or Alex may have been slow or missed a beat, Sammy saw to it that no one noticed. Sammy is one of those guys who love playing music. If he had not reunited with Van Halen, he would have been on the road playing wherever he could play. He's toured every year since his departure from Van Halen and it's obvious as he reigns over the stage like a seasoned veteran. His exchanges with the fans is unheralded, he signed over one-hundred autographs during the course of the show. During "Ain't Talkin' 'Bout Love" he even had an audience member sing the "Gotta please baby" verse, flawlessly nonetheless. David Lee Roth never would have allowed for someone from the crowd upstage him. However, Sammy is one of the preeminent performers in the business and he does whatever he needs to give the audience the most gratifying experience necessary giving it his all. Even though Sammy gives 200% every night there are still those Van Halen fans and critics who keep on saying they would rather see David Lee Roth fronting the band.
In an odd way, so would I, however, this is only in theory. Anyone who has seen Dave
perform over the last few years knows exactly why this will never happen. His voice is not
there and watching a man in spandex doing half-assed leg kicks is pathetic. Dave was great
for the late 70's and 80's but the truth is Van Halen prospered with Sammy in ways that
never would have been possible with Dave. I'm not sure if they would have been able to be like AC/DC and continue to churn out the same party rock anthem and not seem tired and old. Sammy allowed them to grow, mature and develop as a band. Say what you will, but until 1996 Van Halen moved forward while Dave lost ground he has never come close to reclaiming. The truth is that if David Lee Roth were to ever reunite with Van Halen, it would most likely be disappointing as the expectation would never live up to the fans expectations.
Van Halen in 2004 is not a weary old machine, but a grown-up and wiser one who is just starting to grease its joints. I had serious doubts as to whether or not they could hold their own, but this show was better than it should have been. Was it a magnificent and
triumphant return? Not quite, but they are on the right road with Sammy driving the band and their adrenaline full force. I look forward to seeing what they do in the future. Right here, right now, they are a little rough around the edges, but still a force when the lights go down behind Eddie's guitar and Sammy's driven fervor to execute the best show possible for the fans. It's taken them far too long to reunite and get back out there playing, so all I can say is; "It's About Time".
Set list:
01 - You Really Got Me
02 - Runaround
03 - Humans Being
04 - Up For Breakfast
05 - Bass Solo
06 - Somebody Get Me a Doctor
07 - Poundcake
08 - It's About Time
09 - Drum Solo
10 - Top of the World
11 - Unchained
12 - Why Can't This Be Love
13 - Eagles Fly (Sammy Solo on Guitar)
14 - The Seventh Seal
15 - Best of Both Worlds
16 - Guitar Solo WITH Wolfgang
17 - Dreams
18 - Ain't Talkin' 'Bout Love
19 - Right Now

Encore:
20 - Jump
21 - Panama

2nd Encore:
22 - When It's Love

Join UnRated Discussion where you can post your review or thoughts.
---
RELATED LINKS:
Van Halen Official Site
Sammy Hagar Official Site
Live Concert Gallery