Double Door -- Chicago, IL -- December 4, 2004
It's sweltering, sweaty and sticky within the Double Door club, located in the Chicago neighborhood of Wicker Park. The room is so searing, that when Jesse Malin comes to the front of the stage and is swinging his guitar back and forth, drops of sweat fly off him- and the neck of his six-string, at the crowd like a rainstorm on a hot summer night. This sweat is baptizing the 500-plus in attendance with the spirit and soul of rock 'n roll. Even the most cynical rock critics would have found the moment to be profound. It's moments like these that make me believe rock 'n roll is anything but dead.
In the last two years, Jesse Malin has emerged as one of my favorite artists in all of rock. In the 1990's he emerged in the punk band, D-Generation, which enjoyed critical acclaim and even opened for Kiss on a portion of their reunion tour back in '96. After he disbanded the group, he turned inward and wrote the most insightful music of his career. With the help of his friend Ryan Adams producing, he recorded his debut solo album, "The Fine Art of Self Destruction". I remember on a cold winter day in early 2003 walking into the Virgin record store in downtown Chicago. Now, their prices are a perfect example of why P2P (Peer to Peer) networks are alive and well, $19 for a CD...before tax? However, one thing I love about Virgin is the listening stations. Every Tuesday I browse the wall looking over the new releases where major label and independents are equally represented. On this particular day, I walked by, and four little words made me grab Jesse's solo debut, "Produced by Ryan Adams". I had never heard of Jesse, but Ryan was slowly becoming one of my favorite artists. "Heartbreaker", "Gold" and "Demolition" were in permanent rotation on my CD player. So I threw the headphones on and by the time I had gotten to the album's fourth song, "Wendy" I was en-route to the register to over pay for this disc. Close to two years later, with the exception of Springsteen's "The Rising", no other CD has logged more time in my CD player. There is such heart wrenching melodies on this disc, which I just cannot seem to get enough. It reminds me of what Melissa Etheridge said about Bruce Springsteen back when she did "Unplugged" a decade back...about how his music "made you dream". This is what I love about Jesse Malin. Sure, it's not as pioneering as snob music critics may want it to be, but the canvas that Jesse paints on is wide, vast and strikingly beautiful and serene. His melodic narratives about love and New York City hit home to me, because he's a man searching for something. He may not even know what it is, but because I am also on that journey, I connect. Sure, it's more hip to say you like Wilco more, but Jesse hits the gut with more force than the heroes from my hometown ever have.
Buddy Holly told me you can't save rock n' roll
It's only for the lonely boys and girls
-"Swinging Man" from 'The Heat'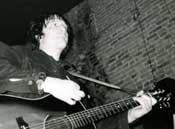 People who REALLY love music, like me, are constantly searching for a pot of gold. Every time we walk into a record store, the search is on for a new friend. In life you encounter hundreds of individuals every year and if you are lucky, you find one or two who stand beside you. I feel this way about albums. This is more than just something to keep you entertained from point A to point B, its life or death. This is something that no record company executive has figured out. Not only will we pay for music, but we'll overpay when the hunger outweighs our common sense. Jesse is one of the few artists to emerge from the last half decade whom I will do this for.
Jesse is out in support of his sophomore effort, "The Heat", an urban record still showcasing love found, lost and regained along with tales about his beloved New York City. While not the unqualified masterpiece that "Fine Art" is, it showcases his ever-widening palette of stories to tell. I like referring "The Heat" to "Darkness on the Edge of Town", Bruce Springsteen's follow up to "Born To Run". It does not quite touch the perfection of his previous release, but it's still one of the best albums to be released this year. In a short 18-month period, Jesse has proven he's an artist to be watched. Jesse's two albums are nearly perfect in their craftsmanship of songs, all of which showcase a level of emotion that is beyond exceptional. "The Heat" showcases his ongoing journey throughout life, one where he finds more questions than answers; therein lays the beauty of "The Heat".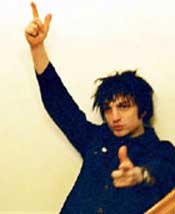 In the last eighteen months, I've been blessed to see Jesse a number of times in Chicago; at the Abbey Pub, Schuba's and most recently at the legendary Double Door night club, made famous by The Rolling Stones surprise club gig in September of '97. Jesse is a first rate performer however, he went from being virtuous to miraculous over his last two performances at the Double Door in August and December of this year. With two albums of material to select from, most of his shows run in the 70 to 80 minute range. On these particular evenings in August and December, I witnessed a man on a mission as he nearly forced himself into exhaustion with a 105-minute show each time. The August show found him opening with "Arrested", in December it was the soothing "Basement Home" yet both shows started out on fire and took two hours of drenching sweat to cool Jesse Malin off. One of the things I miss from seeing entertainers in arenas and sheds is seeing them fight for their lives. I won't lie, I occasionally see a performance by a bigger-than-life star that takes me to another level where I feel that money and sales don't matter, but it's not as common as I would like. Jesse gets out in front of that stage and plays his guitar with such zeal and passion; I was beyond inspired seeing such a resonating performance. This guy believes every word he says and wants to leave an indelible impression on the near capacity crowd. This guy was working the crowd like it was the last night of his life. Imagine Springsteen circa 1974, before "Born To Run" and stadium shows...I was not even born when Bruce was doing those shows, but I now know what it must have felt like after witnessing Jesse push himself to exhaustion at the Double Door.
The song that hooked me on Jesse that cold day at the Virgin record store was "Wendy", which is currently performed in the second or third slot of his current set. If there was ever a potential top ten hit made for radio, this is it. It's such a joyous song that you truly feel your body tingle with excitement when you hear it, let alone the feeling that overcomes your body as you witness Malin's stage prowess as he comes to the front and rocks out swinging his axe back and forth. The miraculous thing about seeing a Jesse in concert is his energy level is soaring, even if he only plays 80 minutes, I am more than satisfied.
Well then what can a poor boy do except to sing for a Rock'N'Roll Band
-Street Fighting Man-The Rolling Stones

No song during Malin's set suffers from being performed live they all ascend to higher levels over their studio counterparts; "Swinging Man", "Brooklyn", "Solitaire", "Queen of the Underworld", "Mona Lisa", "Riding On The Subway" and a commanding delivery of "Scars of Love" all showcased Malin as a riveting and sincere artist who is unleashing his deepest inner thoughts from within. Watching his small frame jerk back and forth you feel like you are witnessing an exorcism on stage. Besides the exhilarating performances is the storytelling which adds another dimension to this multi-faceted artist. Almost every song has a story, from opening for Johnny Thunders when he was a teen to going to a hooker when he was 12, to getting arrested in front of Madison Square Garden when he opened for Kiss in '96. Each story is unique, honest, charming and makes Jesse more than just someone you admire, but someone you relate to.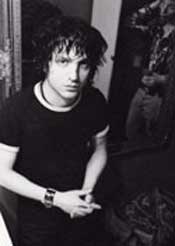 During the encores, he reached into his pocket of influences and gave us covers of "Hungry Heart" and "Everybody's Talkin" in August. At both the December and August shows he performed the raucous closer "Oliver's Army" and a dramatic cover of Neil Young's "Helpless". During the latter, Jesse made his way through the audience to the bar where he stood on top of it getting the crowd to sing along with him. He then had certain members of the audience sing the chorus with him, interacting with them making sure they feel part of the live experience. I see lots of shows, but there is something about Malin that just strikes me as whole-heartedly genuine. It makes me feel hopeful that people still make music for me, the guy who struggles everyday, but at the end of it finds a reason to believe in something even when the light in our life may be dim.
After most shows, Jesse is widely available to talk to and give autographs. I was able to thank him for getting Bruce Springsteen to play the song, "The Wish" in December of 2003 during an annual charity show Bruce hosts in Asbury Park, NJ. It's a deeply personal song Bruce wrote for his mother but was only released in '98 on his box set "Tracks". Ironically, all performances of this song occurred before the song's proper release. Jesse was invited by Bruce to play and Bruce backed Jesse up on "Wendy" and "Queen of the Underworld". During one of the sound checks Jesse suggested Bruce play 'that Christmas song' he had for his mother. "The Wish" was only performed at these shows because of Jesse's suggestion to Bruce. I thanked Jesse for doing this and he just smiled and said "I thought it would be cool to hear once, can you believe that he did it all three nights"? At this moment, two good friends wanted to buy his new CD, "The Heat" but it sold out. Jesse, making sure they did not walk away disappointed, went behind the merchandise booth, grabbed a vinyl copy of "The Heat", autographed it, and gave it to them free of charge. Not only that, he brought me some pins and other merchandise and continued to talk as we talked about new music he loves, touring, New York and how Chicago has become one of his favorite cities to play. While speaking to him I realize this is a man who is exceedingly sincere in everything he does. I listen to his music on a recurring basis but felt at ease talking to him. Jesse will be one of those artists I follow closely for the remainder of my life and make sure I write about him every time he releases a CD or comes in concert, his music moves me deeply and I want as many people to know about him as possible, so they too can be moved like me.
While he may not be as popular as Jeff Tweedy, I'll take Jesse everyday of the week over Tweedy. I'm all for pushing the envelope, but the bottom line is that I want the music to move me. I want to feel safe, sexy and vulnerable all at the same time. Too much is made of finding new ways for rock 'n roll to reinvent itself. It does not have to reinvent itself so much as look in the mirror and be true. Jesse writes lyrics that are sincere which I can relate to. I play his CDs to my girlfriend and love them or hate them; she knows why I love it. This man is longing to be heard...so am I.
Jesse Malin is a troubadour on the highway of life sucking it in and breathing it back out through pen and guitar. As a performer he is a man who is comfortable in his own shoes, but is forever demanding more from his audience. Whether it is on stage or on record Jesse will be in the music business for more than a quick buck but rather to unite, move and exercise demons within. The passion with which he performs is so haunting and affecting I can't see how anyone cannot be stirred by his unforgettable performances. He's more than a street fighting man, but a swinging man always out to rock your socks off and show that rock 'n roll is not dead...and far from it.
Join UnRated Discussion where you can post your review or thoughts.
---
RELATED LINKS:
JesseMalin.com