URBANITIS:
CLASSIFICATION: obsessive-compulsive spectrum disorder (non-debilitating)
ONSET: usually a quick and overwhelming immediate response to exposure
PRIMARY SYMPTOMS: urgent need to go to as many concerts as possible; seeking other infected persons to enable addiction; knowingly luring others to exposure
SECONDARY SYMPTOMS: heightened awareness of monkeys; a compulsion to clean the lint trap in the dryer
PROGNOSIS: no known cure; case data does not support significant termination of urbanitis
Is there a twelve-step program for recovering from concert-going addiction? I hope not. I am having too much fun. I saw my first Keith Urban concert on May 22 of this year and I am now writing a review of my sixth show in six months. Opening act Katrina Elam has got a strong voice in the vein of Faith Hill (who sounds much better in person than she does on any television show I've seen with her). Another commendable thing about Katrina is that she writes her own songs which is rare in Nashville. The best songs in her set are No End in Sight, Strong Anything, Woman and Man (which starts the show a Capella) and her yodeling song the traditional Little Lady Who. She thanked the audience for being so kind to her and joked that she knew we were all there to see Keith but it was too bad because we had to put up with twenty minutes more of her. For her finale of No End in Sight she brought out the guy who played banjo on her CD... namely Keith Urban.
That is one of the many impressive things about Keith-the STAR does not mind going out with the opening act. He did not move around, look up often, or do anything else to upstage Katrina. He seemed very respectful of it being her song, her stage, and her show. As a Keith fan, it was great to have the opportunity to see him play his ganjo (six stringed banjo) in person since he is always occupied with a guitar or piano during his own set. Keith's set included: These Are the Days intro, Days Go By, Better Life, Raining on Sunday, You're My Better Half, Where the Blacktop Ends, Homespun/I Hear You Knocking (acoustic and solo), The Hard Way (with Katrina), Your Everything, Making Memories of Us, Jeans On, You'll Think of Me, She's Gotta Be, Free Falling, Somebody Like You, Tonight I Want to Cry (on piano), Who Wouldn't Want to Be Me with a chorus of U2's A Beautiful Day, and a complete These Are the Days. Book ending the show with These Are the Days actually works in that it leaves you with the feeling that you've gone on a journey.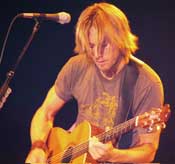 Keith's show was spectacular and full of energy. As a front man, he is captivating and charismatic, reminding me a great deal of Jon Bon Jovi. They both have this capacity to enthrall an audience, big or small, and make everyone in the audience feel like part of the show. It struck me how much Keith smiled during the concert. Anytime he was looking at or talking to the fans, he had a big smile on his face and in his eyes. The kind of happiness that can not be faked radiates from this man while he is performing. He was born to entertain and looks so thrilled to be there that it is like the joy in his heart comes right through in his demeanor. One can not refer to his performance as his "act" because he is not acting up there. He is the real deal, in talent and in spirit. As a lead guitarist, the man is on fire all night long. Not many people can pull off double lead duty but Keith does it splendidly. Playing guitar seems as natural as breathing to him and it never distracts from his ability to interact with his audience.
Keith is such a multi-talented individual that I can not even take it all in at one time. Sometimes I close my eyes and just listen to his voice, trying to absorb the way he speaks, sings, hums, and scats. I love the way he will hit a particularly low note and amuse himself and the way he will growl a word here and there for effect. His recent win for Best Male Vocalist at the Academy of Country Music Awards was deserved because he is quite a vocalist, not simply a singer. Sometimes I just want to watch his hands and focus on the guitar, or the way he turns the guitar and mike into percussion instruments in Homespun Love. That guitar is an extension of his soul. Every night is a little different. Raining on Sunday is the best example of this, whereas one night it is soulful, the next it can be intense and passionate. The song has many moods that he can vary with his playing.
I still get a kick from looking around at the audience and being part of it, but removing myself for a moment to take it in. Even a non-single like Jeans On becomes a sing-along which attests to how well Golden Road was received... and why it has been in the Top Ten after two years on the charts. It appears that the thrill of the audience's reactions is never lost on Keith, as if it amazes him every time the audience belts out every word. He read several banners tonight and gave one girl a hug. Her banner said something about the so many hurricanes in so many days and he asked her if she meant the drink. Another one said, "My better half is in Iraq" and he asked everyone to remember all the men and women overseas. And, at one point he addressed the audience as "Y'all" and said, "Did I just say y'all?"
The solo performance of Homespun Love is always one of the most entertaining songs in the set. I'm sure it boosts sales of The Ranch CD in every city he plays. You just can not go wrong with a song that mentions chicken, cars, and lawn flamingos. The Hard Way, a recent addition to the set has been turned into a very pretty duet with Katrina. The two blondes' voices blend together well. I will admit that I was a bit disappointed to hear that Keith had added The Hard Way instead of a stronger song such as Nobody Drinks Alone or Live to Love Another Day, so I hope that he is saving some of those songs to freshen up the second leg of the tour.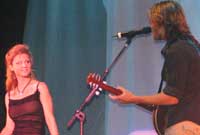 Do not ever let the placement of Keith Urban's CDs in the country bin at the retailer fool you. If someone was dropped into the show during She's Gotta Be, they would have no idea that they were at a "country" concert. The music transcends genres and the man has the presence of a rock star. The blending of genres is evidenced in his choice of covers. During Tom Petty's Free Falling, Keith sang "She loves horses and her boyfriend too" twice, laughed at his mistake and said, "She really loves her boyfriend." He got the separate sections of the arena to sing the chorus while he stood on a ledge holding the microphone out to the audience. When the floor sang their part, he stumbled backward as if we had blown him off the ledge. As thin as he is, maybe we did. (Note to trainer... give the man a cookie once in a while.)
Though Keith had hits and even a number one single prior to Golden Road, Somebody Like You is the song that propelled him into the stratosphere and it fires up the audience like nothing else. It's placement as the last song in the main set leaves the audience pumped and wanting more. The break prior to the encore provides time for the keyboard to be brought on stage. Keith demonstrates that he is not just a guitar legend in the making when he sits behind the keys for Tonight I Want to Cry.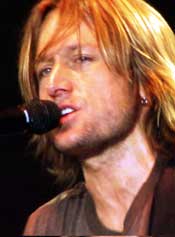 Who Wouldn't Want to Be Me is one of the best songs of the night and gives Keith another time to flex his chops. I, personally, had never paid that much attention to guitarists until I saw Keith and found myself watching him and thinking, "You can do that with a guitar?" He has single-handedly given me an new appreciation of the instrument and an interest in other players. Prior to the closing full version of These Are the Days, Keith threw in a chorus of U2's Beautiful Day. I was really surprised that he sounded a lot like Bono when singing it. I expected Keith to sound like Keith. Instead, it was like U2 with a mandolin. The band ought to perform the complete song since they definitely do it justice.
The only complaint I have about the show is that Keith needs to play longer. With shows skimming two hours, he is not living up to Bon Jovi standards of 2 1/2 hour shows and I judge everything by Bon Jovi standards. In a lot of ways Keith is running ahead of them-and this comes from a sixteen-year fan that has seen them in every setting all over the country-but the length of the show is the one thing he really needs to improve. There is no doubt that the audience gets their money's worth in entertainment, but he has a wealth of songs that could be utilized to lengthen and vary the set lists.If Keith Urban is in your area, do yourself a favor and check him out. You do not have to be a "country" fan to appreciate talent and performance like this. Any fan of guitarist owes it to themselves to see Keith Urban. In a few years time, Urban will be as recognizable to players as Atkins, Clapton, Knopfler, Buckingham, or Van Halen. Yes, he is that
good.
Join UnRated Discussion where you can post your review or thoughts.
---
RELATED LINKS:
Keith Urban.net