Despite being a work and school night [Wednesday, April 13, 2005], HIS followers came in droves for the arrival of The Great One. Sold out, and the first of two shows at Chicago's House of Blues, saying the crowd's vibe was electric is not only cliché – but an understatement. Predominantly male, yet the female audience members awaited the show just as starry-eyed, for the landing of Steve Vai.
The festivities began with Delta blues-rocker Eric Sardinas. An accomplished guitarist in his own right – though still entirely underrated – Sardinas slithered up and down the stage in a snake-like fashion and as if his own guitar was the snake-charmer. Aside from the big hat which hides his eyes, Sardinas took the stage with authority – bringing the blues to one of the harshest of blues critics, Chicago, and doing so with a wailing grace. The only downside to Sardinas' set was how short it was; yet he did get in his signature full-bottled guitar slide trick.
Then alas Vai took the stage…and what can possibly be said about Steve Vai that hasn't already? Ever with my journalistic training behind me, I find it difficult to describe the performance of a true virtuoso. In support of his new release, Real Illusions: Reflections, Vai tackled both old and new material being the quintessential showman. The interactions between Vai and bass-legend, Billy Sheehan, alone were a show all in itself.


Vai and company soared together flawlessly for more than a couple hours. A show with lots and lots of guitars that could potentially wear a bit on the average fan's ear who's used to every song being three and a half minutes and having vocals. But this tour will go down in history as one of the ones to have seen.
I'm always amazed when speaking with someone who had the privilage of seeing Jimi Hendrix perform before his untimely demise. Vai, who is already regarded with equal respect and fascination, graciously offered thanks to the audience for an auspicious twenty-five years of touring.
The night was wrapped up with Sardinas joining Vai on stage for a sizzling version of Frank Zappa's "My Guitar Wants To Kill Your Mama." To quote one young lady in the bathroom, still enchated with the show: "That was worth every penny!"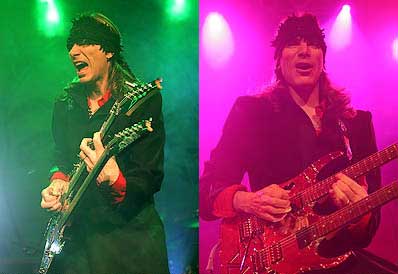 Find Sass at http://RockStarSass.com
---
RELATED LINKS:
Steve Vai.com
BillySheehan.com
EricSardinas.com
Rob Grabowski