I'm a wanderer I have no place or time
I'm just drifting on this lonely road of mine
And if you like you can come along with me
-The Wanderer
Writing about artists and having to critique their art is a near unfeasible undertaking. If you show true passion there will be those who say you are being too sympathetic. If you give an off-putting review, they say you are being too abrasive. I try to not be a critic; I hope I'm a journalist looking inward at the artist's soul looking hoping to see their sincere persona and flair they have for music. The toughest reviews for me are those I witness that I have mixed feelings about. As I sit in front of my PC trying to write my review for the recent House of Blues show by Marc Broussard, I feel a clash within my head and heart. The Louisiana native has made a name for himself with constant touring and his debut Island Records album "Carencro" (named after his hometown). I had heard enough buzz on him to request a review and see the man for myself with virgin ears, that's right, no downloading tracks or going to Amazon.com to preview tracks, I wanted to see the man in the flesh and make my mind up as I saw the man strut his stuff live. The last time I did this was for Butch Walker last August and what a surprise that was. He's now an act I will follow eternally; I was hoping the same would be true for Marc Broussard. After his eighty-minute set at Chicago's House of Blues, it would be safe to say I walked away conflicted.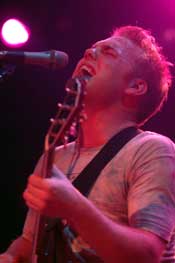 As he strolled onto the stage, I immediately had flashes of Dave Matthews. Broussard, like Matthews, had an acoustic guitar around his neck and he even wore it upright and uptight, much like Matthews. The band kicked into a eclectic jam getting the crowd moving and shaking. Then he opened his mouth and this bigger-than-life a voice came from it. This voice is remarkable and colossal. It could crush cities with its weight, break hearts around the world and sooth lost souls. His voice dominates and engulfs the listener the same way Michael Jordon bowled over opponents in his prime. As I would learn over the course of his eighty-minute set, it would be Marc's blessing…and his curse.
The show had lift-off with a new unreleased song reminding me of a James Brown funk jam with some tight guitar work reminiscent of Santana. This was followed by two of the better songs off of "Carencro"-"Save Me" and first single "Where You Are". The Chicago crowd was enjoying these opening numbers, but after the opening trio of tunes, Broussard, pulling a little too much from his influences, lost the crowd. I'm all for jamming and extending songs to flesh out a set, but many of the songs appeared to be infinite and in the process, he bewildered the crowd.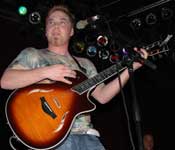 The Dave Matthews influenced "Come Around" worked well live and was followed by the soul flavored "The Beauty of Who You Are", which was a little too tranquil too early in the set. This began what was about a forty-five minutes of jamming without a break for the crowd. The same crowd that stood there hushed and breathless for opener Will Hoge, was getting beer, relieving themselves or leaving during Broussard's set.
Anyone who watches Broussard can instantaneously substantiate the young man is riddled with talent; however, I did not feel he was using it to its full potential at the House of Blues. Whereas, John Mayer and Dave Matthews have extensive jams during their shows, it's rarely tedious. During Broussard's show, I regret to say this, but the unmitigated jams and vocal aerobics grew arduous. Broussard appeared to be more enamored with showing off the multitude of pitches he could hit with his voice rather than focusing on the delivery of the songs and the pacing of his set. This occurred on at least six occasions during the show, which grew tiresome after the first time. He has a voice very few people are blessed with in this world. Trying to elucidate in words how it reverberates is unfeasible. He has an innate expressive voice filled with bluesy and soulful harmonies that most singers would make a deal with the devil for. It's unlike anything I've heard in years, but eventually it's the words and music behind the voice that will move me. Even though Bob Dylan's voice has seen better days, I saw him last year and while performing "With Every Grain of Sand" I could feel the goose bumps on my arms. He had something that immediately connected me to him, even though his vocal delivery was not even a tenth of Broussard's. Marc may one day bowl me over, but not this night at the House of Blues. While I admire Broussard for playing outside of the box I feel it mired him more than helped him.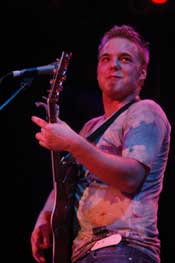 Marc Broussard is a wildly gifted musician, in his infancy, working his skill the best he can. He still has a way to go, but with a few modifications, he has the possibility to be on the path to significance. If he reads this review, I hope he views it as constructive criticism. He would be better restraining himself and his band from many of these unlimited jams. On top of that, the album's best track, the ingenuous and soulful "The Wanderer" was not performed. What a shame as it digs deep into the listener's soul and could have engaged the crowd. I would have loved to have seen this one instead of one of the many extended jams.
However, not all was lost. The evening's climax was "Rocksteady"-a perfect pop song. This was the instant where the audience was vivacious and ready for anything Marc was about to lie upon the sold out crowd of 1,400. It's a perfect example of how less is more. "Rocksteady" is not a lyrically or musically challenging song, but the delivery and speedy pacing of the song are sure to make it a future top-40 hit.
A few days after the performance, Island Records sent me a copy of the album, "Carencro" which I dreaded at first, thinking to myself that I would be really conflicted writing two reviews of a product that left me alienated. However, I'm happy to say the album was a pleasant revelation. I feel the ballads did not work live, but on the record, his voice really shines even brighter than it did live. "Carencro" is a full discharge of effortless five-minute tunes that are swift and to the point. "Home" is reminiscent of a southern blues number, showcasing where Broussard deepens his voice like an old blues master. "Rocksteady" will be the song that breaks Broussard. I'll use a cliché phrase but it's short and sweet, also being the highlight of his live show. "Where You Are", the albums first single, is appealing with a terrific chorus. "Saturday" channels the influence of Marvin Gaye with rhythmic grooves sounding like a hybrid of 70's soul and R&B.
I have said it before in this review and will say it again; the southern born Broussard has one distinguishing characteristic that will identify him throughout his entire career, his voice. Everything I have read about it points to his deep southern soul voice with a tinge of Motown thrown in. No better example is this evident than on "The Wanderer", a song of a journeyman searching for inner truth. This song, "Home" and "Rocksteady" are extraordinary giving me hope for his future releases. However, these three songs leave the rest of the album in the ashes. However, considering Broussard is barely old enough to be playing the House of Blues, I'm confident he will mature into something bigger and better and hopefully I'll write a review one day reminiscing of this early show in his career where he took those first virgin steps into the world of music.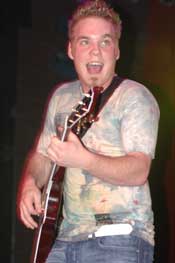 In the early 90's Seattle was graced with the profound lyrics of Kurt Cobain while the stage presence was blessed upon Chris Cornell and the voice was preordained to Eddie Veddar. In the current pop-rock landscape, Dave Matthews has the stage presence and the band, John Mayer has the endowed fingers that zip across the fret boards of his guitars and Broussard has been sanctified with the gift of deep and spiritual vocal chords. Once he gets a few more albums under his belt, he should be able to concentrate on encompassing newer songs into his set and not reply on expanding a dozen numbers over eighty-minutes. Marc Broussard intrigues me and with the right guidance, he has the potential to make a massive album. I hope he does because I'd like to join the wanderer on his journey down the lonely road.
Show grade: "C"
Album grade: "B-"
Special thanks to Christina Kotsamanidis at Universal Music in assisting this request.

---
House of Blues setlist:
I Adore You (Back to You Baby?)
Save Me
Where You Are
Come Around
Beauty
Gotta Be More (Shake Ya Ass) intro, dueling scat & Gibb guitar
Keep Her Satisfied
Who Is He and What Is He To You (a slow version)
In The Groove
Rocksteady
Just Like That
Encore:
Join UnRated Discussion where you can post your review or thoughts.
---
RELATED LINKS:
Marc Broussard
Marc Broussard Live Photos